Obsidian audio director Scott Lawlor has been interviewed by Designing Sound. Here's a snippet:
"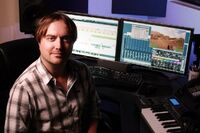 At Obsidian, we try to record as much of our own source material as we can, utilizing a Sound Devices 702 and a Sanken CS5. For New Vegas we went on a number of field recording trips:
Anza Borrego State Park – We traveled out to the desert and camped out, getting all kinds of sounds: rocks slides, digging, brush footsteps and whatever we could find.
Weapon Shoot in Piru, CA – We were able to tag along with a friend on a weapon shoot. We were able to capture the distant sound of the weapon fire which was a perfect for New Vegas, since our goal was to add an element of space to the weapons we created.
Tumbleweed – We wanted a real tumbleweed for the physics object in the game. We ended up finding one on the side of the highway, bringing it back to our recording room and dismantling it. Authentic tumbleweed!
The quest for the perfect wood footsteps – the wood footsteps in the game are from a number of sources:
Trip to Panamint City – a ghost town in Death Valley National Park. We found a bunch of abandoned structures and odd sounds along the way.
Trip to Paramount Ranch – an old Hollywood movie set out in the Santa Monica Mountains.
Multiple other attempts at finding just the right amount of creakiness.

Physics sounds – Almost all of the physics objects in the game were recorded in the booth at Obsidian with objects found around the office or our homes.

Walla – We wanted the walla in the Strip and the casinos to set just the right mood. This meant a bunch of searching for the right place to record walla.

Newport Beach bars last call – the bars at Newport Beach had the right type of environment for the type of walla we were after. The drunken screams reflecting off of the building were a huge part of the sound on the Strip in New Vegas.

The Outdoor Mall across from Obsidian – perfect for the daytime ambience of the Strip.

Various hotel lobbies – great for casinos.

Recording in the Obsidian Lobby – we got a group of 15 or so developers together in our lobby and directed their performance. This is a big part of the sound of the casinos in the game, especially the Gomorrah.
"