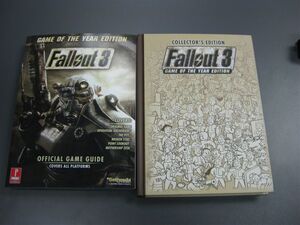 David Hodgson, the author of the Fallout 3 Official Game Guide has a new post up on his blog, describing what is new in the Game of the Year Edition of the guide. Here's an excerpt:
I'm particularly happy with Chapters 3 and 4: brand-new Wasteland Census and Gear information. The Census showcases every single person with a name that appears in Fallout 3. And I mean EVERYONE, along with where to find them, their biography, and their related Quests. Each Wasteland dweller has their own portrait too; a screen-taking process that took 72 hours alone to accomplish. But you will be able to look up information on anyone you meet, whether it's Split Jack the Bandit or Leaf Mother Laurel. The Gear features every available weapon (along with a render of it), and all the wearable equipment you can find, with statistics and advice on how (and where) to find each type. Naturally, this includes associated Quests, unique weapons, custom weapons, and every other possible piece of information you need.
So, is anyone here buying the guide in order to add new background information found there to The Vault? You can read the rest of the entry here.