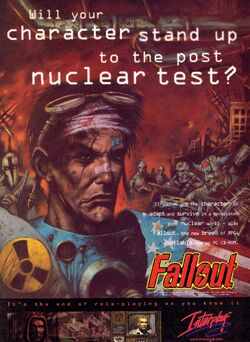 An ancient 1997 magazine ad for the original Fallout has been submitted to No Mutant Allowed. The ad features a very old piece of concept art I haven't seen before (and you probably haven't either), featuring the Vault Dweller in power armor surrounded by an early version of super mutants.
If any of you have any curious pieces of Fallout archaeology, let me know!
Ad blocker interference detected!
Wikia is a free-to-use site that makes money from advertising. We have a modified experience for viewers using ad blockers

Wikia is not accessible if you've made further modifications. Remove the custom ad blocker rule(s) and the page will load as expected.