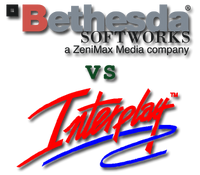 Gamasutra has asked Bethesda's Pete Hines for a comment on the court's recent denial to issue a preliminary injunction against Interplay. Following the confusion of some gaming press that declared Interplay to be victorious in the case as a whole, Hines stated:
"
The court has declined to decide the issues at a preliminary hearing, and determined that the parties should maintain the current status quo pending a trial of the case in 2010. We are confident that we will prevail on our claims against Interplay.
"
Bethesda declined to comment on any further details of the case.
Meanwhile, Interplay has filed an 8-K form with SEC regarding the court's ruling.
"
On December 10, 2009, the Hon. Deborah K. Chasanow, Judge of the United States District Court for the District of Maryland denied a Motion for Preliminary Injunction filed by Bethesda Softworks LLC ("Bethesda") against Interplay seeking to stop Interplay from selling FALLOUT(R), FALLOUT(R) 2, FALLOUT(R) Tactics, and FALLOUT(R) Brotherhood of Steel and to prevent Interplay from creating a FALLOUT(R)-branded massively-multiplayer online game prior to a trial and final determination on the merits. Interplay will continue to defend its rights and pursue its Counter-Claims against Bethesda, including its claims for Breach of Contract, Tortious Interference with Prospective Economic Advantage, Rescission, Accounting and Declaratory Relief seeking an award of damages and other relief.
"
Eric Caen, the brother of Herve Caen, posted on his twitter: