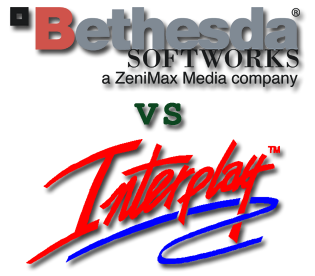 The court did not grant Bethesda's request for a preliminary injunction against Interplay, which would stop the company from selling Fallout Trilogy and other such packs, as well as from working on Project V13. However, Bethesda does not give up and is trying to appeal the ruling.
"
Notice is hereby given that Bethesda Softworks, LLC, plaintiff in the above named case, hereby appeals to the United States Court of Appeals for the Fourth Circuit from the order denying its motion for preliminary injunction entered in this action on December 11, 2009 and dated December 10, 2009.
"
Bethesda is now represented by Steptoe and Johnson, LLC and DLA Piper (one of the biggest law firms in the world), which previously represented Bethesda, has officially withdrawn from the case. Apparently Bethesda was not happy with their performance in the preliminary injunction hearing.
Aside from that, orionquest, one of Interplay's shareholders, has posted several excerpts from actual court transcripts at No Mutants Allowed. The post itself is of course biased in favor of Interplay, but as far as I know the transcripts are accurate.
"
"Q. Let's go back to 2.3. Do you know what was meant by $30
million, secured financing in the amount of $30 million?
A. I do. Secured financing means that --
MR. GERSH: Objection, Your Honor. What his
subjective understanding of what that meant is irrelevant.
THE COURT: Sustained."
"