Comments

30
Another piece of Project V13 concept art - character sketches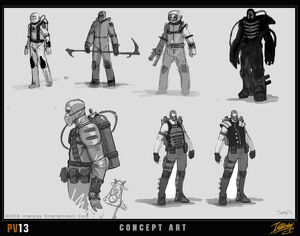 Another piece of Project V13 (Fallout MMO) concept art has been released by lead concept artist Serg Souleiman in the Interplay forum.
"
So,
This one is from the bottom of the barrel, some of the very 1st sketches that I did on this project. We wanted to see what other directions we could push the characters and start pulling them back from there. None of these will be used, but I still wanted to show you guys what it all started with.

Thanks for all your comments and suggestions guys..
-Serg
"
Ad blocker interference detected!
Wikia is a free-to-use site that makes money from advertising. We have a modified experience for viewers using ad blockers

Wikia is not accessible if you've made further modifications. Remove the custom ad blocker rule(s) and the page will load as expected.