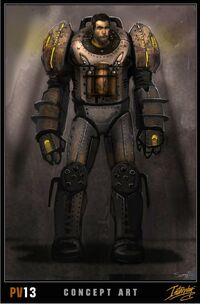 Duck and Cover managed to get their hands on some previously unreleased Project V13 (the Fallout MMO that Interplay can't name as such because of its legal battle with Bethesda) concept art. Unfortunately, DAC's admin King of Creation decided to add huge, lame watermarks in the middle of each pic.
Update
Fortunately, KoC forgot that I also know the very same person he got the images from, and I just uploaded non-watermarked versions for your viewing pleasure.
Update 2
The "Power Armor" concept art has now also been released with the title "Badass Armor" at Interplay's Project V13 concept art forum.
Ad blocker interference detected!
Wikia is a free-to-use site that makes money from advertising. We have a modified experience for viewers using ad blockers

Wikia is not accessible if you've made further modifications. Remove the custom ad blocker rule(s) and the page will load as expected.