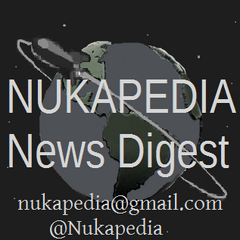 Welcome to the Nukapedia News Digest - News Gratia News.
In your edition this week
Around the wiki
Caption Contest
Wondering who won the peoples vote each week? Follow us on Twitter (@Nukapedia) as we'll be tweeting the winner and the image.
Select your favourite from these submitted by commenters
News from the wastes
Attention: Nukapedia Shoppers
T of the Month
The Obligitory T of the Month is back in the Bethesda Store - this Week its a Canibal. There's a PAX sale on with all T's down to $15 this weekend, so grab em while you can.

And whilst you're there, check out this fine watch too.
FanZone
Wrap
Relic of the War that wasn't
This weekend I'm at the York Cold War Bunker for a real life vault experience - this brand new video Relic is coming soon… But to get you in the mood, here's a clip from "War Games" to celebrate just how it might have ended after all.