Welcome to the Nukapedia News Digest, Open 9-5 Weekdays. Closed for lunch between 9:01 and 4:59.
In your edition this week:
Around the wiki
New This Week
Want to be featured? Add an image for an article for your chance.
Caption Contest
Wondering who won the peoples vote each week? Follow us on Twitter (@Nukapedia) as we'll be tweeting the winner and the image.
Select your favourite from these submitted by commenters
Coming Soon to a wiki near you...
News from wikia
Positions Vacant - Events Manager
Are you looking for a fast paced, high profile role that requires creativity and strategy to develop live brand experiences? Wikia is seeking a rock star Events Manager to lead the events program in our rapidly growing marketing team. Reporting to the VP of Marketing, you will be critical in Wikia's effort to lead and fuel our brand, create buzz and help drive our customers.

Like our fans and communities, Wikia is passionate, high-energy, and collaborative. Wikia is one of the largest Creative Commons-licensed sites in the world, as we maintain over 300,000 wikia communities across an impressive array of subjects, spanning all aspects of entertainment, games, and lifestyle. We are rated as a Quantcast Top 40, ComScore Top 100, and Nielsen Top 10 Social Media Site and are visited by over 75 million people a month.

We need YOU to lead the charge in planning all of our trade shows, events and conferences. In close collaboration with our leadership and marketing teams, you will define strategy, scope and budgets to ensure that events are executed seamlessly. You're a creative and innovative events mastermind who will make sure Wikia has a strong brand presence at all major events including Comic-con, South by Southwest, E3, and CES.

Your impact will extend far beyond your own team to encompass our business as a media platform, consumer products and even technology. Our exciting fan platform is going to introduce great career challenges for you but it is also coupled with a culture that emphasizes strong work life balance. For your expertise, we will offer a competitive salary, stock options, and full benefits. Our dog-friendly digs are located in San Francisco (between BART and CalTrain) and also come with a stocked pantry and gaming room, where some employees practice yoga at lunch.

We're a company in its heyday with a website visited by millions. Up for the challenge? Apply here.
The Evil Within Sweepsstakes

In the spirit of Halloween, we've partnered with Bethesda Softworks and one of 2014's most terrifying games, The Evil Within, for our "Thinking Outside of the Boxman Halloween Sweepstakes."
In time for Halloween, Bethesda has provided us with a web-friendly 3D models for one of the game's iconic villains, Boxman. Between now and October 31st, we want you to take these models as inspiration for creating your own terrifying costume or fan art. Entries into the sweepstakes will give you a chance to win prizes like an NVIDIA GeForce GTX 760 graphics card and a The Evil Within poster signed by the father of survival horror, Shinji Mikami!
See the images and enter here
Holywood Bureau
NukaBreak
FanZone
The streets of Loradeo?
;Open call for people interested in modding, or learning how from the guys at Fallout Lonestar
Thrill at the lawless lands and even lawless-er people of the great Texas Commonwealth, birthplace of the mythological Cowboy! This adventure into the New Old West is brought to you by Vault-Tec, America's First Choice in Post Nuclear Simulation. Marvel at the rich Texas oil fields that propelled modern man into the nuclear age (by going dry), and explore the ruins of a world once locked in a minor dispute with its plucky neighbor to the south, Mexico.(ault-Tec assures the State Department that it has no comment on the United States invasion and occupation of Mexico.) So don't wait! Grab one of the millions of guns still waiting to be found and set out to seek your fortune. As always, Vault-Tec promotes responsible firearm use. Make sure to carry plenty of ammunition with you at all times.
More info here.
Dead Meat
Another Kickstarter for your perusal, this is Dead Meat, I'll quote from their kickstarter page from here
DEAD WHAT?
"Dead Meat" is a twisted R-rated buddy comedy/action movie featuring a mixture of live actors, puppets, and a surreal combination of practical and digital FX. If "The Grim Adventures of Billy & Mandy" was my take on laughing at irrational childhood fears, "Dead Meat" is my take on laughing at the often all-too-real fears of adulthood.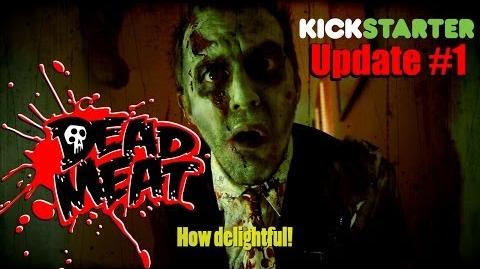 DEAD MEAT IS THE COMEDY FOR YOU IF
Every time you turn on the news, you find yourself shaking your head, wondering how humanity can be so massively stupid.
You're in it for the LULZ.
You're tired of watching soulless, watered-down studio movies and think that entertainment should be, well... entertaining.
You are, in any way, inebriated.
You enjoy watching puppets shoot each other and get run over by cars.
You mostly watch Dancing With the Stars and stuff like that, but you're feeling a touch daring.
You're wealthy and somewhat irresponsible.
You enjoy shocking surprises, fun characters, smart 'n' sassy dialog, and buckets of puppet gore.
"Dead Meat" is the story of a lovable mutant dog (named "Dead Meat") who dreams of being just like his a-hole master, James "Heck" Heckler -- the deadliest Mutant Hunter in the L.A. Wasteland. Unfortunately, in this world mutants are killed on sight, so Dead Meat must live a life of quiet isolation for the good of himself and his best friend.