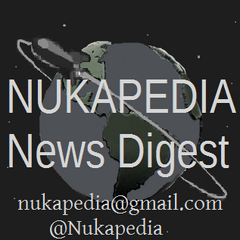 Welcome to the Nukapedia News Digest, through the Nukapedia World service. Wherever you are, wherever you read us, this is The Fallout Wiki.
In your edition this week:
Around the wiki
New This Week
Want to be featured? Add an image for an article for your chance.
Caption Contest
Wondering who won the peoples vote each week? Follow us on Twitter (@Nukapedia) as we'll be tweeting the winner and the image.
Select your favourite from these submitted by commenters
Coming Soon to a wiki near you...
News from wikia
"
Today (14 October) @Wikia reached a milestone achieved by few internet companies -- hitting 100 Million Global Monthly Unique Visitors (per @Quantcast)!
"
— @wikia
Coming Soon - New Editor
In the beginning, there was wikitext. Way back at the end of the last century, who might have suspected that this novel markup language would one day be the framework for the amazing array of fan communities that comprise Wikia, or the vast repository of human knowledge that is Wikipedia? As platforms for collaboration grow and evolve, the tools we use to contribute to them have to do the same. For almost two years, Wikia and the Wikimedia Foundation have been working together on an editing experience that's elegant, intuitive and most importantly, shows the user what the published page will really look like. Today we're excited to announce the first beta release of the VisualEditor feature on Wikia.

Making a first edit on a Wikia community should be a streamlined and straightforward experience. The new user should feel that the tools provided set them up for a successful edit. As most of us know, learning the ins and outs of wikitext can take a little while. And even in our current visual editing mode, those green puzzle pieces that stand in for infoboxes and templates can be a little…puzzling. The ideal experience for newer users is something that's truly WYSIWYG, which is what's expected from a text editor in this day and age. It's also important that things work just as well in the other direction – edits made in a visual mode should not produce unintended changes in the source code.
You can find out more about this big step in Wikia's future over on community central
The Evil Within Sweepsstake

In the spirit of Halloween, we've partnered with Bethesda Softworks and one of 2014's most terrifying games, The Evil Within, for our "Thinking Outside of the Boxman Halloween Sweepstakes."
In time for Halloween, Bethesda has provided us with a web-friendly 3D models for one of the game's iconic villains, Boxman. Between now and October 31st, we want you to take these models as inspiration for creating your own terrifying costume or fan art. Entries into the sweepstakes will give you a chance to win prizes like an NVIDIA GeForce GTX 760 graphics card and a The Evil Within poster signed by the father of survival horror, Shinji Mikami!
See the images and enter here
Dateline: Rockville, MD
Attention Nukapedia Shoppers

its time for your obligatory update from the Bethesda Store(s)… Whilst the EuroStore by Levelupwear is still yet to see anything new come up, the North American store continues to add more content… This week's addition will sure make you look smarter than the average bear….
News From the Wastes
Wasteland 2
;Some big updates from Wasteland 2 this week as it approaches the Kickstarter Beta.

Here's the headlines:
Travel - Whether you're a classic Fallout or new Fallout fan, Wasteland 2 has you covered. You can roam around in a 3D scaled view, or load a 2D regional map complete with points of interest, including towns, oases and stashes.
Water - If you liked New Vegas' Hardcore mode - or didn't think hardcore was hardcore enough - you'll be intrigued by Wasteland 2's water management system. Your team of rangers will deplete your water stores - how quick depends on the terrain. You will need to replenish it at oases or major locations or your rangers will start taking damage until they eventually succumb to death.
Radiation - Yes, you can die from Radiation too. It will only insta-kill at the highest levels, but at moderate levels will punch harder than being dehydrated. There will be a few pockets where even a rad suit will not save you.
Enemies - There will be no active level scaling, just like the old days. If low level rangers walk through a high level area, they can expect to get owned in a random encounter. You can try to run away if fighting to the death is not your style; if you're fast and or lucky enough you might just manage it.
Beta - The Beta is now with a group of external testers as a dummy run, and presuming that goes well, those who bought early beta access will get it soon. Betas will be distributed through steam.
Wasteland 1
If you're holding out to play the game that started it all - including Fallout - well you will soon have your chance. Wasteland 1 is now being tested on a variety of new platforms, and is having some updates, including an updates sound track from Fallout vet Mark Morgan, some refined graphics, and the old paragraph book has been integrated into the game… You can see some of the progress here:
Wrap
Relic of the War that Wasn't
As some of you know, I visited a nuclear bunker in York earlier this year, and promised a Relic about it… Well, this isn't it, but helps foreshadow the York bunker to help put it into context.
If you're going to prepare your country to deal with a possible nuclear war, you need to know where and when the bombs are falling, and in the UK, that job fell to the Royal Observer Corps, a volunteer organisation tasked with collecting data on nuclear explosions.
The country was peppered with mini bunkers designed for 3 people; each containing 3 critical pieces of equipment to determine the location and size of each blast, reporting to bigger bunkers who would collate the bunkers data for their region (this is where the York bunker fitted in). Below you can see one of the mini bunkers in Ayrshire (Scotland).
Now if you're thinking that this sounds like a nice easy way to survive the apocalypse, you'd be wrong. One of these monitoring tools is essentially film with limited exposure to the outside world. This film needs to be changed every few hours, from the outside, in all of that radiation and fallout… Being a member of the ROC meant a slow painful death, rather than a merciful quick one.
We'll have more on the Royal Observer Corps, and their bunkers, in later relics.