Each Week Lord Ashur invites you to join him (along with Agent C and Sulik) watch the fiercest combatants from around the known world battle it out for supremacy. After we've crowned our 4 divisional champs (and the wild card entry) we'll throw them all back in the hole to battle it out again. Each battle runs form Tuesday to tuesday, and you can help us decide the outcome - vote for the toughest, the biggest, the baddest, the one your favourite will find it easier to crush, or even for just which one you like the most.

The Villains - Heat 2


Frank Horrigan


The Master

This week in the Hole...
TALK - Agent C and Sulik review the week's battle

Here, you be drinking this.

---


Gee Sulik, thanks…. Urgh, Sulik you make the worst Coffee.

---


HA, that not be Coffee, that be a special potion to protect from the bad voodoo

---


Bad Voodoo?

---


Grampy be warning us of the Master's bad voodoo… We not being sure the potion be strong enough

---


So does Horrigan stand a chance?

---


We and I not be sure. Depends how thick the helmet is being. If it be thick enough, maybe be stopping the voodoo.

---


I see, I better be drinking up then… Urgh, this potion tastes like Gecko Piss

---

How you be knowing Grampy's secrets?

Votes

Poll:The_Hole_Villains_Special_Heat_2

The Victor of this battle will face Lanius in the Final
Last Time
Last Week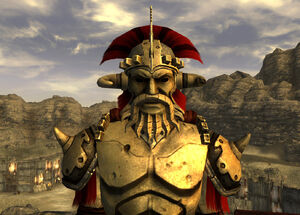 Our Winner: Legate Lanius
After the break....
TALK - Agent C and Sulik review the week that was

Right, I'm back from hugging the toilet. Sulik lets move on to a review of last weeks battle. Lanius easily took care of Jingwei there, any surprises?

---


We and I be thinking it would have been harder. Ghost people not be bleeding… Yet Jingwei, he be crushed.

---


Who do you think Lanius would rather face in the Final?

---


His armour be shiny, may be enough to reflect Master's light bringers, and helmet maybe be stopping the voodoo. But Horrigan be providing an even match. Both be good battles.

---

Thanks again Sulik... and by the way you owe me a new Coffee cup.
The Rankings
This Division
The Regular Hole series continues Next week. The Villains final is this Sunday, to celebrate 15 years of Fallout
The Hole concept was originally adapted for Nukapedia by The NemesisX. Sulik character developed by the Black Isle team. Noone knows whose idea Agent C was.