---

Citizens of The Pitt!, it is I, Lord Ashur and I bring to you all a chance to fight for your freedom!, once a week The Hole will commence and the strongest of warriors will fight it out, while you workers have the opportunity to fight my other workers and can vote and decide who should be victor. 
Because I know you only want to see the best fight the best, that is exactly what we are going to give you!  From 4 Classes (Heavyweight, Cybernetic, Travveler and Normalweight) 8 shall be chosen and shall battle until only onechampion is left standing in their class - and then we'll throw them straight back in the hole to determine the Champion of Champions!
The Hole will open on a tuesday, winner will be announced on the following Tuesday when it all begins again!
A word on "Strategic Voting"
It has come to Lord Ashur's attention that in this series you may be tempted to vote for a participant to continue not on their merits, but on the perceived ability for another contestant to defeat them easier in later rounds... Rather than discourage the practice, we encourage it! If you want Marcus to win the next round, you are free to vote for whoever you think he'll have an easier time beating, or you may vote for your favourite of the two - it matters not as long as there is plenty of blood and gore!
Heavyweight Heat 3 - Why Can't we be friends? Special - Fawkes vs Lily
Heavyweight Division, Heat 3
VICTOR
Fawkes!

Both faithful companions to player characters, please ensure you are wearing hearing protection to protect yourself from the roar of the miniguns.... But only one can survive, will it be the Capital Wasteland's favourite mutant, or the Nightkin Grandmother?

Our microphones managed to catch this exchange between the two earlier:

"

What's the matter, dearie? Afraid grandma will embarrass you in front of your little friends?

"

— Lily

"

No, because In all things, a calm heart must prevail.

"

— Fawkes

VICTOR
Fawkes!

Votes

Poll:The_Hole_-_Heavyweight_Heat_3

If you are unable to place your vote via this system, please disable any pop up blockers or other browser addons you are using. If this persists, please indicate so in the comments and include your OS, Browser version, and your preferred victor.
The Victor of this battle will face Marcus in the Semi-Final
Fights in this series
Last Week
Heavyweight Division, Heat 2
VICTOR
Horrigan!

Battling to a record hole crowd, the Enclave's finest made short work of the supposed pinnacle of human evolution... However we have recieved a protest from the victor, who insists as a supermutant he isn't eligable to participate in this category. We'll have more updates on this as they come

VICTOR
Horrigan!
The Rankings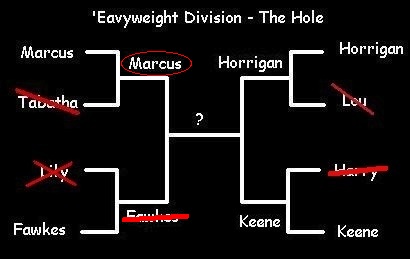 Credits
Agent c is the current Promoter and manager of the hole on behalf of Lord Ashur, as well as executor of the estate of all fallen combatants.  Any comments and queries can be left here.
Management accepts no responsibility for loss of life, limb or other damage to combatants and spectators.