---

Citizens of The Pitt!, it is I, Lord Ashur and I bring to you all a chance to fight for your freedom!, once a week The Hole will commence and the strongest of warriors will fight it out, while you workers have the opportunity to fight my other workers and can vote and decide who should be victor. 
Because I know you only want to see the best fight the best, that is exactly what we are going to give you!  From 4 Classes (Heavyweight, Cybernetic, Travveler and Normalweight) 8 shall be chosen and shall battle until only onechampion is left standing in their class - and then we'll throw them straight back in the hole to determine the Champion of Champions!
The Hole will open on a Tuesday, winner will be announced on the following Tuesday when it all begins again!
Heavyweight Cybernetic Division, Heat 1- I didn't shoot the deputy (yet) - Deputy Weld vs Primm Slim
Cybernetic Division, heat 1
VICTOR
Vote Now
This week, the battle of the deputies. Will it be Megaton's guardian, or the keeper of the Vicki and Vance? Decide now.
VICTOR
Choose now

Votes

Vote Closed
Weld 61
Slimm 54


115 Votes - A Record I believe. Weld has it by just 7 votes and will progress to the Semi-Final.
The Victor of this battle will move to the Semi Final
Last Week
Semi Final 2
VICTOR
Frank.....

With both contestants trading places frequently, and one of the most debated results so far, Horrigan was able to send Marcus to Sto-Vo-Kor once and for all. Additionaly Fawkes was selected to join Frank as the Wild Card Entrant for the Championship division. Your Action replay - brought to you by RobCo is here

VICTOR
|200px]]Horrigan!
The Rankings
This Division
The Championship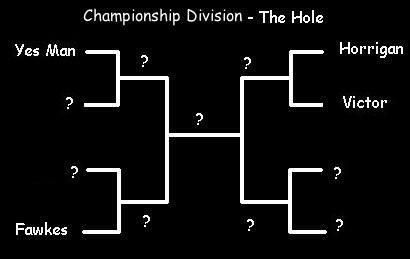 Credits
Agent c is the current promoter and manager of the hole on behalf of Lord Ashur, as well as executor of the estate of all fallen combatants.  Any comments and queries can be left here.
Management accepts no responsibility for loss of life, limb or other damage to combatants and spectators.