Each Week Lord Ashur invites you to join him (along with Agent C and Sulik) watch the fiercest combatants from around the known world battle it out for supremacy. After we've crowned our 4 divisional champs (and the wild card entry) we'll throw them all back in the hole to battle it out again. Each battle runs form Tuesday to tuesday, and you can help us decide the outcome - vote for the toughest, the biggest, the baddest, the one your favourite will find it easier to crush, or even for just which one you like the most.

Companion Cup - Semi Final 2


Cass


Goris

This week in the Hole...
TALK - Agent C and Sulik review the week's battle

Ah, Sulik, Finally, where have you been, We're late

---


We and I be doing our business. Have to be going a long ways through this place to outside

---


Sulik, you know we have a bathroom in the commentary suite, right?

---


You be thinking we be beingsome kind of animal? We not be doing out business inside. We and I be knowing better than that.

---


Well, I suppose you have a point, I guess. So this week, who do you like? Cass looks pretty tough, and she does seem to have inherited her fathers fighting skills.

---


Nah, we and I know that not being true. We and I be knowing her mother, she be much tougher.

---


Cass's Mother? How do you know her?

---


We and I be playing with her as a child, and be looking out for her ever since… Spent many ages looking for her when she be getting in trouble.

---


Really? Sulik, what are are you saying.... Sulik, level with me, what ever happened to your sister?

---

We and I be saying too much

Votes

Poll:The_Hole_-_Companion_Cup_Semi_Final_2
A quick review...
'The Winner - The Villains Series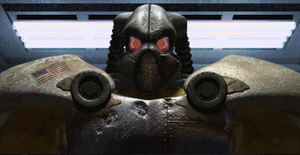 Our Winner: Horrigan!
Companion Cup - Semi Final 1
Our Winner: Boone
The Rankings
This Division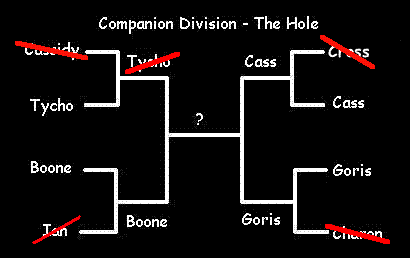 The Championship