Comments

80
The Hole - Companion Cup - Heat 3 - In the Back
---

Citizens of The Pitt!, it is I, Lord Ashur and I bring to you all a chance to fight for your freedom!, once a week The Hole will commence and the strongest of warriors will fight it out, while you workers have the opportunity to fight my other workers and can vote and decide who should be victor. 
Because I know you only want to see the best fight the best, that is exactly what we are going to give you!  From 4 Classes (Heavyweight, Cybernetic, Companion and Normalweight) 8 shall be chosen and shall battle until only one champion is left standing in their class - and then we'll throw them straight back in the hole to determine the Champion of Champions!
The Hole will open on a Tuesday, winner will be announced on the following Tuesday when it all begins again!
A word on Strategic Voting
It has come to Lord Ashur's attention that in this series you may be tempted to vote for a participant to continue not on their merits, but on the perceived ability for another contestant to defeat them easier in later rounds... Rather than discourage the practice, we encourage it! If you want someone to win the final and the division, you are free to vote for whomever you think he'll have an easier time beating, or you may vote for your favourite of the two - it matters not as long as there is plenty of blood and gore!
Coming Soon - A Hole Special Series
Be on the lookout during September for a special Hole series to commemorate 15 years of Fallout, including the early return of fan favourite FRANK HORRIGAN!
Companion Cup - heat 3 - ...In the back
Companion Cup Heat 3 - ...In the back
VICTOR
Vote Now
Both are wounded warriors, Ian's almost healed whereas Boone's is in the mind. One was stabbed in the back, the other has a tendancy to put bullets there. One plays the long game, the other masters the short shot. Only one can move on to the Semi Final.
VICTOR
Choose now

Votes

Poll:The_Hole_-_Companion_Cup_3_-_Ian_vs_Boone

The Victor of this battle will progress to the Semi Final
Last week
Companion Cup Heat 2 - ladies Night
VICTOR

For Cross it was heartaches by the numbers, and troubles by the score... Specifically the numbers 36 and 77 as the score lead Cass to an easy victory.
VICTOR

The Rankings
This Division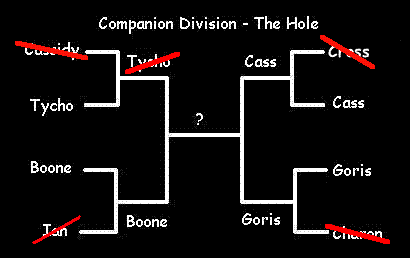 The Championship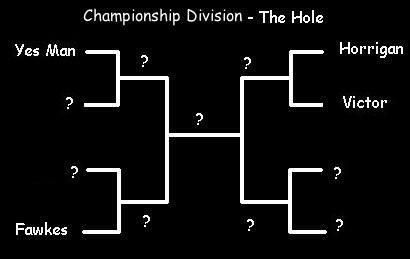 Ad blocker interference detected!
Wikia is a free-to-use site that makes money from advertising. We have a modified experience for viewers using ad blockers

Wikia is not accessible if you've made further modifications. Remove the custom ad blocker rule(s) and the page will load as expected.