Comments

87
The Hole - Companion Cup, Heat 1 - Shotguns at Dawn
---

Citizens of The Pitt!, it is I, Lord Ashur and I bring to you all a chance to fight for your freedom!, once a week The Hole will commence and the strongest of warriors will fight it out, while you workers have the opportunity to fight my other workers and can vote and decide who should be victor. 
Because I know you only want to see the best fight the best, that is exactly what we are going to give you!  From 4 Classes (Heavyweight, Cybernetic, Travveler and Normalweight) 8 shall be chosen and shall battle until only one champion is left standing in their class - and then we'll throw them straight back in the hole to determine the Champion of Champions!
The Hole will open on a Tuesday, winner will be announced on the following Tuesday when it all begins again!
A word on Strategic Voting
It has come to Lord Ashur's attention that in this series you may be tempted to vote for a participant to continue not on their merits, but on the perceived ability for another contestant to defeat them easier in later rounds... Rather than discourage the practice, we encourage it! If you want Horrigan to win the final and the division, you are free to vote for whomever you think he'll have an easier time beating, or you may vote for your favourite of the two - it matters not as long as there is plenty of blood and gore!
Coming Soon - A Hole Special Series
Be on the lookout during September for a special Hole series to commemorate 15 years of Fallout, including the early return of fan favourite FRANK HORRIGAN!
Companion Cup - heat 1 -
Companion Cup Heat 1 - Shotguns at Dawn
VICTOR
Vote Now
Both of these men are masters of the art of the Shotgun. Cassidy with his sawn off helped the Chosen see off the Enclave; Tycho traveled through Vegas before it was made new again, but despite the guns being double-barreled, there's only room for one to progress to the Semis.
VICTOR
Choose now

Votes

Vote closed. John Cassidy: 36 votes Tycho, Desert Ranger: 52 Votes

The Victor of this battle will progress to the Semi Final
Last week
Cybernetic Division Final
VICTOR

The answer is is still Yes, Yes, Yes oh my god Yes. In a landslide victory 1128 of you voted, and saw Yes man put down Weld 76 plays 52.

For the Wild Card Entry, despite having no previous victories, Victor has won a place in the championship division, with 29% of you voting for Victor.... I guess you all couldn't find the Barnarky button.

VICTOR

The Rankings
This Division
The Championship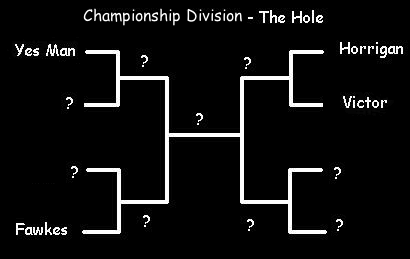 Ad blocker interference detected!
Wikia is a free-to-use site that makes money from advertising. We have a modified experience for viewers using ad blockers

Wikia is not accessible if you've made further modifications. Remove the custom ad blocker rule(s) and the page will load as expected.