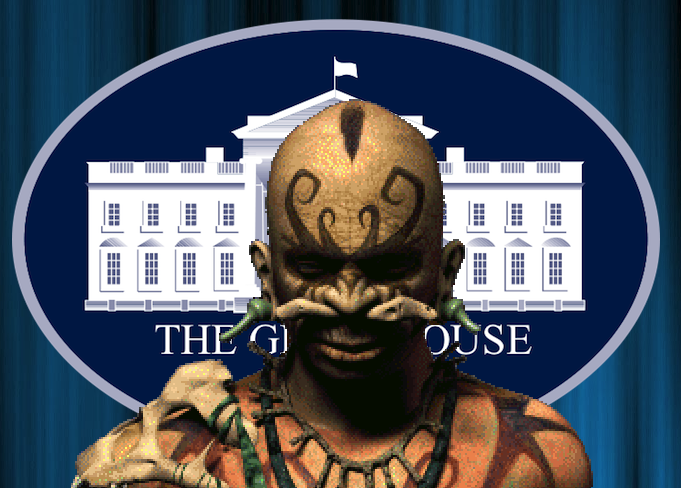 The time has come for you to put the questions to the man himself... Sulik is answering your questions. If you have an extra question for Sulik, please post in the comments this week, and check back before New Years Day
Ask Sulik Anything
TALK - Agent C and Sulik talk about... something.

Well Sulik, we're here, the Ask Me Anything…. before we get into the main event, can I ask a question?

---


Sure, we and I be happy to answer anything

---


How does Christmas look in the Sulik Household, I mean I know you had the tribe here, but what does the Tribe do for Christmas

---


Well, We and I usually be having a very traditional Christmas. We be having roast Deathclaw with Gecko stuffing, while singing carols around the fire

---


A Deathclaw with Gecko stuffing?

---


Yeah, sometimes it be hard to be stuffing the Gecko into the Deathclaw, but it be tradition.

---


And what sort of Carols do you sing?

---


We and I think you be knowing the 12 days of Christmas

---


I am surprised! What is in your 12 days of Christmas?

---


Just the usual, nothing special.

---


Oh come on Sulik sing the last verse for us? This is no time to be uncharacteristically shy...

---


*ahem*

On the twelfth day of Christmas, me true love gave to me

12 rounds of Ammo
11 Traders Trading
10 Guards guarding
9 Ghouls a glowing
8 Slavers slaving
7 Miners Mining
6 Raiders Raiding
5 Votes for Dave
4 Brains in Jars
3 D Oh G
2 StimPacks
and a Harold in a Bob tree

---


Magnificent. Question 1

---

Jasper42 Asks...
"Why do you never pick the correct fucking side, arsehole?"

---


We and I be not liking his tone. Next question.

---


Oh come on Sulik, you're not getting out of it that easy.

---


We and I be picking who be the toughest. Not be being our fault if popularity votes be taking over. It not be me that be getting it wrong, it be everyone else.

---


Some typical definace and arrogance from Sulik... Who's next?

---

Dragonbone powerarmor asks
Got a question for ya C since you work with Sulik pretty often. What is Sulik like on a daily basis?

---


What be dis? Dis is supposed to be ask ME anything, not him

---


To answer your question he's incorrigible.

---


We and I not be knowing that word, What dat me meaning?

---


It means you're a pleasure to work with.

---


Good. Next?

---


I have a question for Sulik....

---


Hurry Up.

---


Sulik what do you think of Marcus?

---


We and I not be being happy with Marcus. We and I be hearing him talk about the old days, and be not be mentioning how we and I be really be responsible for destroying the Enclave

---


Err Sulik, the Enclave survived remember, they headed to DC...

---


Next.

---


Sul....

---


I said, Next.

---

Anonymous 195 asks
I usally don't comment or edit anything, but I have to say: Thank you Agent c for these nice conversations with Sulik. They always make me smile:) Keep up the good fight!

---


Dat be more like it. You be being welcome

---


He was thanking me Sulik

---


You and We and I be being a team, Remember...

---


Strange how we're always a team when I get something, but whenever its you, we're not. Who was next?

---

Cc99910 Asks
Do you think I'm Cute?

---


We and I not be into that kinda thing?

---


Guys?

---


No, I mean yes, but we be thinking Dragon Ball Z.

---

The Old World Relics asks
What do you think about Pv13?

---


We and I be not hearing such an amusing joke in such a long time.

---

Neosuduno asks
Sulik, What do you think is the best way to get rid of the following - The Taxman. - Corrupt Politicians. - Inlaws. - Fanboys.

---


In this order, Hammer, Hammer, Hammer, and Hammer.

---


Wont the Missus object to hammering the inlaws?

---


They soon be learning to be keeping their mouths closed.

---

Anon66 asks
Dear Sulik who would win in a hole match you or agent C. sincerly Anon

---


Well, we and I be having high physical stats, and having Melee and Unarmed tagged. We think we be able to take him

---


Yes, but I have high luck, high inteligence and Gambling tagged. I'll be making money either way.

---

Energy X asks
Hey Sulik, will you enter in the Hole fight? A demonstration, perhaps?

---


We and I still be trying to convince Lord Ashur that me and Grampy not be being a tag team. He be saying maybe it be fair for de Champion to go through a gauntlet series...

---

SaintPain asks
Santa Sulik, May we please see blood and guts ooze from unnamed characters like Talon company vs Smugglers?

---


We and I be thinking it be a good idea for the Gauntlet series

---

Denis517 asks
Sulik, do you hail the Pigeon, or the Enclave?

---


We and I be enjoying Pigeon with a nice bit of Modoc Wine. As for de spam cans... We and I be prefering fresh.

---


He said hail, not eat

---


We and I not be understanding de question. Move on.

---

Eden 2012 asks
why do you refuse to civilize?

---


We and I be civilised, you be watching your tone or we and I be showing you just how civilised we and I be being.

---

Bleep196 asks
I need to know what Sulik did with those damn holochips I ordered last week

---


Holow....Chips? Chips usually be being too thin to be being hollow.

---


He means the electronic kinds of chips

---


Ah, we and I be trading it for something useful

---


Like what?

---


A new hammer

---

BrandonFox asks
You see a tortoise in the desert and you flip it over. The tortoise lays on its back, its belly baking in the hot sun, beating its legs trying to turn itself over, but it can't. Not without your help. But you're not helping. Why aren't you helping it Sulik?

---


We and I never be turning down a free feed.

---


Although sometimes there is a dispute as to whether it was supposed to be free.

---

SaintPain Asks
What time is it when it's the day after tomorrow?

---


Huh?

---


Hammer Time?

---


Didn't he be already asking a question?

---


Who's counting?

---

Shotgun9009 Asks
WHERE THE HELL IS FALLOUT 4?

---


De team behind Fallout 4: The Chronicles of Sulik be having some creative differeneces we and I need to be hammering out

---


The difference being?

---


Dey be thinking we and I should not be in de game.

---

Tocinoman Asks
What is the air speed velocity of an unladen swallow?

---


We and I be swallowing a ladle of Turtle in a few seconds.

---

BrandonFox Asks
Sulik! This town is full of deathclaws! How can you sit there and eat pizza!?

---


We and I be liking Deathclaw on Pizza, De Pizza and de Deathclaw being nearby is not a coincidence.

---

Ant2242 Asks
What do you think of the New California Republic?

---


Dey be hard to talk to. We and I be still be trying to convince dem that De Den state should be renamed.

---


And I think we can all guess what he wants to call it.

---

Anon66 Asks
Dear Sulik, Does Grampy have a Mamy Sincerly Anon

---


Of course. Who do you be thinking travels around with Sis?

---


Does she have a bone through her nose too?

---


We and I be thinking it be best not to be telling you where Sis keeps that.

---


Hawt

---


What was dat?

---

Nothing Sulik, Nothing....
Ask Sulik Anything
TALK - 28 December Additions

TwoBearsHigh-Fiving asks

Who's on first?

---


When We and I be the headliner, it don't matter who's on first. Noone ever be remembering we and I be that good.

How was that?

---


I dunno

---


Third Base

---

Facetheslayer asks
Who will win Super Bowl XLVII?

---


We and I always be winning de Supper Bowl

---


He said Super Bowl, not Supper Bowl

---


Super, Supper, we and I not be being fussy where de food be coming from.

---


Sometimes I wonder what this thing is you have with food

---


We and I be being a new world gourmand.

---


Thats one word for it...

---

Leea asks
Sulik, how can you breathe with that big bone speared through your nose?

---


It be quite simple. De nose bones connected to de Skull bone, De skull bones connected to de Neck Bone, de neck bones connected to de chest bone, those bones, oh dem bones.

---

Mr Majestyk asks
What happened to my cat?, The fuckers been missing for more than a month and my ex girlfriend won't shut up about it.

---


We and I be talking to your girlfriend and she be feeling better now.

---

JASPER42 asks
"What if you were in bed one night and you got up to get a glass of water, but then you tripped and fell down the stairs and then when you tried to get up your arms fell off and your face mealted and your blood boiled and burned the rest of your skin black and crispy. And then your hair turned in to ants and your eyes fell out and rolled across the floor and you tried to worm your way over to where you think they were but you can't see now and you have no arms and you just end up squshing them and then your house catches fire and you're stuck there alone and scared and you try to scream but you realise the skin has healed over where you mouth should be and you can't talk or scream or breath because also your nose is gone. What then, huh? What then!"

---


Are you sure there's no question limit?

---


Its your show Sulik, you didn't set one.

---


We and I be wondering how exactly we be getting that far and not be noticing there be no nose or no Grampy bone on my face before then.

---

The Nuclear King asks
Sulik, do you believe in magic?

---


She be one of de dancers at de Gomorrah, right?

---


I think he means the other kind of magic.

---


She be doing dat kind of magic too.

---

Anon76 asks
Do you ever have to clean that bone in your nose? Seems like it would get infected or disgusting in some other way otherwise.

---


Ha

---


you be saying something?

---


I was just thinking it was probably one of the least disgusting things about you

---

Watch it
Would you like to see more Ask Me Anythings?
The Hole is back as usual on New Years day with our Tournament of Champions.
Credits
Sulik is a creation by the Original Black Isle team. The Glow House is a running chat joke. Noone knows who's idea Agent C was.