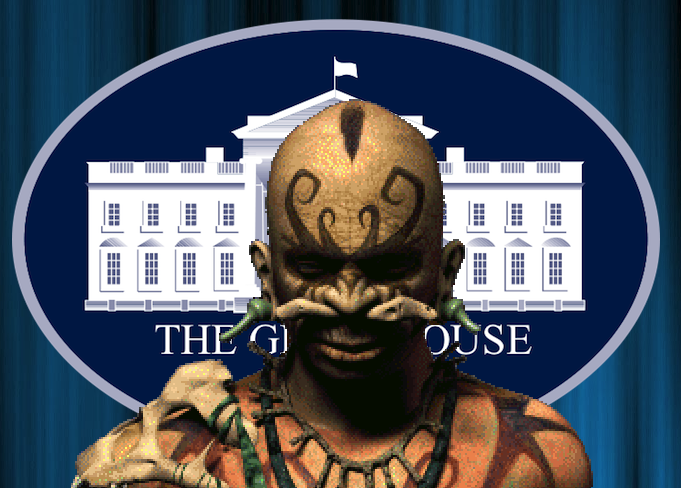 There's no news this week, but Sulik is still answering your questions. If you have an extra question for Sulik, please post in the comments this week, and check back before New Years Day.
Ask Sulik Anything
TALK - Agent C and Sulik talk about... something.

What be dis? No news today?

---


Friad not, noones' published anything worth reporting yet

---


Dis not be fair. We and I were getting excited when you be saying we be doing another post today. We and I be thinking that it be good to be stretching out, do de news, maybe de polls next week....

---


I don't think Dead Gunner would appreciate that....

---


Dis not be fair. We and I be sure we can be... Persuading him dat de polls would be better handled by me and Grampy.

---


If its anything like the Hole, you'd get cross when all the polls came up with the "Wrong answeres"

---


We and I know that civilising de Wiki be a slow journey, but we be sure we can be convincing everyone soon enough.

---


I... I don't know what to say to that.... Shall we do some questions?

---


I guess. Lets see what dey be coming up with dis time.

---

Neosuduno asks
Sulik, thanks for the advice, but now I have another question. Whay are improvised and cheap explosives, tribal remedies and piecemeal weapons and armor so much more powerful than normal stuff? Those satchel charges hurt like hell and healing poultices are awesome for injuries.

---


De City people, dey be trying to be making things much more complicated then dey need to be. When de be loading it up with all dat sillyiness, you lose the purity of what it is all supposed to be.

---


Sulik, that almost makes you sound like a hippy

---


God damned hippies. Hipsters, all of dem. Dey only be into dis stuff cos dey be thinking its kool.

---

BrandonFox asks
If I'm not me, then who the hell am I?

---


Annoying

---


Care to expand on that?

---


Very annoying

---

Anon50 Asks
If the Enclave was destroyed, but ended up in Washington D.C., then who was phone?

---


Hmm, Me going to have to consult with Grampy on this one.

---


Grampy be saying... Phones were liked by ET. ET had Drew Barrymore as a star. Drew Barrymore was in Confessions of a Dangerous Mind with Anna Silk, Anna Silk was in Where the truth lies, and so was Kevin Bacon. Ergo, Kevin Bacon was phone. Not sure what that be meaning.

---


I think you have your memes crossed.

---


Although me not be understanding, Grampy be sure. Says be a better answer dan de one that Jasper folk be giving.

---

BrandonFox asks
Do you have a favourite movie Sulik?

---

---


The Postman? Are you sure? That was terrible

---


It be reminding me of someone I used to be knowing.

---

Leea asks
Sulik, what is your favorite weapon? Other than a hammer, that is...

---


10mm Smug

---


Smug, oh you mean SMG

---


Dey usually not be being so smug after we and I be using it.

---

Bidudas asks
Sulik, why are you awesome?

---


Dunno, we and I just be being born this way.

---

Neosuduno asks
What is your favourite new world recipe and how do you make it? OK, I admit that is 2 questions, but I would to know anyway.

---


We and I be thinking dere be nuffin finer dan Rose's Brahmin Fries. As for how to make it, we and I just be saing "Yo Rose, More of dem Brahmin Fries"

---

0datdude0 asks
Whatever happened to that kid from vault 101 ?

---


Well, dat be a long story. But in short, he be getting married to Amata , and be finking its going to last...

---


Oh, thats sad, why did they break up?

---


He be getting sick of "Whats Amata?" jokes, so he now be living in seclusion.

---


And whats Amata with that.

---


We and I now be seing how be could be getting sick of dat.

---

Thank you again Sulik. That's about all from us. Don't forget to join us in the hole.
The Next "Ask me anything" should be hosted by.....
The Hole is back as usual with our Tournament of Champions. We hope to have all the news thats fit to print, and otherwise, next saturday.
(Sadly the news in review is cancelled/postponed due to illness. I'll try and have something up later in January).
Credits
Sulik is a creation by the Original Black Isle team. The Glow House is a running chat joke. Noone knows who's idea Agent C was.