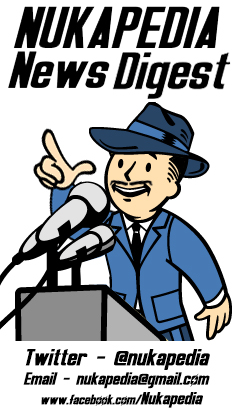 Welcome to a special Pre-3 Edition of the Nukapedia News Digest. Proudly DRM free, and can be traded, loaned, sold, or thrown out to your hearts content.
In your special edition
Microsoft Says….
Price

$US499, €499, £429 From November

Microsoft points are dead

2 games per month for Xbox live Gold users for the rest of the year, but they're 360 games and won't work on the Xbox one
Games (not all at launch or exclusive)
The Elder Scrolls Online
Halo 5
Ryse:Son of Rome
Forza 5
Quantum Break
Sunset Overdrive
Killer Instinct
Panzer Dragoon
Dead Rising 3
Project Spark
D4
What Lies Below
Titanfall.
Metal Gear Solid V
The Witcher 3: Wild Hunt
Sony Says…
The Big questions
Price

$US399 €399, £349

"You can trade in the game, lend it to a friend, or keep it forever" - Jack Tretton

Single-player games would still work just fine even when there is no Internet connection

PSplus is NOT required to access media services (like online video streaming) but IS required for multiplayer
The Rest
Access to selected parts of Sony Entertainments' Movie, TV show and Music catalogue (and thats a huge catalogue). 150,000 Movies and TV shows, 20 million songs available at launch (US at first, more to come).
Netlflix, Amazon Instant, Redbox, Flixter, MLB TV accessable too, without any subscription to Sony.
Games (not all at launch or exclusive).
The Elder Scrolls Online' (Exclusive Beta)
The Order: 1886
 Killzone Shadow Fall 
Driveclub
Infamous: Second Son
Knack
The Dark Sorcerer
Final Fantasy XV
Kingdom Hearts III
Assassin's Creed: Black Flag
Watch Dogs
Indie Games
Transistor
Don't Starve
Octodad
Secret Ponchos
outlast
Galak-Z: The Dimensional
Destiny:Become Legend (Bungie/Activision say best experienced on Playstation)
Elsewhere
Brown and Sticky
Following death of old publisher THQ, and shifting across to Ubisoft, we cross to Eric Cartman for a release date update on Obsidian's South Park: The Stick of Truth
"This holiday season or some holiday season, you know how video games are"
Thanks Eric.
"Screw you guys, I'm going home".
Those Mavericks in Cupertino...
Meanwhile, those chaps in Cupertino are too cool for E3, holding a developers conference of their own. Whilst their new Operating system isn't going to be called "Sea Lion" like they teased (instead being called "Mavericks" after a surf beach in California), they did show off something who's creators insist it is the future of gaming…
This is Anki Drive. Robotic cars where the robot logic stuff is done on the iDevice itself
Poll - Who Won E3
What was your Highlight of the conferences so far?