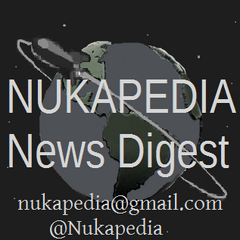 Welcome to the Nukapedia News Digest. Please note that FCC regulations require you to power down your electronic devices whilst reading this blog.
In your edition this week
Around the wiki
New This Week
Want to be featured? Add an image for an article for your chance.
Caption Contest
Wondering who won the peoples vote each week? Follow us on Twitter (@Nukapedia) as we'll be tweeting the winner and the image.
This Week

Thanks to the guys at Nuka Break… Yes, you saw that last week, and that is Chris Avellone, but we need a caption! Enter your suggestion for a caption for this weeks in the comments below
Select your favourite from these submitted by commenters
Coming Soon to a wiki near you...
Dateline: Rockville, MD
"
Fallout 3 released 5 years ago today. Our thanks to all of you who made it special for us
"
— @BGSdevs, 28 October
Attention Nukapedia Shoppers
In CineScope (where available)
"
You know you have played too much Fallout: New Vegas when you start saying Cinema with a hard C like Ceasar
"
— Agent C
Wrap
Relic of the War that wasn't
Its been 30 years since the world didn't end… Thanks to a few games that almost went a little bit too far.

In 1983, the US and its Nato Allies engaged in some war games exercises, as they do from time to time. As a part of "Able Archer 83", 40,000 troops hit Western Europe to simulate a Soviet invasion of Yugoslavia, Finland, Norway and Greece, with the intensitiy of weapons being use increasing through conventional war and onto chemical and nuclear weapons.

1983 had already been a huge year in the Cold war - a Korean Airlines 737 had already been shot down when it strayed too close to the Soviet Union (killing 269 people), and Ronald Regan had already slammed the Soviets as running an "evil empire". In addition, the "False Alarm" we reported earlier this year involving Lt Col Petrov had occurred just 2 months earlier.

This buildup of troops in Europe spooked the Soviets into thinking the war games might be a prelude to invasion - planes were fitted with nuclear arms, missiles were placed on alert, submarines were sent under the arctic ice to protect them and the simulated increases from DEFCON 5 to DEFCON 1 were mistakenly reported as being real by undercover KGB agents.… I guess noone told them that the soviets were the invaders in tis scenario.

The exercise started on November 2, and wound down on November 11. After learning that the soviets were worried about the manoeuvres being a prelude to war, President Regan is reported to have said "I don't see how they could believe that—but it's something to think about"

(Thanks to NukaTurtle for the updated relic image. If you need artwork done, perhaps she can help you).