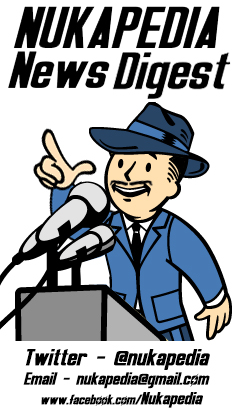 Welcome to another eggs-iting edition of the Nukapedia News Digest. This weeks digest is brought to you by the Mojave Express. When it absolutely, positively, has to get there after our courier has done everything else interesting… Choose Mojave Express.
In your Digest this weekend:
Big News: Fallout 1 is free for a very limited time
If you haven't seen this already, time is running out to claim your free copy of Fallout 1 thanks to Gog.com...
Edit: Sorry guys, the offer has now expired, but its still just $US5.99, and you can get other greats from the Fallout team on the same site for a similar price (Arcanum, Plansescape Torment, and something called "Fallout 2").
From the Administrative Enclave
From Wikia
Wikia's next Webinar is Best Practices for Structuring your Wiki: Categories, Navigation and More, oh my. This webinar starts April 20, 3PM Pacific time. You can find more on Wikia's Webinar page.
News from the Wastes
Nukapedia is proud to be affiliated with The Wasteland Wiki - Guardians Forever!
KickStarter Update - Its On!
The Greatest RPG ever…. ever is on! Combining Wasteland's [Kickstarter] and Paypal donations, Kickstarter has now exceeded $2.1 Million. That means Chris Avellone is on board, and tools will be provided by the good folks at Obisidian.
New Kickstarter Tier
A new "Digital Only" tier has been added aimed at International buyers for $55:
THE INTERNATIONAL FRIENDLY ALL DIGITAL PACKAGE! You get one digital copy of the game DRM free for PC, Mac or Linux, digital soundtrack, digital concept art book, episodic novella part 1 and 2, and premiere access to an early playable beta on steam. This comes with no physical goods to help with VAT, duty and shipping costs for our international fans!
If you haven't donated yet, surely you are now out of excuses?
MattChatt plays Wasteland
Gaming historian "Matt" has made Wasteland the subject of one of his "Chats", catch up with MattChat here.
In the past Matt has spoken with Tim Cain and Brian Fargo, and has featured many of the other Interplay greats.
Want a Chris Avellone Autograph?
Its going to cost you $250, but you'll also get Brian Fargo's and Michael A Stackpole's. Just donate that much or more through Kickstarter or Paypal. You still get all the other good stuff, but lets face it, you just want the signature right?
Random Chatter
Just some other chatter from notable names. Chris Avellone (There's that name again!) has thrown his support around another Kickstarter project: Shadowrun Returns. For those of you who are unfamiliar with Shadowrun, think Cyberpunk meets magic - Cyberware, Virtual Reality hacking and Dragons owning Megacorporations. The game has a lower budget than Wasteland 2 (less than half a million US), but exceeded its goals in less than 2 days. As its not a Fallout game I of course won't be covering it any further.
Project Spotlight
No nominations for Project spotlight this week, but did you know that every day that projects are going hungry for attention? Projects that have been abanonded by their leaders and others. You don't need to spend even $1 per day, you just need to give a little spare time to your wiki, and you too can help make this wiki great.
Orphaned Projects:
Have a project you want to spotlight? Please get in touch.
Wrap
Relic of the War that Wasn't
A little something I found whilst researching a contest entry for a Strategic Nuclear Moose challenge. For those of you living in the USA, these could have been the very last words you ever heard: The official scripts for the Emergency Broadcast System. In the event of the system being activated these scripts would (in theory) be read by the duty announcer until news was provided to the station to broadest.
Of course we know in practice, if the alert went off something very different would (or more to the point, wouldn't) happen.... In my very first news post last November (before this section even had a name) I linked a recording of a station (WOWO Fort Wayne Indiania) that followed the EBS activation protocol correctly the one time the service was (accidentally) triggered - most stations who received the activation did nothing.
Is anyone headed to PAX East?
Want to be our semi-official Nukapedia Correspondent to PAX? Gimmie a shout if you're going and take pics/audio/video/etc of anything you think your fellow Nukapedians will find interesting.
Your next Nukapedia News Digest
Will be on Friday. See you all then! Agent c 22:45, April 6, 2012 (UTC)