Welcome to the Nukapedia News Digest, brought to you by Gannon's Arcade. With such hit games for just 1 quarter.
In your edition this week.
Around the Wiki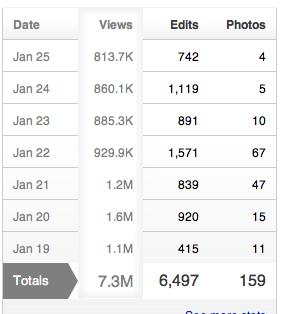 Not too much admin stuff this week, but a few stories from around the wiki.
Just before we get into that though, the Signature Image vote has passed. The permitted size of images in your signature has now increased, and there is now no limit on the maximum number of images (as long as they all fit into the permitted size combined).
I thought you might like to see our week in stats... Since I spoke to Erik Dellums, views have gone through the 7 Million weekly barrier, and we've had more edits.
Viva La Wiki
Hey guys! I posted on this forum awhile ago asking how to go about getting Admin rights to the abandoned French wiki, and I have since gained those rights through Wiki des communautés. I've been slowly but surely working on standardizing pages, adding content, removing broken English-language page links, and the like, though school/work/life has made my progress slow.
I would like to respectfully ask for help from all y'all who speak French and English fluently :) Adding content, adding categories, fixing links, creating templates.... anything you're willing to do would help!
If you have the games on Steam, getting to the French-language version is as easy as right clicking on the game title, selecting "Properties", going to the "Language" tab, switching the language to French, and letting Steam do it's updating.
I'd also like to ask for help and advice from the Admins over here on Nukapedia if you are willing. I've been trying to update the CSS and templates with limited success, and advice for how to organize the pages and keep them organized as content grows would be greatly appreciated. Librarymouse (talk)
How to Eat Rat
Its time for another crazy harebrained scheme. (TaDa!) There's a few of you out there I've discussed
Basically, I've been thinking about this for a while, and I thought it might be both good Karma, and fun to get some sort of Charity project for an upcoming Holiday. Obviously there are too many shopping days to Christmas, but Easter looks promising.
Anything we'd do would of course have to be appropriately themed... I was thinking about all things Fallout, and then I remembered a little something was tried on the Pre-either-wiki Fallout PnP email list.. A cookbook.
Anyone who has read the Fallout 1 Manual would of course be familiar with How to Eat Rat, Vault-Tek's handy-dandy guide to surviving famine.
I was thinking it would be cool to see if we can get a collection of recepies together -- real world recepies - that Vault Tec "suggest" could have rat substituted as an ingredient.
TES:O just keeps getting Beta (and Beta)
What's brown likely to be delayed, and sticky?
A short update on Obsidian's next game, Stick of Truth. THQ, publisher for the title is Bankrupt. The good news is, it looks like someone is interested in publishing the game. Ubisoft are proposing to buy the rights to publish the title for $US3.26 Million.
However there is some issues along the way - South Park Studios isn't happy with the deal... They claim a right to buy the rights to the title back and are objecting to the sale. The escapist are covering that here.
Whichever way this goes, it looks like the March 5 date is likely to be missed.
Ars Technica has the details on how the rest of the company is proposed to be divided, but in short Relic (Warhammer) is off to Sega, Volition (Saints Row, Red Faction) is off to Koch Media, Crytek are taking Homefront, and take 2 are taking Evolve. Ubisoft are also purchasing THQ's Montreal studio who are working on 1666.
Chat Emoticons
We're approaching a vote in the Chat Emoticon discussion... The opportunity to have your say is likely to close soon. Make sure you hoin in here.
Never joined chat? Find out what you've been missing
iFallout
Some big news for Mac Fans... On top of Fallout's recent mac release on gog.com, Fallout 2 is now available for mac. If you already bought it on Windows via GoG, your mac copy is free.
Project Spotlight
From Bleep196
Hi Guys and Gals. Some of you may have seen me around the wiki from time to time, or in chat. Some of you may know me from my past impacts, most specifically the Bug Verification Project. Some of you may have noticed my recent pickup of activity dealing with this project, more than my normal verification and cleaning out of the overdue bugs section. This is all part of a process that I had originally in mind when I founded the project, but due to school and other things I really never got beyond the policy stage. I'm now going to tell you what exactly it is that I have in mind, and what, more specifically, it is that I am working towards.
The Original Goals
The original goals of the project can be found in the page linked above, but this was more than just a project. The Bug Verification Project has been perhaps one of the most significant efforts on what used to be The Vault and what is now Nukapedia. The original guidelines for the project became the wiki's current total Policy for all bugs, this speaks volumes about how well defined our intentions were in regards to the section of our articles that set us apart from just about every other wiki out there.
To put it in more simple terms, bugs are a massive and key element in the Fallout Series. They define the games as much as the well written story lines, the power armor technology, the FEV and Mutants, and the stuck-in-the 50's culture. The fact that the bug sections and pages themselves were in such disarray when I originally started the project with the now inactive Scarface astonished me. Since then we have made tremendous strides towards correcting the problems. We are still quite far from our goal of bringing the bugs section of articles, and even the pages themselves, up on par with the rest of our content.
To read more, and help with the project, click here.
Wrap
Relic of the war that wasn't
A slight change for the relic for a few weeks, we'll be covering instead a few relics of the war that was... World War 2, as we chart the history of Nuclear Warfare.
From University of California TV comes "The Moment in Time: The Manhattan Project".
Your next Nukapedia news Digest
Will be next Saturday. Agent c (talk) 03:05, January 27, 2013 (UTC)