Welcome to the Nukapedia News Digest, brought to you by Galaxy News Radio - The home of shows like Three Dog in the Morning, Lunch with Three Dog, Three Dog drives you home, and Up all night: with Three Dog.
In your edition this week.
From the Administrative Enclave
The Old World Relics has made Moderator. Huzzah.
I've proposed some things for the news. You'll find them at the bottom in the from the Editor section.
From Wikia
CC-By-SA? Fair use? Copyright laws? If you don't have a law degree, copyright and all of the jargon that goes along with it can be confusing - this webinar will help to provide some clarity. Community Manager Sean McGilvray (who does have a law degree) will walk us through the basic of copyrights, overview Wikia's specific CC-BY-SA license, and provide clarity on content and image use. Join us to learn more and ask your most burning copyright questions.
Pretend to be French to win stuff
Olrox2 has translated this from Bethblog Fr's twitter.
Send us your best links related to Bethesda games through Twitter and win goodies ! Until January 25th, the user who shares the best link of the day will earn a random gift related to bethesda games : a Dishonored tarot game, astrategic guide for Skyrim, Elder Scroll Online speakers,etc And his message with link will be retweeted via @bethblog.fr account Help us find the most original contents related to our games(mods,fan-fictions,comics,videos,cosplays...) so we can share it with community:)
Fallout 4 News
Just some news repeats from the week
Agent C vs Erik Dellums
I was fortunate enough to interview Erik "Three Dog" Dellums about that "Dog gone tweet", Fallout 3, and his TV roles....
Fallout TV series
Some buzz this week about a Fallout TV series trademark being submitted to the US Patent and Trademark office (USPTO).
As we reminded folk here though, Bethesda have held a Fallout TV series - and Fallout movie - trademark since 2009. Because the mark has been unused, its about to expire, hence the reregistration... If they were doing something with it, they'd simply inform the USPTO that the trademark is now in use.
The Fallout TV Trademark was first submitted in 2009. A month later the Fallout movie trademark was submitted... Meaning I predict that in the next month or two, we're likely to see a reregistration of the Movie mark.
TES:O
Thought you might like to see this concept wallpaper for the Daggerfall Covenant in The Elder Scrolls Online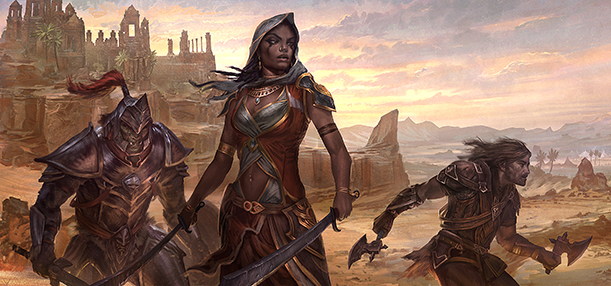 I'm thinking we're going to need some names for the Official Nukapedia TES:O guilds... Suggestions to the comments please.
MCA talks to PC and Tech Authority
Chris Avellone talked to Australian tech magazine PC Authority. Whilst most of it is about crowdsourcing and the Australian games industry, he did say a few things on Fallout New Vegas...
"Some of the most fun sequences to write in New Vegas were for the companion characters," he explains. "You can actually have a conversation with a companion about the different factions, and eventually even reverse their stances on certain organisations. That's something that can only happen with your encouragement or input."
"Companions are also a great means for acting like sounding boards for the player, sort of questioning the player and his actions. Like, 'Why did you do that?' or 'What do you think of this?' And having a conversation like that, you couldn't so it solely through visuals or iconography."
...
Well, okay then. I ask him: what stories is he currently building? What new experience is he currently crafting for us?
It's not, sadly, a new Fallout game. Given New Vegas' "roller-coaster development", I can understand why he's left the exhausting world of radiation-riddled deserts for awhile – and moved onto the crazy likes of the new South Park RPG, the Stick of Truth. He's unable to talk about that due to publisher leashing, but he's happy to talk about his other two current projects, Wasteland 2 and the codenamed Project Eternity. Interestingly, both were the result of hugely promoted and well-funded Kickstarter campaigns, hence a reason why Avellone advocates the use of crowdfunding to support game development so strongly.
Project Eternity is currently in pre-production. "We're figuring out the scope of the world, what factions are present in it, what overall theme we're trying to drive home, how companions might fit in with all of that... and now that we know how much funding the title has, we can finally make those production calls in terms of how many resources we can allocate for design, or how many level designers or programmers we need."
From the Editor
Its been an exciting couple of weeks hasn't it. A few tweets and a trademark reregistration, and everyone's ready to claim all sorts of things are definately happening... When really, a lot of us seem to just be hearing what we want to hear... For each person who's told me it means Fallout 4 is definitely coming, another has told me its definitely something else, like a TV show or Movie.
Some have wondered why other's reported the Fallout TV series first - although when we in turn reported back that the news wasn't new, I hope it made sense why we didnt. Some of you might have wondered why we didn't report the Reddit story earlier - however with last weeks news, I hope it was clear why we didn't.
I've come up with a statement of Principles for News reporting on Nukapedia. Since thats basically me anyway, its in some ways me telling you what I do. However, this is a wiki - we welcome news articles from others. However, I think its fair to expect that others should follow these principles ourselves.
None of these principles are unique to wikipedia. If you work on a news site elsewhere, I hope you'll follow something similar.
Here is what we look for when we report the news, and how we do it:
What, or who, is the primary source? We won't link to a news site that links to another news site, that references some other rumour site. As much as possible we go direct, and as close to the source as we can. If someone involved in the game said something on Twitter, we get the tweet. If someone filed something, we get the filing. If they said it aloud, we go looking for video or transcripts. As much as possible, we do not report someone else's report - we report ourselves.
If we can't get direct access, we look at who is making the claim: If a random guy on Reddit who's never posted before says he talked to Pete Hines and learned the next Fallout is in Gary Indiana… That isn't news, unless he's got a picture of him and Pete in the bar, or something else that proves they were in the bar together.
However, if a credible person says they talked to him, someone who we an actually identify, and have a reason to believe, then it is news. If its Michael Dorn saying in the bar with Pete Hines, we're likely to believe he's there. Micheal Dorn is a known person - he performed Mr Worf, Marcus and Horrigan.
This goes for new sources as well. If a credible major gaming site says they have some document… Even if they don't offer direct access, we're likely to believe that they have it. If we can't link to the document itself, we'll link as close as we can.
When we are reporting another news source - most commonly we'll expect this for things like interviews - we credit the reporter and their site, we do not report what a third party reports.
If the source is fishy, we'll say so. If the story is fishy, we'll say so. If things don't seem to add up, we'll say so. If it brings up questions, we'll tell you what they are, and try to get answers.
If other sites are getting it wrong, we'll make an effort to correct them as much as we can. We'll contact them with our evidence and analysis- reporters direct and via article comments, to help build our reputation as a trusted source.
Ultimately, whilst this may mean that we might be a little later to the story than some, but it means when we say it, you'll know as the man once said "That is the way it is".
Wrap
The next Nukapedia News Digest will be next weekend. We'll be looking at a relic of the war that was. Agent c (talk) 20:46, January 19, 2013 (UTC)