Welcome to the Nukapedia News Digest, where thanks to Wasteland 1 being released to Wasteland 2 backers, we're partying like its 1988.
(Didn't join the Wasteland 2 Kickstarter and want to see the game where it all began? You'll be able to buy Wasteland 1 on Steam and Gog.com from Tuesday). How much more fun can you have for $5.99??)
In your edition this week
Around the wiki
New This Week
Want to be featured? Add an image for an article for your chance.
Caption Contest
Wondering who won the peoples vote each week? Follow us on Twitter (@Nukapedia) as we'll be tweeting the winner and the image.
Select your favourite from these submitted by commenters (We're up to 7 this week)
Around the Forums

Attention Nukapedia Shoppers
In the North America Bethesda Store
There's a new shipment in the (North Am) Bethesda Store…

These guys are 7 inches tall, and $20 each. (Thanks Kittynator for the tip)
Possible Consumer Alert - EuroBethStore by LevelUp
I'm interested to hear from anyone who has purchased from the EuroBethStore. Not only has there not exactly been a glut of new products, but their existing products are still flagged as "Pre Order" items for "Late October 2013" and that they "Always update the product pages with the latest information they have". Either LevelUp are using the Doc Emmett Brown Delivery service for shipments, or they haven't yet been informed that its November.

If anyone has ordered from them, can you please get in touch (by my talk page, or the email address above) to let me know if/when your items have arrived?

In the meantime, in the event their stock does tempt you, it might be best to hold off until thats cleared up. We'll keep revisiting the site to see if their posted information changes.
Looking forward to 2014
Gameranx
Gameranx have listed their most anticipated PC games of 2014… and theres some interesting results:

17. Wolfenstein - the New Order (MachineGames/Bethesda) 8. The Elder Scrolls Online (Zenimax Online/Bethesda) 2. Project Eternity (Obsidian Entertainment/Kickstarter) 1. Torment: Tides Of Numenera (InXile/Kickstarter)

Its interesting that 2 games with minuscule budgets effectively funded from preorders are up there competing with the biggest guns…
Fallout Resurrection
Czech this out
Do you speak Czech? can you help Czech english? Do you like Fallout? If you can answer at least one of these questions, please check out this appeal from Fallout 1.5 Resurrection:
Four weeks have passed since the release of the Czech version of Resurrection. Rest assured that we're not forgetting about the English translation. We want Resurrection to be enjoyed by as many people as possible. But for that we need your help, so that the translation can be completed as soon as possible, and because we don't want to underestimate anything. We want to have a quality translation that the players deserve. Which is why we are looking for translators and proofreaders. Someone with a very good knowledge of English, allowing them to translate texts written in various styles. Most importantly they should be motivated to work on the translations. We've already heard from two translators right after the release day, for which we are grateful. However, given the large volume of texts there is still plenty of work left for others. So far we do not have any proofreaders. We'd welcome someone who is ideally a native speaker and can detect artificially sounding sentences as well as check grammar.
Can you help? up here.
Wrap
11/11 - Lest we forget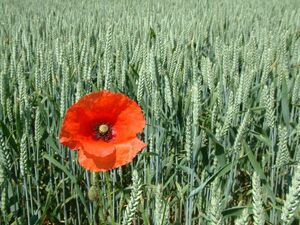 They went with songs to the battle, they were young.
   Straight of limb, true of eyes, steady and aglow.
   They were staunch to the end against odds uncounted,
   They fell with their faces to the foe.

   They shall grow not old, as we that are left grow old:
   Age shall not weary them, nor the years condemn.
   At the going down of the sun and in the morning,
   We will remember them.

-Ode of Rememberence / For the Fallen, Laurence Binyon, 1914.''

At 11 am this Monday, people worldwide will take part in a moment of silence, remembering that whilst the tools of war may change, war never changes.

I encourage you all to find a moment this monday, if not at 11am then at least some time, to remember those who have fallen.