Welcome to the Nukapedia News Digest. Everything you need to know, when you need to know it.
In your edition this week
From the Administrative Enclave
Votes
We now have a number of votes up for your consideration. The topics include:
Removal of our old IRC function
Defining Multiple Account Abuse
Reviewing whether or not you need to list a reason when you vote
Whether you need an edit before you vote
Rewriting rules 1/2 of chat
Clarifying the chat kick/ban guidelines
Removing the Anti-Dolan rule from chat.
Spotify Playlist

Just to highlight one of the Votes in the housekeeping vote, we're putting together some spotify playlists for on-wiki listening until we can get a radio station going. We're looking at an Encalve and Golden Era of Radio list. You can listen to the WIP above.
Dateline: Rockville MD
T of the month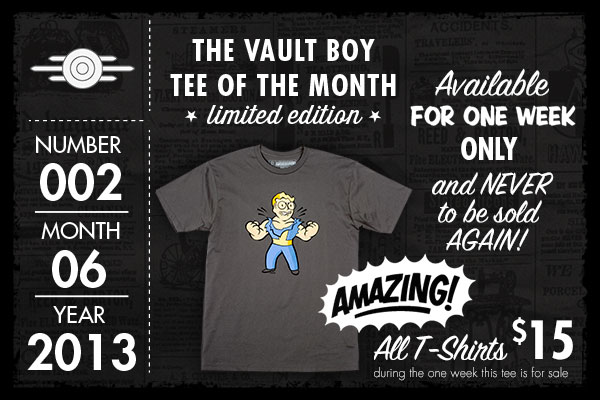 This and more from the Bethesda store. Its available in both Mens and Ladies cuts.
Bethesda did NOT call for fan input on Fallout 4
The Examiner.com recently ran a report claiming that Bethesda was calling for fan input on Fallout 4
I'm sad to report that this isn't actually true, and is a misinterpretation by them on how the Bethesda Forums operate.
In order to minimise the number of suggestion threads created on the official bethesda forums, the volunteers (along with paid employees such as Matt Grandstaff and Nick Breckton) collect these in a single suggestions thread. The Board also operates a policy of closing these threads after 200 posts; obviously being a popular topic this means this thread is created and closed many many times.
The thread linked is the 125th iteration of this topic. The thread was created by "Rohugh", who regular Bethesda Forum fans will recognise as one of the Volunteer moderators. Volunteer moderators have no knowledge of Bethesda's secret plans.
The forum is now as I write this over 150 replies into the 128th iteration of this thread.
Fallout 4 in 2015?
And We're reporting on another examiner story 'Fallout 4' shows up on a list of titles appearing at E3 (Photos). No don't get excited, they don't actually have any F4 photos, they've just thrown up a few new vegas ones so it looks like they have photos.
They're reporting third or fourth hand information that eventually tacks back to Press Start who cites an unnamed Spanish site who cited a Sweedish site getting a leaked possibile games list for E3. Fallout is listed with 2015 in the title.
Yes, the huge number of links in this chain should make you suspicious.
Given that no-one has named the actual source - just seem to be linking to people who aren't the source, we are advising people to take this very much with a grain of salt… In any case, we'll know next week.
Edit Broccoli reports:
Here's the source for the whole "Fallout 4 in 2015" thing. Fallout is on page 2. They have several other "upcoming" games in that list, but the whole site is probably lying. One because it is an incredibly minor Swedish electronics store, and two, because it lists "Red Dead Redemption 2". That is clearly not the name for it, because the first game in the Red Dead series is called Red Dead Revolver. It wouldn't make sense to name it as that. So no, I don't really believe any of it. But you never know.
Hit me with your Fishy Stick
Not everyone can get into E3, but if you're downtown and around the LA Convention Center on Wednesday, June 12th, you'll have chance to visit our ESO Food Truck. Fans can cool off with Sugared Rootwine or Wintersbreath Treat ice cream mocktails, or feast upon the always-popular Pressed Eidarmelt — a pressed grilled cheese accompanied by dipping sauces created by finest taste alchemists of Tamriel.
Interested? Place a quest marker near the LACC's West Hall Entrance (near the corner of Gilbert Lindsay & 12th), and stop by between 11 AM- 6 PM. The food is first come, first served — the earlier the better!
Stay tuned for plenty more E3 news, as we cover this year's lineup: The Elder Scrolls Online, The Evil Within, and Wolfenstein: The New Order.
Dateline: Irivine CA
With the clock running down on Interplay's ability to continue to sell the Classic Fallout titles (it ends on December 31), it turns out that the ailing firm might have had more money than we thought.
Interplay have managed to find the princely sum of $7,500 to purchase the rights to Freespace from bankrupt and-being-liquidated publisher THQ. Originally published by Interplay, the Freespace series from the late 1990's was a spinoff from Descent, also published by Interplay.
Interplay haven't published any notices with the SEC since February, and haven't produced any financial statements since 2011. Their shares continue to languish around a penny per share.
Win All Roads, Signed by MCA
So we're going to start a new giveaway for something rather sweet. If you're a fan of Fallout, you may have heard of a comic book that came with the Collectors Edition of Fallout New Vegas called Fallout: All Roads. We've got one that we'd like to Giveaway to one of our forum members, however, this isn't just your normal Fallout: All Roads comic book. This comic book is signed by Chris Avellone who just so happened to write it AND served as a senior designer and writer on Fallout New Vegas.
To be in with a chance of winning, you:
Must be a registered member of (their) forum and have contributed to the forum with no less than 5 posts. - This is to help stop the forum getting full of members who will never actually be active on the site.
Must comment on (The linked) post with something like "I'm the worlds biggest Fallout Fan" - this is just to distinguish between all members who wants a chance at winning and who doesn't.
Generation: Next
Microsoft Confirms on activation
From some Microsoft blog posts. First, on the always on:
For an optimal experience, we recommend a broadband connection of 1.5Mbps. (For reference, the average global internet connection speed as measured recently by Akamai was 2.9 Mbps). In areas where an Ethernet connection is not available, you can connect using mobile broadband.

While a persistent connection is not required, Xbox One is designed to verify if system, application or game updates are needed and to see if you have acquired new games, or resold, traded in, or given your game to a friend. Games that are designed to take advantage of the cloud may require a connection.

With Xbox One you can game offline for up to 24 hours on your primary console, or one hour if you are logged on to a separate console accessing your library. Offline gaming is not possible after these prescribed times until you re-establish a connection, but you can still watch live TV and enjoy Blu-ray and DVD movies.

If I can editorialise for a sec, people who know me well know my day job doing tech support for an ISP. I won't say which one, and any views here expressed are my own.
If you internet connection really breaks, and an engineer is required, you're usually looking around 3-5 working days, presuming it doesn't happen in mid to late winter (which is when its most likely to happen) when you can be looking at weeks until its fixed (lots of rain and snow is bad for electrical equipment - who knew?).
A week without internet is precisely when I might want to play single player games the most. How about the rest of you?
once in 24hrs check in, Yay or nay?
Xbox on sharing and trading
Share access to your games with everyone inside your home: Your friends and family, your guests and acquaintances get unlimited access to all of your games. Anyone can play your games on your console--regardless of whether you are logged in or their relationship to you.
Give your family access to your entire games library anytime, anywhere: Xbox One will enable new forms of access for families. Up to ten members of your family can log in and play from your shared games library on any Xbox One. Just like today, a family member can play your copy of Forza Motorsport at a friend's house. Only now, they will see not just Forza, but all of your shared games. You can always play your games, and any one of your family members can be playing from your shared library at a given time.
Trade-in and resell your disc-based games: Today, some gamers choose to sell their old disc-based games back for cash and credit. We designed Xbox One so game publishers can enable you to trade in your games at participating retailers. Microsoft does not charge a platform fee to retailers, publishers, or consumers for enabling transfer of these games.
Give your games to friends: Xbox One is designed so game publishers can enable you to give your disc-based games to your friends. There are no fees charged as part of these transfers. There are two requirements: you can only give them to people who have been on your friends list for at least 30 days and each game can only be given once.
In our role as a game publisher, Microsoft Studios will enable you to give your games to friends or trade in your Xbox One games at participating retailers. Third party publishers may opt in or out of supporting game resale and may set up business terms or transfer fees with retailers.  Microsoft does not receive any compensation as part of this. In addition, third party publishers can enable you to give games to friends. Loaning or renting games won't be available at launch, but we are exploring the possibilities with our partners.

As we move into this new generation of games and entertainment, from time to time, Microsoft may change its policies, terms, products and services to reflect modifications and improvements to our services, feedback from customers and our business partners or changes in our business priorities and business models or for other reasons.  We may also cease to offer certain services or products for similar reasons.
OK, here's what you should be worried about
...Xbox One is designed so game publishers can enable you to give your disc-based games to your friends. you can only give them to people who have been on your friends list for at least 30 days and each game can only be given once.
…trade in your Xbox One games at participating retailers. Third party publishers may opt in or out of supporting game resale and may set up business terms or transfer fees with retailers…
...We may also cease to offer certain services or products for similar reasons.
Pre-Three
Microsoft and Sony have Pre-E3 news conferences on Monday. We intend on updating you with anything interesting that comes up.
JE Sawyer Says
Was Michael Angelo's workshop originally meant to be placed somewhere else in the Mojave? If so, where? Sheldon states he'll man up and "venture into the Strip" to visit his sister someday... even though he's literally right next door.

No, it was always meant to be on the Strip. Sheldon has severe agoraphobia, which not only prevents him from going out and taking pictures, but even prevents him from walking down the street to Vault 21.
How do you tie your shoelaces? Single Loop or Two Loop method?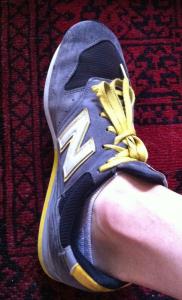 Wrap
Relic
Okay, so its a repeat… But Bert the Turtle is of course the reason why we are all here.
Your next Nukapedia news digest
Is Next week… So is E3, so hopefully we'll have some exciting news for you over the week too. Agent c (talk) 20:07, June 8, 2013 (UTC)