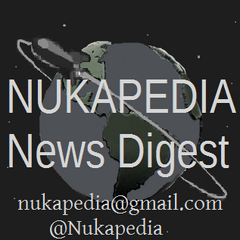 Welcome to the Nukapedia News Digest, celebrating Australia's vote for democracy, and against communism. Wait, they elected an Abbott?
In your edition this week

Around the wiki
Caption Contest
Wondering who won the peoples vote each week? Follow us on Twitter (@Nukapedia) as we'll be tweeting the winner and the image.
Select your favourite from these submitted by commenters
Project Spotlight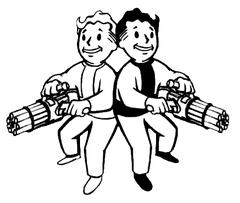 Oh Danny Boy, the mic, the mic is calling….
Recently I've been noticing that a lot of our military conflicts pages are somewhat subpar to the rest of our fine articles. Along with an idea I got from a Wikipedia infobox practice, I wanted to make a project to improve a perhaps lesser known but yet fascinating subject category…
So if you can, please help us with the Military Conflicts Project to help get these articles up to scratch"
Thanks
Meet the Press
Mr Chris Avellone
"
About to do the Eternity/Kickstarter/old-school-new-RPG talk and all I can think about is the goat noises in Wasteland 2.
"
— MCA
Fallout 2 and New Vegas master-dev Chris Avellone has been schmoozing fans and press alike at Dragoncon and PAX. Here's a couple of interviews….
Fanzone
Can we fix it?
Over on No Mutants Allowed a user by the name of Sduibek has uploaded his latest "Alpha" FIXT mod for the original fallout, which hopes to give the game a game a Restoration-Mod style finish. You can simply play with bug fixes, or include the extra optional components which change the game some.
The changes are too numerous to list here, but please do check it out.
Wrap
Relic of the War that wasn't
We hope to bring you exclusive pics of our visit to the York Nuclear Bunker very soon (and please be sure to email us if you can be in Washington DC in January for another bunker tour)… but this week we thought we'd act a bit like the grown up news outlets and include a property feature.
New Las Vegas Property For Sale
This spacious two bedroom home, and one bedroom guest house, features all the modern conveniences of 1970's living sporting ovens, cooktops, a Barbequeue, wall toaster, and fake country views.
Its also underground and Nuke Proof. This desirable home can be yours for a mere $1.7 Million. It is a bank foreclosure, so you might be able to negotiate it down some….
MessyNessyChic has more pictures
or if you're in the Vegas area and have just won big, you can contact the realtor direct
here
.