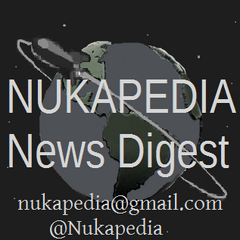 Welcome to the Nukapedia News Digest. Its whatever day I say it is.
In your edition
Picture gallery
This week's pictures have been selected by a guy who claims to be cold and boring, but is neither.
Wiki News
Victor the Securitron has resigned his post as Chat Moderator.
We've got a large number of admins, moderators, and chat moderators that are going through a mass vote of confidence
Except where noted, the votes are here
-bleep196- Separate forum
Tocinoman
For NCR
The Old World Relics
ToCxHawK
A Follower Separate forum
Limmiegirl
Chris the Saiyan
Emikowolf
Mishaxhi
Miss.Nicolle
Charcoal121
CommanderNuka
Stars and Stripes Forever
Yukichigai
BE3 Conference
Can I go?
If you've missed the opportunity to sign up for the Bethesda E3 Conference…. you can show up anyway and have more than a snowball's chance in the Mojave of getting in. Bethesda expect to have a number of Standby seats You gotta be there at 6:15 Pacific time (and probably a lot earlier), and you'll have a chance of getting an unclaimed ticket.
I cant go, what about me?
Bethesda will be streaming the event on Twitch and YouTube. We will be trying to put together our own pre-pre-show and post show cutting to the action when it happens, but it depends on if we get enough tin cans and enough string to put such a thing together.
What do we know about it?
The categories that the Bethesda Booth is registered for has been released. The categories suggest there is a free to play game, and a Role playing game, and that most gaming plaforms will be represented in some form.
Bethesda Releases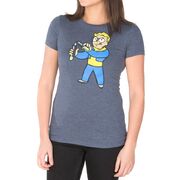 Today Bethesda released Wolfenstein: The Old Blood. Its available for download at all digital distribution platforms
This month's T of the month glows in the dark. Not much time to get it though, it's over on may 8.
And if you're going to Quakecon, there's a chance to win $US10,000 Dates for Quakecon in case you forgot are:
Thursday, July 23rd: 10am – 6pm Friday, July 24th: 10am – 6pm Saturday, July 25th: 10am – 6pm
And there's also a rash of NukaCola swag on the store. In addition to whats pictured, there's also glasses and mugs