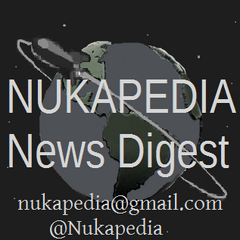 Welcome to the Nukapedia News Digest, with an open letter to all of the mutants out there - Stop twerking please. Thanks.
In your edition this week
Around the wiki
New This Week
"

I mean look at this place... it's so dark and dingy. What this place needs is a lady's touch

"

— Brianna
Want to be featured? Add an image for an article for your chance.
Caption Contest
Wondering who won the peoples vote each week? Follow us on Twitter (@Nukapedia) as we'll be tweeting the winner and the image.
Select your favourite from these submitted by commenters
Dateline, Rockville, MD
G'day from Zenimax

;A rather big announcement this week from Bethesda.... Sadly what looks like good news for the Zenimax Empire isn't so rosy for us...
October 2, 2013 (Rockville, MD) – Bethesda Softworks®, a ZeniMax® Media company, today announced it has established a new publishing office in Sydney, Australia. ZeniMax Australia Pty Ltd will directly oversee sales, marketing, and distribution for all Bethesda titles in Australia and New Zealand.The establishment of ZeniMax Australia underscores the importance of the growing Australian market as well as the company's continuing commitment to the Asia Pacific region. ZeniMax also has operations in Hong Kong and Tokyo.
With the opening of the new office in Australia comes the appointment of Simon Alty as Managing Director for the new territory. Alty was most recently Managing Director of One to Another Pty Ltd where he and his team played a pivotal role in many successful Bethesda launches including The Elder Scrolls V: Skyrim®.
"Simon's experience and expertise in the games industry – specifically having worked on sales and marketing of Bethesda's titles the last four years – will be of great value as we open a publishing office in Sydney," said Sean Brennan, Managing Director, ZeniMax Europe Ltd. "Looking ahead, 2014 promises to be a big year for Bethesda as we release a trio of AAA titles: The Elder Scrolls® Online, Wolfenstein®: The New OrderTM and The Evil WithinTM."
You probably noticed the lack of Fallout in that game list too.

There's no openings listed for the office just yet, however if you have experience in the games publishing industry, or are looking to break into it, You can send your CV/Resume for general applications here.

Note, as the release suggests, its this is a publishing office, not a development studio. If you are interested in a development job and can work in the US or the EU, there are still dozens of openings across the Zenimax empire including a "Information Security Intrusion Detection Analyst"... thats going to make getting a leak harder (just kidding, we don't endorse law breaking on this wiki).
Attention Nukapedia Shoppers
It looks like the Winter Range is in the North American Bethesda Store, with some Long Sleeved T's and thermals.

This is of course in addition to the special T-of-the-Month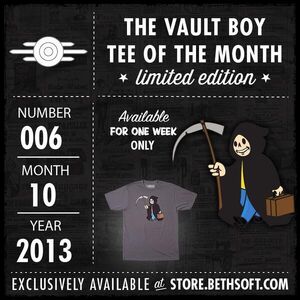 Sadly nothing new in the Euro-Beth-Store. I think I speak for all of us when I say I hope that this doesn't become some forgotten outpost.
Also, Fallout 1, 2 and Tactics are $4.99 (usually $9.99) on Gog.com. Remember Interplay's license to sell these games ends on Dec 31, so who knows if they'll be available after that....
Dateline, Irvine CA
Wrap
Relic of the war that wasn't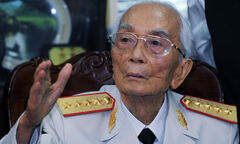 "

People should not be overawed by the power of modern weapons, It is the value of human beings that in the end will decide victory

"

— General Vo Nguyen Giap

We're having to hold back again our videos of propaganda, as this week we commemorate the passing of one of the military leaders of the war that wasn't... although of course in his case it was most definitely the war that was.

General Vo Nguyen Giap, started the "Armed Propaganda Brigade for the Liberation of Vietnam" in 1944 (in opposition to the Japanese) with a mere 31 men and 3 women armed with horrendously antiquated flintlock rifles. By 1954 he was leading the Vietnamese People's Army to victory against the French at Dien Bien Phu, ending French colonialism in Vietnam, and taking the role of Defence Minister in the fledgling nation of North Vietnam.

But as we all know, this peace was temporary... North and South of Vietnam failed to settle their differences and General Giap would be called back into action 6 years later for the Vietnam War.

As the name "Peoples Army" suggests, Giap was of course a general for the Communist North, and and continued to lead their forces until the wars end in 1975, second only to Ho Chi Minh.

After the war Giap continued as Minister of National Defence although lost this role for his opposition to Vietnam invading Cambodia in 1980. He remained a Deputy Prime Minister until his retirement in 1991, ignoring multiple suggestions from military officers to overthrow the government.

General Giap was said to have been an intellectual and great fan of Napoleon and applying some of his tactic in the various wars he fought; However one US General from the Vietnam War, William Westmoreland, has a very different view of the general's battlecraft skills, saying: "Of course, he [Giap] was a formidable adversary, Let me also say that Giap was trained in small-unit, guerrilla tactics, but he persisted in waging a big-unit war with terrible losses to his own men. By his own admission, by early 1969, I think, he had lost, what, a half million soldiers? He reported this. Now such a disregard for human life may make a formidable adversary, but it does not make a military genius. An American commander losing men like that would hardly have lasted more than a few weeks."

General Giap was 102 on his death.