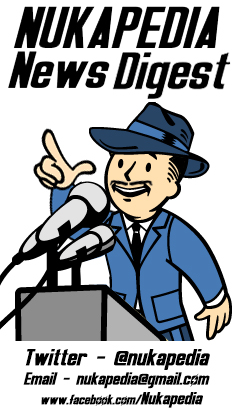 Welcome to the Nukapedia News Digest, brought to you by Pilgrim's Landing: Fun for all the family.
In Your Digest this week
From the Administrative Enclave
User Rights results
Gothic Neko has succeeded in his quest to become a Chat Moderator, getting your unopposed support
Tocinoman Has unfortunately not met your approval to become an Administrator.
Policy votes
Skill Magazines are no longer notable loot as a general rule. If you're looking for a something to read there is a collected list of locations here.
New Votes
I (Agent C) am running for Full Moderator. Have your say by May 9 here.
The Gunny is running for administrator. You can cast your vote here until May 11th.
User:TwoBearsHigh-Fiving wants to know if he should keep his adminship? Vote here until May 11th.
Dateline: Rockville, Maryland, USA
I wasn't planning to cover this, however it looks like events have taken over. I mentioned in the comments after the last news digest that Bethesda have annouced the first DLC for Skyrim DawnGuard; this is a timed exclusive for Xbox 360 players who, whilst they are waiting can give their Kinect a workout chanting Dragonish to slay their enemies. More info on Dawnguard will be available during E3 in June.



However, the reason Bethesda is in the main news rather than just the mention in the comments I was planning is that the content of Zenimax Online's MMO is no longer a rumor - as we suspected it isn't Fallout, but
The Elder Scrolls Online
- Covering Skyrim to Elswyr and everwhere in between.
Gameinformer has the scoop. a teaser of their cover story is here
with the full article available to subscribers in print as it hits the newsstands or online from May 8.
The official website is up with an official trailer
The game is set for 2013 for Windows and Mac Fans alike.

As this pretty much ends our interest in Z-O's project from a Fallout perspective, I'm not planning any further coverage unless a Fallout angle develops. Maybe when they're done Fallout online could become a possibility again (maybe... I'll say, maybe)
Wrap
Relic of the War that wasn't
Today's relic got a brief mention, and a pic in last week's edition… It's the Pyongyang Metro.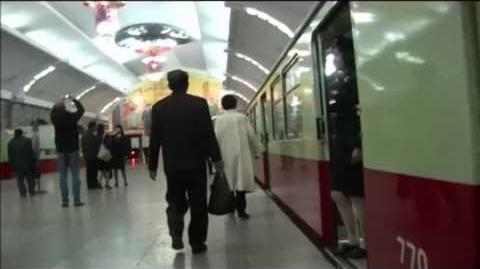 I've previously mentioned that the Pyongyang metro is designed to function similarly to the Vaults in Fallout – it is (according to the North Koren Government) built deep enough to allow citizens to survive a nuclear attack with depths around 120 meters and several blast doors. The Metro has three other primary goals, to transport the 1.7 million people of the city from home to work and leisure, to educate and indoctrinate the people through its beautiful murals, and to "Keep up with the Jonses" as it was built in response to Seoul in South Korea commissioning a similar system.

Although being a vault is more than enough for the Metro to be a relic, the trains themselves are also a Relic of the war that wasn't in their own right; whilst the North Korean government insists all trains were built in Korea, several of the trains appear to be repurposed trains from cold war era East Berlin. A BBC journalist has claimed in the past that some of the Metro trains that aren't intended for tourist use (or even to be seen by tourists) still contain East Berliner Graffiti from before the wall came down.


The system beyond its purpose as a makeshift vault has some other similarities to things you'll find in Fallout. Rather than advertisements which plague stations here in the western World, the PyongYang metro contains large murals depicting the people of North Korea building their nation, looking at these I was struck by the similar visual style to the billboard posters that appear in Fallout, reminding me particularly the one of the dwellers heading into the vault...
The other link that is worth mentioning is not confirmed by official sources, but rumours abound of a "Secret line" or "Secret lines" in the metro system, based on the North Korean government ordering a lot more trains than a system of its size should need… The rumours for this are elaborate if anything... A top secret military command centre sits in the centre of the metro with secret lines to buildings used by North Korea's centre of government and the nearby airport... Reminds me more than just a little of the Presidential metro.

Next Week: From Pyongyang to Berlin (and every disco I've been in)
Have an idea for a relic or something you'd like to see Please let me know here
Project Spotlight?
We're looking for projects to Spotight, if you have an update for us, a new project, or are marking the end of one, please give us a shout.
Your Next Nukapedia News Digest
Will be out next Friday! News tips, comments and suggestions are very welcome. See you then. Agent c 15:04, May 4, 2012 (UTC)