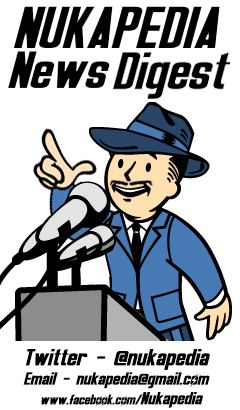 Welcome to the Nukapedia News Digest, brought to you by the Capital Post - All the news thats fit to print (Hmm, guess there hasn't been a whole lot on lately).
In your digest this week:
From the Administrative Enclave
New Administrator
After a vote that did attract some controversy, Limmiegirl has succeeded in becoming an administrator, attracting 24 Yes votes, and only 1 no vote.
Have your say on KingClyde
Kingclyde, our longest serving active bureaucrat is seeking your feedback on his performance. Have your say here.
Proposed new Talk Page policy
Contrary to popular belief, it is not currently against policy to delete content from your talk page. It is proposed that his policy be changed to limit deletions to abuse/harassment only, and other "removals" limited to archiving after 40 messages. Have your say here. The vote closes in a week.
If you like it, hate it or are indifferent, have your say here
News From the Wastes
The news on the sequel to the game that started it all: Wasteland is heating up. From Brian Fargo's twitter (@BrianFargo)
Official Website: Here
Kickstarter: Coming this week (I will update this post when the link comes live).

Have your credit cards ready!
Get your fix of Wasteland before the game on our Sister Wiki.
Looking for work?
We're doing our bit for the economy at the Digest; Bethesda's hiring spree has made news elsewhere. If you're looking for a job take a look at Bethesda's hiring hall. Animators, Programmers, Quest Designers and Future Console Developers are all wanted.
Project Spotlight
A new feature... Have you a Project that has hit an achievement or are you seeking new folk to help? Please let me know and I'll give you some news time.
Revival of the Van Buren Articles Project
Okay, maybe this is a bit of a conflict of Interest, but I'm reviving the Van Buren Articles Project; given it was started by a long gone user, and hasn't seen some work in a while I figured it needed a fresh starts. This project aims to make every single possible page on Van Buren that you could possibly need.
You don't need any knowledge of Van Buren to help start - just head over to the project pages, and have a look at some of the pages already created; see if they're up to scratch and meet our current design guidelines. Once we've worked out what we've got, we can work out what we need by reading the design documents.
Wrap
Relic of the war that wasn't
Is the secret to a happy marriage... Spending time in a bomb shelter?
In 1959 the Miami Herald, in conjunction with Bomb Shelters Inc sponsored a pair of newlyweds to spend their 14 day honeymoon inside a bomb shelter. The story went worldwide with publications like Life and Pravda (Yes, that Pravda) picking up the story.
Activities on the holiday/vacation of a lifetime included adding lime to the chemical toilet, and cleaning air filters. Unlike real atomic war survivors however the couple had to deal with intense interest in their holiday, with the phone ringing off the hook from the media, and concerned family members (remember folks, Reality TV was still decades away).
"
Directly after the reception - wedding cake leftovers in tow - the newly minted Mininsons descended into a 12-ft. deep, 6 x 14ft. wide shelter - and the annals of Atomic Pop Culture. Sheriff Tom Kelly, Chief of Dade County Civil Defense, officially sealed the Exit Hatch and a large calendar - marking the days until that seal would be broken - sat waiting to be X-'d off as each of the 14 days passed.
"
— Colonelrad.com
.
For their contribution to keeping America safe, the couple were rewarded with a real honeymoon to Mexico, and at least 41 years of wedded bliss.
There's more on conelrad.com.
Your Next Wiki News Digest
Look for a possibly number edition next Friday or Saturday, with a roundup of the weeks Wasteland revelations, as well as the news from around the wiki. Agent c 00:53, March 5, 2012 (UTC)