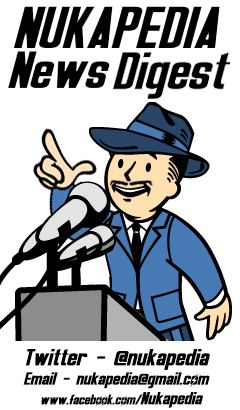 Welcome to the Nukapedia News Digest… Brought to you by Frankie's Triple X Entertainment and Old World Relics Productions. Bringing you the Fallout 4 of your dreams, today.
In your digest this week
From the Administrative Enclave
Do you find the community messages helpful or does the "Community messages" popup annoy you? We're talking about that here.
What is the difference between a Guideline and a Policy? When it comes to the User Conduct rules, its the difference between a frown, and a potential ban. You can join in the chat on that here.
We're still talking about signature images sizes. Join us here.
A new look is still on the cards, join us here.
You wont see SigmaDelta54 around anymore, but you will see Skire. A new name for an old face.
Sadly though, you also won't see User:Energy X around either. His farewell is here.
And lastly, I'm running for Admin. Have your say here.
Brian Menze Talks
Brian Menze, Artist at Obsidian (and Black Isle before it) talked to Penny Arcade about his job… He had this to say on his work on Fallout: New Vegas.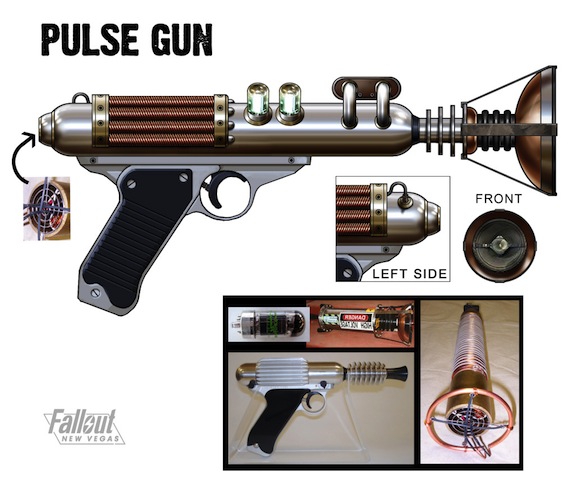 I can't remember which came first, but this is basically the pistol version of the L.A.E.R. from Fallout New Vegas. Josh Sawyer provided me with a couple of photos (shown in the image) of the type of pistol he was looking for, so I basically "frankensteined" all of those elements together. I don't normally conceptualize weapons, so I felt a bit uncomfortable doing them on FNV, partly because Fallout fans are very particular, but mostly because I don't draw weapons much. I was the only concept artist on the team though, so I had to do the best I could.
In addition to weapons I was doing posters, characters, props and Vault Boys. It was my job to get stuff out fast enough for all the artists on the team to have things to work on. A side effect from working so fast however, is that I don't remember much about this concept at all beyond that. This does illustrate that whenever I get into a pinch, because of time (and in this case out of my comfort zone) I'll take the easy road and piecemeal a concept. During production and being part of a small team, that is sometimes all you have time for. I'm not necessarily proud of this one, but it did the trick and Josh was happy with it.
Dateline: Rockville, MD
Bethesda have released this image as a teaser to an upcoming announcement...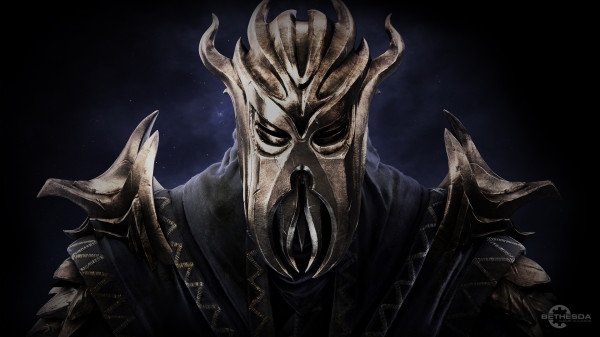 Looks like the Enclave have been working on their power armour designs…
News from the Wastes
Thwacke-Oh
We talked last week about Thwacke joining the Wasteland team. Gamesbeat went in for the full story with founder Sebastian Alvarado.
GamesBeat: What role can Thwacke's consulting play in game development? Do you work specifically with writers and designers? Is it better if you're involved in the process early on?
Alvarado: Although we can provide input at almost any stage of development, we mostly work early on the conception of a project with writers and with designers. We work with writers to craft plausible narrative — world building — and with designers to align a scientific concept with a design mechanic. We do this with an extensive network of academics covering every discipline. For example, in Wasteland 2 we were asked which animals that would survive a nuclear fallout and why. In this case we found specialists in environmental biology, medicine, and evolutionary biology to craft science into ideas that can be used in game design. This saves researching time for writers and allows them to focus on gameplay. This out-of-the-box approach has been able to spark new directions for narrative and gameplay that wouldn't have otherwise been explored. In later stages of development, we usually work on easy-to-implement text-based assets. In Wasteland 2, we will be doing this for a side mission that involves pages in a wastelander's logbook. This information is optional but adds depth to narrative and immersion for those willing to read it.
GamesBeat: How does Thwacke's consulting process work?
Alvarado: We offer ideas that add depth to narrative and design. For narrative, it can be anything from speculating the science behind a flight to Mars to the epidemiology behind a zombie apocalypse — we back this up with established facts and scientific literature. For design, we bring in specialists in psychology and neuroscience to present research that may be applicable to the vision and focus of a project. For example, since moral choices are particularly important for Wasteland 2, we have been introducing the writers to studies that explore how morality is programmed and manipulated in humans. It is ultimately up to the writers and designers to incorporate these ideas into their game.
GamesBeat: And if you can talk about it at all: Why was Thwacke brought in for the development of Wasteland 2?
Alvarado: We got in touch with Chris Keenan, a producer at inXile, and he suggested our involvement. We were brought in to innovate on the science fiction that surrounds the wasteland. We expect that by doing so, we can set this sequel apart from other iterations of the post-apocalyptic genre.
You'll of course remember we interviewed Chris Keenan before.
Watch out for these guys…
"
Would you like to see one of the Synths from Wasteland 2? These guys are going to cause much grief for you.
"
— Brian Fargo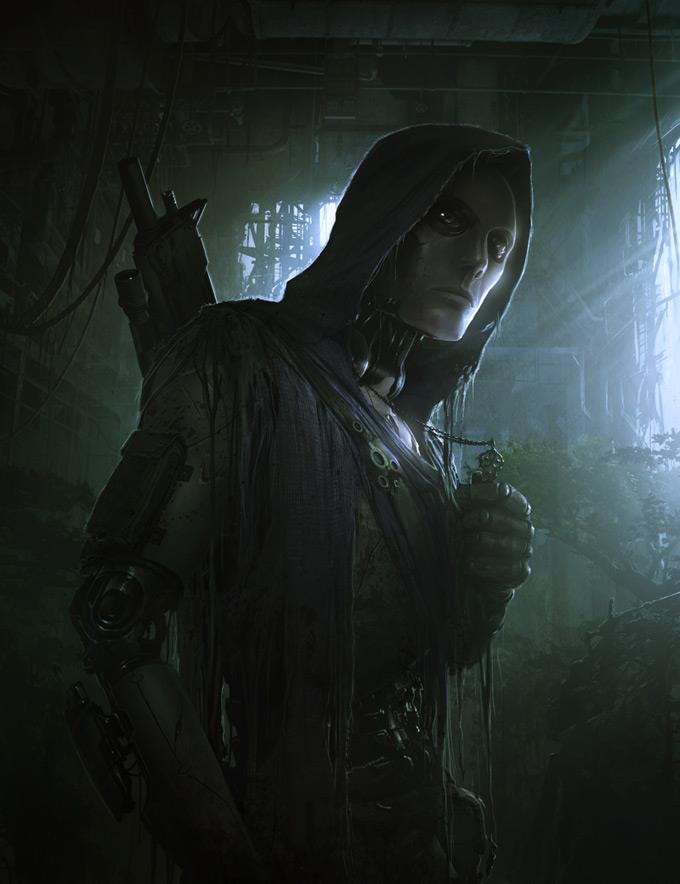 Wrap
FanZone
Something that might be a semi-regular series...
This is the work of the Tragic the Garnering club who are looking at recreating just a little bit of Fallout 2. You can find more on their Tumblr.
I'm looking to each week feature a single fan project, this won't just be anything, but something that looks or sounds amazing. Please submit any suggestions to my talk page.
Catching up on the Apprentice
For those of you yet to vote in this years' Apprentice the vote at last check was 85 for Relics, 83 to Frankie, so every vote truly does count. As we all know this is the biggest vote happening this year, never mind this month, so make sure you help us pick a winner.
JunkRadio
After the two Apprentice specials, interest in JunkRadio is increasing. We can announce that Crimson Frankie is developing a Drama series for us, amongst other developments…. If you have an idea that could work in a "Golden Era of Radio" theme, or can contribute voice work, instrument work, or anything else the Radio station might need, please Join us on the JunkRadio wiki.
Relic of the war that wasn't
Relic is being rested this week as there's a lot of stuff here in the wrap section, but I'm interested in your views on the series.
So, about the Relic section
Your next edition
Will be next Saturday. Stay safe out there... Agent c (talk) 23:37, November 3, 2012 (UTC)