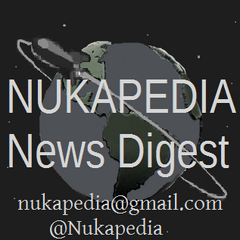 Welcome to the Nukapedia News Digest. Please bear with us as we do a little renovation.
In your digest this week.
Around the wiki
New This Week
Thanks to Jspoelstra for the audio, and the image of Audrey
Caption Contest
This seemed to get a good response, so thought I'd run with it. Post yours in the comments again, and I'll pick a few to vote on.

Thanks to MrCuddles56 for uploading this one.
I couldn't decide on just one for last weeks winner, so you pick the winner.
News from the Wastes
RockPaperShotgun visited InXile; Conviently located near both a Donut Store, Subway and a nail salon for those of you in need of a Mani-Pedi (as you'll see in the article, this is no joke).
In The Beginning…

Wasteland 2 begins with the "retirement party" of a Wasteland 1 Ranger named Ace. But it's a joke, you see. The punchline is that Ace is dead. Welcome to the Wasteland.
It's here that you're handed your first Ranger mission: investigate some seriously creepy radio signals that are clogging the airwaves all throughout your parched paradise of a homeland. Here, Fargo and co briefly demonstrate the ever-controversial keyword-based dialogue system. Now, when you mouse over a keyword, you actually get a readout of what your Ranger will say, thus preventing Commander Shepard/Cole Phelps-style rage explosions when you were just wondering where to find the little Scorpitron's room. It still wasn't the most elegant-looking solution ever, but it got the job done. Plus, inXile promised that most of the interface – admittedly rather clunky looking – was still placeholder. A few mock-ups of newer versions looked much cleaner.
And so, we set off. Our first stop: a prison in Arizona that once served as Wasteland 1′s Ranger Citadel. Long since abandoned, it instead played host to all sorts of greedy gangs. Naturally, one, the Red Skorpion Militia, wanted to "tax" our intrepid four-person law enforcement party for, er, carrying guns, because… look this is a robbery, alright? Do they really need a good reason? Combat followed shortly thereafter. Without missing a beat, the world went turn-based – just like in the '90s, before seamlessly flowing time was invented. At its most basic, the quick, painfully lopsided skirmish played out like a very simple XCOM battle, except with less cover and even more overpowered sniper rifles. Colored grid regions indicated range (green = very little chance of missing, yellow = mid-range, red = long shot) and it wasn't long before the bandits had a change of heart and politely died. It was, however, extremely basic. Almost worrisomely so.
For combat, however, that is only the very, very, very, very, very, very, very tip of the iceberg. The opening areas mostly consisted of melee enemies and flat lands without even the thinnest slabs of cover to hide their shame, but complexity emerged in fairly short order. I witnessed another, still very unfinished area with plenty of cover and enemies that flanked, sniped, and generally proved quite adept at making dangerously fatal nuisances of themselves. That, said inXile, is actually just the baseline.
"We wanted to make sure that we were able to craft encounters," explained project lead Chris Keenan. "A lot of the RPGs that we were playing, they had a basic AI set on them, and they just did that. Run to player, shoot, generally stand back this far. We want to try to make sure that we're getting interesting behaviors with these guys as far as flanking opportunities that they can see. Actively using height to their advantage. Working in groups. Sending two guys around one way and one guy around the other way."
I could copy and paste all day, but the only way to get the full picture is to read it yourself.
Dateline: Rockville MD Dallas, Texas
"
I have 320 lines of notes for my talk. We'll see how many hours that fills.
"
— John Carmack, ID Software
QuakeCon is on in Dallas. Send us your pics and stories if you've managed to attend, if you are thinking about going check out their twitter for the lastest happenings.
QuakeCon Specials
STEAM SALE

From now until the end of the weekend (August 1st – 4th) you can purchase the QuakeCon 2013 Pack, which includes more than 20 id Software and Bethesda Softworks titles, for one low price.
This special package includes titles such as:
Dishonored
The Elder Scrolls V: Skyrim Legendary Edition
RAGE
Fallout 3 Game of the Year
Fallout: New Vegas Ultimate Edition
Oblivion GOTY Deluxe
Morrowind GOTY
Commander Keen Complete Pack
DOOM 3 BFG Edition
QUAKE 4
We will also be offering deals each day on individual id Software and Bethesda Softworks' titles via Steam. Daily deals include
Saturday: The Elder Scrolls Sale, with Elder Scrolls titles and DLCs selling for 40-75% off
Sunday: Dishonored, including DLC at 66% off
For full details on the QuakeCon 2013 pack and a complete list of the daily deals, please visit Steam.
id MOBILE SALE
During QuakeCon 2013 (August 1st - 4th) all id Mobile titles on the Apple iTunes store will be on sale for 99 cents. id Mobile titles can be purchased on the Apple iTunes store at http://www.idsoftware.com/iphone-games/index.html.
QuakeLive Premium Weekend
Play QuakeLive Premium from August 1st through August 4th for free! Access all premium areas and play both premium 'Freeze Tag' and 'Domination' game types. Keep an eye on the QuakeLive Facebook page and Twitter accounts for ways to win pro-level subscriptions throughout the weekend.
BETHESDA STORE SALE
From August 1st – 5th, pick up items from some of your favorite id Software and Bethesda Softworks franchises from the online Bethesda Store and receive a discount of 20% off all purchases of $50 or more at store.bethsoft.com.
TES: Online
Just some updates on TES Online
The are 2 PC/Mac Megaservers - North America, and Europe. Unlike WoW you WILL be able to play in the country of your choice - no importing an out of area disc and get an international subscription to play with your overseas friends.
You will be able to play "invisible" to your friends if you want to get some alone time without being pestered
The Character appearance customisation promises "not to disappoint"
Snowstorms, Rain Showers, day and night cycle
Lots of Emotes, animated and otherwise
Can't wait to give it a shot.
More stuff to buy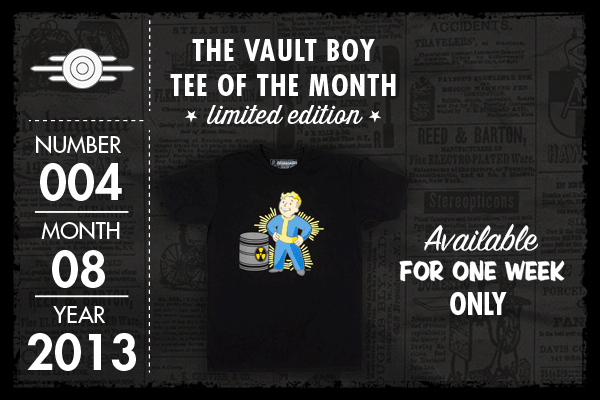 The T of the Month is again at the Bethesda Store, and yes, it glows in the dark.
However, you might want to save your money for....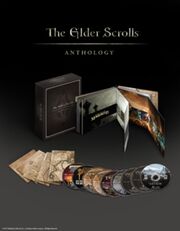 On September 10 Bethesda will be releasing The Elder Scrolls Anthology in this fabulous looking album, and maps to boot. This is going to set you back $79.99 (£49.99 / €59.99 / 89.99 AUD) and includes:
The Elder Scrolls: Arena
The Elder Scrolls II: Daggerfall
The Elder Scrolls III: Morrowind
The Elder Scrolls III: Tribunal
The Elder Scrolls III: Bloodmoon
The Elder Scrolls IV: Oblivion
The Elder Scrolls IV: Knights of the Nine
The Elder Scrolls IV: Shivering Isles
The Elder Scrolls V: Skyrim
The Elder Scrolls V: Dawnguard
The Elder Scrolls V: Hearthfire
The Elder Scrolls V: Dragonborn
Five Physical Maps detailing the lands of Tamriel, Iliac Bay, Morrowind, Cyrodiil, and Skyrim.
Ooh Celeberaties
Most of you by now are familiar with Nuka Break, check out these strange looking characters from a behind the scenes video….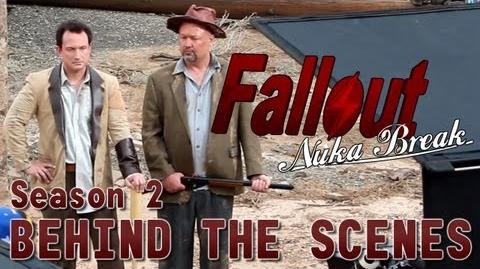 Wrap
War, War Never Changes
"
No one would have believed in the last years of the nineteenth century that this world was being watched keenly and closely by intelligences greater than man's
"
— War of the Worlds, HG Wells
Because War Never Changes, thought I'd share with you this picture of HG Wells playing with his Toy Soldiers. In 1913 HG Wells, best known for his Science Fiction works, penned his rules for "Little Wars", believed to be the worlds first miniature war game.
Wargaming eventually lead to a game called "Chainmail", which in turn lead to "Dungeons and Dragons" and the whole Role Playing Game genre as we know it...
Although War may never change, war did change HG Wells.
"
Up to 1914 I found a lively interest in playing a war game, with toy soldiers and guns... and I have given its primary rules in a small book, I like to think I grew up out of that stage somewhen between 1916 and 1920 and began to think about war as a responsible adult should.
"
— HG Wells
HG Wells' minutes were very detailed - the Cannons fired inch long wooden dowels rather than the use of complicated tables to work out if they could hit or not.
Thats us out, see you next weekend. Agent c (talk) 13:01, August 3, 2013 (UTC)