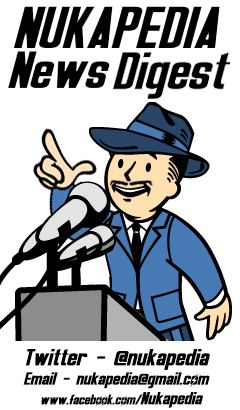 Welcome to the Nukapedia News Digest - Brought to you by the Friendly Lending Company - Make sure we stay that way.
In your digest this week.
From the Administrative Enclave
Promotions
Victor the Securitron has become a Chatmod
SigmaDelta54 has succeeded in becoming an admin.
Congratulations to you both.
Resignations
Yes Man has resigned as an administrator. We thank him for his hard work to date.
Admin Reconfirmation
Cartman!'s Reconfirmation request continues here until April 6.
Other Votes roundup
Kingclyde has withdrawn his User Rights changes Vote.
The Chatmod modifications have not succeeded.
The Navbar has returned to its old form, but due to the tied nature of the vote, may be retrialed later.
News from the wastes
Nukapedia is proud to be affiliated with The Wasteland Wiki - Its better than a blood sausage.
Kickstarter Progress update
Total Cash pledged to date: Over $US1.7 Million (over both Kickstarter and PayPal)
Total number of pledgers: 34,000
Days to go: 17
RPG Codex donated $10k and had this to say:
"
Who could have predicted this like a year ago? Brian Fargo returning with Wasteland 2 like the f-ing CRPG messiah.
"
— RPG codex
Want to donate, or donate more? You can through Kickstarter and PayPal.
For those of you with iDevices, the game that basically started Brian Fargo's career The Bards Tale is on sale for $1.99 (£1.49 in the UK) in a package which includes parts 1, 2 and 3 as well as the later remake. Hopefully that will tide you over until October next year. Google fans shouldn't feel left out - an Android version is coming soon.
Donations have begun to pick up in the past few hours... we'll tell you why later.
Brian on Obsidian, and a new goal of $2.1 Million
Lots of talk about InXile working with Obsidian Entertainment, this week and we have some BIG news coming up. But first, Brian weighs in on the controversy over Obsidian missing their bonus by a single point on mediacritic and the developer-publisher relationship:
"
…Look at the most recent one with those poor guys at Obsidian. They did Fallout: New Vegas, the ship date got moved up and, who does the QA on a project? The publisher is always in charge of QA. When a project goes out buggy, it's not the developer. The developer never says, "I refuse to fix the bug," or, "I don't know how." They never do that. It's the publisher that does the QA, so if a product goes out buggy, it's not the developer's fault. So, (Fallout: New Vegas) goes out buggy and they didn't do the QA, their ship date got moved up and they missed their metacritic rating by one point. Did they get a bonus? No. Do you think that's fair?…
"
— Brian Fargo, http://www.ripten.com/2012/03/27/brian-fargo-talks-wasteland-2-abysmal-publisher-treatment-and-having-fun-again/3/
It's worth noting that Fargo has been on both sides of that desk - Interplay at its height published games from companies that would later become Bioware and Blizzard, amongst others…
The conversation went on to say the following:
MF: You mentioned Obsidian. Have you spoken with them?
BF: I talk to them all the time.
MF: Would you consider working with them, especially given their current troubles… maybe reform the Black Isle Voltron?
BF: They are still working on projects. It's not like they are going away. I have a lot of love for those guys.
MF: What about the people from Interplay? Honestly, us old guys would love to see Black Isle reborn in some form.
:BF: Well, if this project works, it will give me a platform for doing things again. I haven't had an engine… or I've had an engine with no gas. If this continues to work, and certainly we're off to a great start—this game has got to be great—if I deliver that, I think there would be a chance to build it up again. Nothing would make me happier.
And one last thing before we get to the big story… Here's what Chris Avellone had to say earlier this week about the idea of working with Brian Fargo"
Okay, now you're all warmed up, here's the BIG news… From Rock Paper Shotgun:
Although the Kickstarter still seems to be 400k of that, it looks like the guys have faith it will get there, and seem to be working on the assumption its going to happen. Here's what MCA had to say on the Wasteland Blog:
Wasteland is one of my favorite RPGs of all time, and when Brian asked if I wanted to work on the sequel, I jumped at the chance. While I've worked on Fallout 2 and Fallout: New Vegas, getting the chance to work on the spiritual predecessor to the Fallout franchise is a honor.|Chris Avellone|http://wasteland.inxile-entertainment.com/blog/2012/03/30/inxile-and-obsidianavellone-to-collaborate-on-wasteland-2/}}
Yes people, that Chris Avellone. Now we've got them into one room we just need a vat of FEV to combine them into the ultimate master of gaming. Forgive me the editorialising, but I've upped by contribution from $65 to $115 on the news…. It seems I'm not the only one, in only a few hours after the announcement an extra $30k has been raised!
The collaboration looks like its going to focus on game development tools, whilst the programming remains at InXile, the tools will help speed the pace of development, and thus allow more stuff to be added to the game.
Thanks to Brian Faro's twitter, EverRuler and Tagaziel.
Some other quotes this week
Brian has given us a few clues on game development, not just in Wasteland
"
Wisdom of the day: "Don't put bugs in your code... you will just have to take them out later.
"
— Brian Fargo, Twitter
"
There is no right or wrong Only the consequence of your actions- This applies to our #Wastealnd2 design philosophy
"
— Brian Fargo, Twitter
"
Our $1.6 million would allow Blizzard to make their animated cinematics 1 minute longer!
"
— Brian Fargo, Twitter
"
Anyone who enjoyed Fallout 1/2 should definitely have fun with Wasteland 2. Playing W1 is not a per-requisite.
"
— Brian Fargo, twitter
"
I got a similar question another way, when we put things into the game, it's hard to say who inspired what. There are Wasteland things in Fallout. If I put something into Wasteland 2, am I taking for Fallout or am I taking from Wasteland? From a copyright perspective, we're not going to take anything from Fallout that isn't ours. That's owned by Bethesda, so we need to be clear on that, but there are overarching elements. The way the religions work and some of the combat, there are going to be some similarities because one is the heritage and the other shares it.
"
— Brian Fargo, http://www.ripten.com/2012/03/27/brian-fargo-talks-wasteland-2-abysmal-publisher-treatment-and-having-fun-again/
"
I get that comment a lot. At Interplay, what I always did was a vision document, from 2 – 10 pages long, explaining why the 10 or 15 reasons that this project should live, and what its focus and purpose is. So, if you say, "we're going to have great character portraits," show me some. If you say, "we're going to have gritty writing," then give me some examples. If you can't give me an example, you probably can't do it in a game. I always do these vision documents. Once that's done, the project comes alive. Now, I'm basically doing the vision document with fan input, as opposed to with a publisher's input or with internal people's input. It's all broad stroke stuff: larger world, more content, etc. They don't care about voice acting, they care about more text because they want more cause and effect. That's all cool, but once it's set, that's when we should do our job.
"
— Brian Fargo, http://www.ripten.com/2012/03/27/brian-fargo-talks-wasteland-2-abysmal-publisher-treatment-and-having-fun-again/
Latest Wasteland 2 Kickstarter video
Here's Fargo in a Fox-news style spoof on Wasteland 2, Kickstarter and Kicking it forward
How about some Fallout News?
Yes, we have actual Fallout News! Tim Cain was talking Fallout 1 at the GDC. You can see his slides, see an incredibly early screenshot and learn some other interesting facts such as why the game was almost cancelled twice and why it initially failed Win95 logo certification in this PDF covering his slides.
Wrap
Relic of the war that wasn't
This video was designed to play on British TV in the event of nuclear war seeming imminent. It will teach you all how to maximise your chances of survival.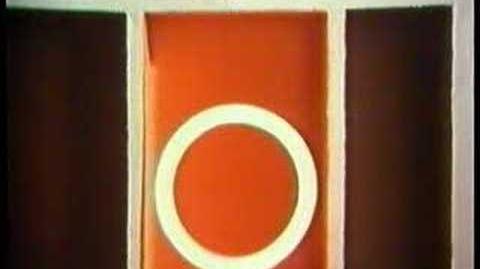 Unfortunately the pamphlet is not currently available from the post office as the video suggests. You can however read it online here.
What happened to the twitter thing
Given I had I think 5 followers at the end, I've stopped twiterising news for now. I might give it another go when a game looks imminent. You can still follow me @agentc1983 and I'll still occasionally post something intelligent.
What happened to Project Spotlight
Good question. Looks like the Project managers out there are a little worried given how they're treated on TV's The Apprentice... If you have a project you'd like to spotlight (New Project, old project, or just tell us how its going), please get in touch.
Your Next Nukapedia News Digest
Will be Next Friday, so you have something fun to read over the weekend - we'll try to make it a good one (this pun placed due to someone objecting to my lack of inclusion of Saint Patricks day); Until then.... Agent c 21:21, March 30, 2012 (UTC)