Welcome to the Nukapedia News Digest, brought to you by Visit Africa... Ongo Ongo Bongo, you wont want to leave the Congo!
In your edition this week.
Fallout's greatest hits
Now on iTunes
Some great news for music Fans, Bethesda have released on iTunes a whole lot of tracks from their most recent games - including Fallout 3 and New Vegas. $US11.99 will get you either collection, or you can buy individual tracks for 99 cents.
Sadly the Radio tracks aren't included, but you can get Begin Again, The Streets of New Reno and more.
Classic FM Hall of Fame
Its time to get your voting finger out! Classic FM is looking to add another name to their hall of fame - and who better than the artist responsible for the ambient music in Fallout 3 and New Vegas? Just visit here and search for "Zur" (as in Inon Zur) to make your vote count.
Mark Morgan Retrospective
Game Delver has a nice retrospective of Mark Morgan's (Fallout 1/2/Wasteland 2)
Around the Wiki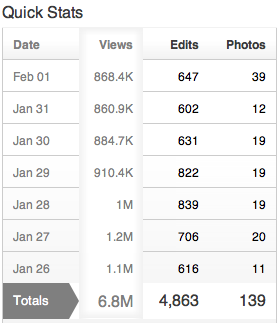 Votes and discussions
We're talking about bugs, and how we report em here.
Patrollership
A Follower and Richie are now patrollers.
Wikia Alliances
Should we join one (or more) of Wikia's alliances? Join us here.
Weekly stats
Are people interested in seeing this stuff each week? Its something we admins get to see, but I'm not sure if others find it interesting.
So, keep the weekly stats?
Oh Joshua!
When he isn't talking about Eternity, Josh still has the odd Fallouty thing to say.
Why do you feel that its bad game design to encourage someone to fight something for experience, but not to encourage skipping over something because facing it yields no benefit and wastes resources?

Because there are other ways to accomplish the ostensible goals (quests) that are not systemically rewarded. We can either systemically reward every action the player performs -- which typically results in some form of grinding, e.g. DX:HR hacking, and becomes an XP mess -- or we can view those different actions as means to content-specific rewards (what do you get out of the specific interaction in a specific instance) and systemically reward completion of the quests (and objectives within quests).
Hello, Josh! Just a quick tiny baby question. For the HUD and Pip-Boy of Fallout New Vegas, why did you guys choose the default colors amber, opposed to Fallout 3's Green/Blueish color? Was it to match the Mojave Wasteland color pallet?

Yes, I think Joe Sanabria, our lead artist, picked the amber color to match the overall palette.
How long was the development time of Fallout New Vegas (from the start of the project to release)?

About 18 months.
Hey, something that I've wanted to know, what gun is the .357 magnum round in FNV based on, the Single Action Army, or one of the many variants/knockoffs of it? Any specific one in particular?

It's essentially a Colt SAA, but I think the artist, Mitch Ahlswede, used a few different guns for reference.
I have another Fallout New Vegas weapon question for you, what gun, if any, is the Hunting revolver and Ranger Sequoia based on?

They're based on the Magnum Research BFR with a little bit of the short-lived Bison Bull.
Hey Josh can you help settle a little debate.In FNV was the Pyromaniac perk meant to be governed by the Explosives skill and not EW or is this a small oversight.

It was meant to be governed by EW because that's where the Flamer was, skill-wise. Also, early in development we didn't have a way to display OR conditionals for perks in-engine. Pyromaniac could have benefited from an Explosives OR EW requirement.
What's the hunting rifle in FNV based on?

It's just based on Fallout 3's hunting rifle, which is pretty similar to old Winchester Model 70s.
Now that the Fallout New Vegas soundtrack is on iTunes do you get royalties for your three songs?

No. Those weren't done under any special contract.
Do you get less questions now that people can't ask anonymously?

Yep.
Hiring Hall
AKA this might be Fallout 4 news.
Bethesda have tweeted that they're looking for the following for an unannounced game
User Interface Designer
Bethesda Game Studios is seeking an experienced UI designer to join the team. This position entails design and implementation of in-game interfaces.
Requirements
Experience designing and implementing functional and elegant user interfaces from concept to completion
Ability to plan out and design original game interfaces and associated features
Experience with graphic design and motion graphics
Fluent with Flash based interfaces
Fluent in scripting languages like ActionScript, Python or PHP
Experience with Scaleform a plus
Ability to contribute innovative ideas towards all aspects of game development
Experience playing Bethesda Game Studios games a plus
Must create amazing things with minimal oversight
Future Generation Console Programmer
Bethesda Game Studios is looking for experienced programmers to work on cutting-edge technology for an unannounced game on future-generation consoles.
Requirements
At least 5 years of game development experience with multiple titles shipped
Extensive experience programming and optimizing for the Xbox 360 and PS3
Experience with DirectX 11 a plus
Passion for making GREAT games, and being part of a GREAT team
Ability to contribute innovative ideas towards all aspects of game development
Must create amazing things with minimal oversight
Experience playing Bethesda Game Studios games a plus
Generation Next
Sony have sent the world a message: Keep Feb 20 Free.
Edge Magazine believe the new console will hit North American and Japanese shelves this year, and Europe in 2014. The controller will contain a touchpad instead of the start button, and will autorecord your gameplay.
Wrap
In memoriam
Rather than a relic this week, we pay tribute to one of the voices of Fallout 3, Patricia Marie Andrews, or "Patty" has passed this week, she was the last surviving member of the Andrews Sisters, dying at 94 of natural causes.
Patty and her sisters (LaVerne and Maxene) starting singing when she was 7 (Patty was the youngest), with one of her sisters (name) working as a pianist in a (silent) movie house to be able to afford dancing lessons for the trio. By 12 they were winning talent shows, and would eventually be forced to tour young to help the family out of hardship.
Along their career they'd break up and reform numerous times, help bring "swing" to the masses, and sing with the other greatest known voices of their day... Some say that they were only second to The Supremes as a girl singing group.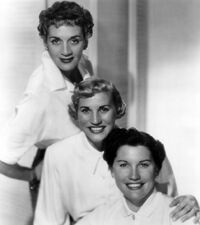 They'd also give countless hours of their time, free of charge, to help entertain servicemen through Armed Forces Radio, special recordings of their songs, and volunteering at the Hollywood Cantina - a club where the stars waited on and posed with servicemen.
As Fallout fans we are of course most familiar with their work with Danny Kaye on Civilization, I doubt too many of us will be unfamiliar with The Boogey-woogey Bugle Boy.
As a tribute to Patty and her sisters, We've created a Andrews sisters playlist on the Nukapedia You Tube Channel. I've collected five of their best known songs - including Civilization - here. (#px, how far down the music player is on the page from other things, example: 108px)embed/videoseries?list=PLzOZOmIFGrDR_sdOwckXx6aU1bj7y1Pxp;hl=en_US0
Boogey Woogey Bugle Boy (As live)
Civilization (with Danny Kaye)
Rum and Coca Cola
Accentuate the Positive (With Bing Crosby)
I can dream can't I?