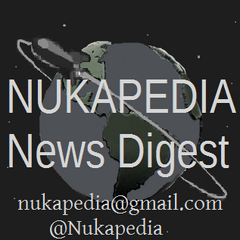 Welcome to the Nukapedia News Digest - Celebrating 30 years of not being blown up.
In your edition this week.
Around the wiki
New This Week
"

This is your road. When you come, you'll walk it alone

"

— Ulysses
Want to be featured? Add an image for an article for your chance.
Caption Contest
Wondering who won the peoples vote each week? Follow us on Twitter (@Nukapedia) as we'll be tweeting the winner and the image.
Select your favourite from these submitted by commenters
VTSN: The Vault-Tec Shopping Network
The Bethesda Store
I know there have been a few comments on last weeks new items in the Bethesda store… I don't expect too many complaints about this lovely item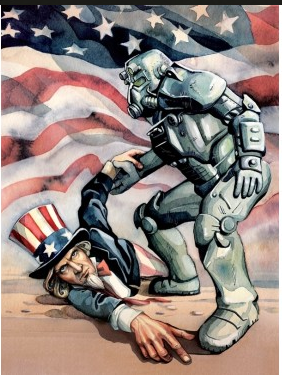 Limited to a print run of 250, this "Giclee" is museum quality, 16 by 20 inches on Cotton Rag Archival Paper and archival inks. At a mere $US 40 can you afford to miss this up?
There's also this lovely new T-shirt for $18.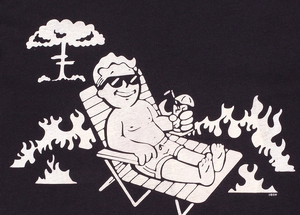 Marcus/Mr Worf/Michael Dorn swallows his bliss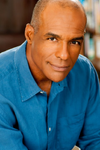 You might remember a few weeks ago we talked about voice of Marcus (and Worf) Michael Dorn's new project "Swallow your bliss", well, it appears he is indeed a merry man…
"
Well Indiegogo has officially ended! A HUGE thank you again to all who have supported Swallow Your Bliss! Can't wait for you all to see it!
"
— Micheal Dorn
Dateline: Rockville, MD
The Evil Within
We wet your appetite for Bethesda Published "The Evil Within" last week, here's the new extended gameplay trailer
Following the EuroGamer Expo livestream from yesterday, today we have released an extended gameplay video for The Evil Within. Developed by Shinji Mikami and the talented team at Tango Gameworks, The Evil Within embodies the meaning of pure survival horror.
Detective Sebastien Castellanos and his partners are called in to investigate a gruesome mass murder. After witnessing a mysterious force slaughter his fellow officers, Sebastian is ambushed and knocked unconscious. When the video opens, he finds his world has been turned upside down. Facing unimaginable terror and fighting for survival in a world where hideous creatures wander among the dead, Sebastian embarks on a frightening journey to unravel who or what is behind this unimaginable evil.
The Evil Within is in development for the Xbox One, Xbox 360, PlayStation 4, PlayStation 3, and PC and is slated for release in 2014. For more details on The Evil Within visit: TheEvilWithin.com.
Chris Avellone, come on down
MCA speaks to Hold the line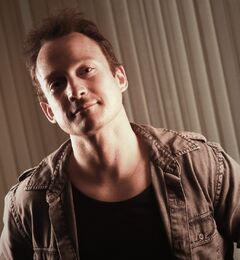 Although its mostly about Torment, MCA did have a few things to say about Fallout and the future when he spoke to Hold the Line recently
A lot--er--well actually pretty much everyone on the Obsidian team are former Black Isle Studio team members. How'd it feel to "come home" when you guys started working on Fallout New Vegas?
It was a nice change of pace. We'd been working on Fallout 3 at Interplay for a number of years (codename Van Buren), so seeing a lot of the game design of that title achieve fruition in a new Fallout game was great. A good percentage of that design had been directly taken from pen-and-paper games and the design docs for Van Buren – the Hangdogs, Hoover Dam, Caesar's Legion, the mental illness caused by the Stealth Boy technology, and more. Some of the Van Buren elements mutated over time and achieved new context and new life in New Vegas (as an example, the "Big Empty" in FNV DLC3: Old World Blues was originally an automated military boot camp run by Mr. Handys in Van Buren, and I think the mutation of the Big Empty in New Vegas allowed for a much richer realization of a cool adventure area).
There are rumors Bethesda is currently hard at work on a Fallout 4. I know you guys can't confirm or deny that rumor. But let's just say, hypothetically speaking, they ask for Obsidian's input and creative touch to help out, would you?
Yes, without a doubt. Fallout's always near and dear to our hearts, and I believe that Fallout: New Vegas did very well for Bethesda (we never saw the numbers, but they seemed pretty happy with the sales).
Beyond what you're currently hard at work on, is there any other IPs out there that the team would absolutely love to get their hands on?
There's a few: The Wire, Archer, Ultima, Chronotrigger, Deus Ex, Arcanum, Star Wars, Firefly, and Doctor Who, to name a few. I think Star Wars is pretty high on people's lists here at the studio. Personally, I'd love to do an Eberron D&D game as well, I love that universe.
The David Tennant Doctor or the Matt Smith Doctor?
Any doctor in the next generation (including Eccleston) and Tom Baker of the old generation would be my preference. But I wouldn't be the only one working on it, so it'd be more of a discussion beyond that, I expect... I will say the idea of making a brand-new Doctor that has to face off against the older Doctors (next generation or old generation) I think would be an awesome "season arc" for a game title. After all, I think the toughest adversary a Doctor could face is himself.
Would it be safe to say that ED-E is the official/unofficial mascot at Obsidian?
We have several mascots. It's a little odd, it depends on the conference room being used. Right now, Nihilus, Atris, Thorton, and the NCR Ranger are effectively our mascots for the different rooms and lounges. It was awesome getting an ED-E cake when FNV shipped, though. Deeeee-licious.
Relic and Nuclear News
Relic of the War that Wasn't
;Aniversary of World War 3 NOT happening.

"

"All that happened didn't matter to me — it was my job. I was simply doing my job, and I was the right person at the right time, that's all. My late wife for 10 years knew nothing about it. 'So what did you do?' she asked me. 'I did nothing.'

"

— lLt.Colonel Stanislav Petrov

30 Years ago (26 September 1983) this man, Stanislav Petrov, saved your life.

How? By using common sense, and not blindly following regulations.

On that fateful day Lt Col. Petrov was an officer on duty at the Serpukhov 15 Bunker, the command centre for the Soviet Oko early warning system, ever vigilant for signs of an American attack… Should an attack be detected a swift and immediate nuclear response was all but inevitable.

At one minute past midnight, the OKO system detected what seemed to be a single ICBM launch in the USA. There was no way to verify the attack, the soviets land based radar system would not be able to confirm the presence, or absence, of missiles, until they should be much closer.

Lt Colonel Petrov however reasoned that a single USA ICBM launch would be an absurd thing for the USA to do - the Americans surely knew that a single launch would result in the Soviet Union launching everything in retaliation - much of which was targeted at US military facilities, destroying any possible second strike - with no point in saving for a second strike it only stood to reason you'd throw everything into the first.

But thats not the end of the story. Later on the same shift system tripped again - there were now apparently four american ICBMs in the air… and all headed towards the Soviet union. Again, Petrov held his nerve - 4 ICBMs was just as absurd as 1 - there should be dozens if not hundreds if the Americans really wore attacking.

Of course in the end, Petrov was of course correct. There were no ICBMs in the air, the computer system had tripped in error, a rare alignment of the sun was responsible for triggering the alerts.

Whilst in the intervening years Petrov has been celebrated for his use of common sense (much to his surprise as he thought very little of the event), being the recipient of numerous peace prizes… In his homeland, despite praise on camera for his actions, he was "intensively questioned" and then reprimanded by his superiors for not logging the events correctly in the duty log… If you're going to save the world, you better get the paperwork right.
In other Nuclear News this Week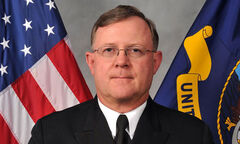 The Number 2 man in charge of the US Nuclear Arsenal has been suspended whilst he is the subject of an internal investigation.

Vice Admiral Tim Giardina was suspended at the start of the month, with his superiors recommending he be reassigned whilst an internal probe continues to look into alleged misconduct. In the meantime he is prevented from performing duties related to nuclear weapons, or any work requiring a security clearance.

Details on "Why" are scant, but it looks like it is related to some sort of gambling issue… It looks like New Vegas might be wrong after all - Nuclear Weapons and Gambling do not mix.

Prior to his current role, Vice Admiral Giardina was a submarine officer, and later chief of staff of the Pacific Fleet.