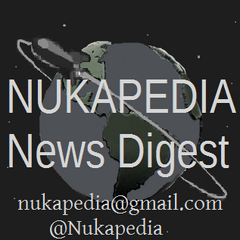 Welcome to the Nukapedia News Digest. Not a part of the international communist conspiracy (do you think they'll buy that comrade?).
In your Digest this week
Around the wiki
New This Week
"

Yes, my friends, you are free! Run, run like the wind! Rejoice! It is gods will that….SHRIEK!! Nooo. But, I'm a friend!

"

— Janet Badall
Want to be featured? Add an image for an article for your chance.
Caption Contest
Wondering who won the peoples vote each week? Follow us on Twitter (@Nukapedia) as we'll be tweeting the winner and the image.
Select your favourite from these submitted by commenters
Dateline: Rockville, MD
Attention Nukapedia Shoppers
;Perhaps proving there is nothing that Bethesda can't stick Vault 101 onto, check out this weeks new additions the the Bethesda Store - a Tracksuit, and a limited edition Snowboard(?).

Call it cashing in if you like, but I must say I like the distressed look of the 101 Board (although the reverse is just a plain Vault Tec logo).

If anyone hasn't bought me a Christmas Present yet, I would be interested in learning how to snowboard (and if required would post a youtube video of me failing).

Josh Sawyer Says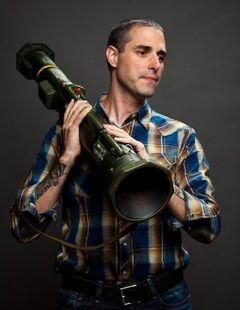 ;Do you ever get sick of "what masochistic person thought of cazadores," and what would you say has been your favorite project to work on?
No, because I love cazadores and how they mess with players.  I felt like Fallout needed a serious mutated insect enemy and came up with the basic idea for the cazador after seeing a picture of a tarantula hawk.  From the first time I saw player responses to Brian's concept art on the Bethesda forums, I knew people were going to dramatically underestimate them as enemies.
It's hard for me to analyze a favorite project in retrospect.  Icewind Dale was incredible for me because I was working at Brian Fargo's company, with Black Isle, on an AD&D game set in the Forgotten Realms.  Other favorites are Fallout: New Vegas and several canceled projects (Van Buren, Jefferson, and the Aliens RPG).
Fanzone
Mutants Rising for Fallout 2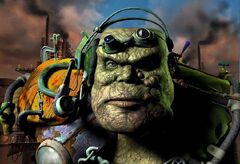 Mutants Rising is a Fallout 2 project thats been simmering away for a while, but recently hit the world with an update:
Game design has been progressing at slow and steady rate. From a design standpoint, the game is 100% complete -- in fact, just last week, we finalized design on MR's big bad boss. I'd tell you more about him/her, but I wouldn't want to spoil it for you, so I'll simply say that he/she's a doozy, and you will thoroughly enjoy thwarting his/her plans. See how I'm even keeping his/her gender ambiguous? >:D
There's a lot more information on this on their website, including more teasers to the story, and their demo. If you're up for a bit of graphics work, they are looking for a 3d Artist (amongst other roles).
Fallout 1.5: Resurrection
;Speak Czech? Then czech-out Fan Mod Fallout 1.5: Resurrection for Fallout 2 - Being released October 3.
Fallout 1.5: Resurrection is a mod for Fallout 2, with a completely new story taking place in the Fallout universe. The plot will take place in the time between Fallout 1 and 2, east of the future NCR, therefore roughly in New Mexico. Thus in the game you won't find the original, but entirely new, creative, locations, which gave us more freedom with the story.
The player's character wakes up, heavily wounded, in a dark cave, not knowing how it got there, or who it is. Thus you start from a scratch, searching for your past, which is darker than it might seem on the first sight… We won't give away any more details about the story, not to spoil your game experience. Though you can count on surprising twists in plot and unexpected finale.

Don't speak Czech? An English translation is promised.
Wrap
Relic of the war that wasn't
This week we have the first in what I hope will be a series of relics. The propaganda war was a huge part of the cold war, with governments trying to assure both people at home, and perhaps convince a few foreigners, that their way was indeed the best way.

This week we present for you a selection of Soviet Union posters, some promoting service in World War 2, and others promoting soviet policies, achievements, or claiming their system was working better than the US's system. Its accompanied by the red army singing the Soviet Anthem, so crank your speakers up!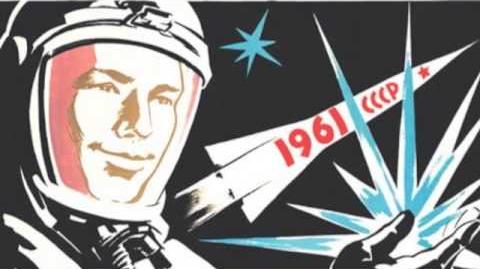 Next Week - America the Beautiful.