Welcome to the Nukapedia News Digest, the greatest news in the (nuclear) winter wonderland
In your edition this week
Around the wiki
Want to be featured? Add an image for an article for your chance.
Caption Contest
Wondering who won the peoples vote each week? Follow us on Twitter (@Nukapedia) as we'll be tweeting the winner and the image.
Select your caption of the week (Reset, please revote):
News from the wastes
Wasteland 2 beta lifestream
Wrap
Obituaries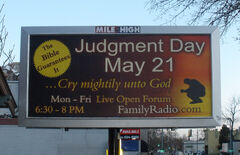 Look out in the next digest for the long awaited return of the Relic of the war that wasn't (maybe). In the meantime, We're sad to report the passing of Harold Camping.

You might remember these posters from a couple of years back… but if you don't as the poster suggested Harold Camping proclaimed that the Bible guaranteed that armageddon would happen on a certain date. After a revisal in both date, and the form of Armageddon, Camping ended a bit heartbroken and confused as to why his prophetcy didn't come to pass.
But, assuming the world doesn't end this week, we'll be back next week with more. Remember to look out on Christmas day for a special edition of The Hole.