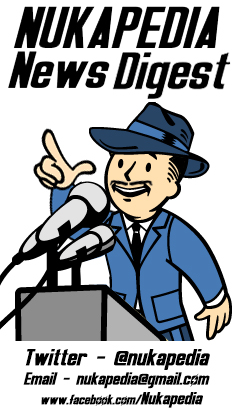 Welcome to the Nukapedia News Digest, brought to you by Becky's - its not a Hole, we promise!
In this edition:
From the Administrative Enclave
We have a new Bureaucrat
Our number 1 editor has now become our newest Bureaucrat. Congratulations Jspoelstra.
But are down an Admin
Citing the pressures (geddit?) of his new career, GarouxBloodline has moved to the inactive Administrators list. We wish him the best of luck in his Navy Diver training, and you can leave your well wishes here.
Other Votes
DragonBorn has withdrawn his nomination for Chatmod.
Chat
You may have noticed some issues with Special:chat of late, specifically lag and the absence of stars. Jen @ wikia has confirmed they are "working on it".
The News on Wasteland
Thanks to No Mutants Allowed for breaking these.
What the Bejesus is Wasteland
As you've read elsewhere, it looks like we can expect a new Wasteland game. For those of you who think the Eighties are something you'll grow into, in 1988 Interplay released a game through its then publisher EA that would bring home the horrors of the post-apocolypse - Wasteland. PC, Mac, Commodore 64 and Apple II users were able to explore a lot of real world locations - including the remains of Las Vegas.
Nearly a decade later, Interplay released another post apocalyptic game, but as EA owned the IP (and not Interplay) they had to make it a bit different. I think you all know how that little project turned out ;-).
The rumours of a new Wasteland game have been going since 2003, when Fargo (now InExile) purchased the rights back from EA. There was a little work confirmed in 2008 and NMA has spotted this on Fargo's twitter.
Kickstarter
Kickstarter is a way for artists to get their fans help in creating a project. As most of you can appreciate, making a game isn't cheap, normally companies get publishers involved to front up some cash, but they expect a say in the game you make. Fargo is hoping to bypass all of that by getting support from good people like you. In his Twitter it looks like in the next 2 or 3 weeks, you'll be able to put your money where his mouth is.
This is going to give him the freedom to make the game really old school, rather than mainstream.
Edit, Speaking of Oldschool, this has just in from Brian Fargo's Twitter.
It looks like a few of you have figured out one of the tier awards. The $50 tier gets full box, docs and maps the way games used to be.
Anyone else remember the way things used to be?
But wait, there's more
A quality game like Wasteland deserves a Quality writer, and InExile have snagged a beauty. He's written for Star Wars, Battletech, and countless Pen and Paper role playing games, he's the brains behind the Star treck 25th Aniversary game (amongst others) he's taken on those who've claimed that Role Playing is bad for society, and he's a kick ass Jedi (sorta). Micheal A Stackpole. Oh, and did I mention, he also helped work on the original wasteland?
As the spiritual ancestor to Fallout, I'm intending on covering it in the news... But if you're hungry right now, check out the Wasteland Wiki.
News from Obsidian
Thanks to an anon (see, they're not all bad) for this tip from Chris Avellone's twitter
My heart grew three sizes today when Tim Cain said yep, it was official - he was going to stay and work with us full-time.
Looks like good things for Obsidian to come.... And on the subject of employment, this from Obsidian's twitter:
Obsidian is growing and would like you to join our team. Check out all of our great opportunities.
Time to update the ol' Resume?
Wrap
Relic of the war that wasn't
Given who the enemy is in Wasteland, a Russian theme this week. Most people think the Concorde was the first Supersonic Passenger jet.
Most people are wrong. Like space, the soviets got there first. Have a watch here of the Soviet "concorde" the TU-144
You can find more on
Wikipedia
.
Your Next Nukapedia News Digest
Assuming we have some Wasteland (or any other) news, maybe next sunday. If not, the following Sunday. Remember you can submit news and relics on my talk page.
Agent c 00:57, February 20, 2012 (UTC)