Welcome to the Nukapedia News Digest
In your edition this week.
Achievement Log
Canceled Games portal now open
The Canceled Games Portal is now open, (although a some of the list pages still need to be converted over to the updated style… You can also see the new fancy logo Jspoel and I mashed up.
We'll be moving over the old games to this style in due course. You can help out here.
We'll have a special blog in the next week talking about cut bits of Fallout and Canceled games in our Secret life of Fallout special.
Attention Nukapedia Shoppers - New T-shirts rule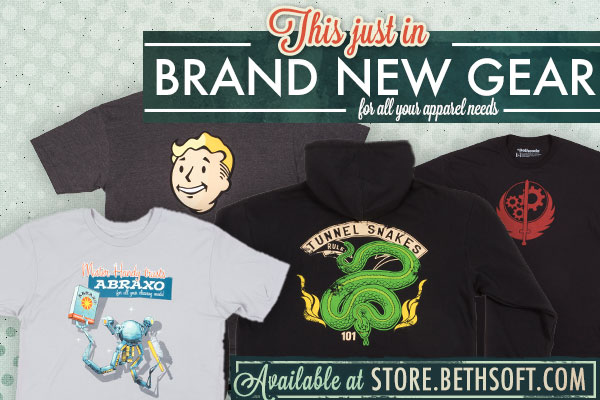 Bethblog has more on the new shirts.
That Bethesda Announcement
For those of you who missed it… that Tease from Bethesda is actually The Evil Within. IGN is supposed to have more of this survival horror game on Monday.
Meet Mr Chris Avellone in Amsterdam
If you're in Amsterdam on thee 25th of April, why not head into Indedevelopment. In exchange for your €10 you get Lunch, and the opportunity to hear Jeroen D. Stout,m Jasper Byrne, Tom Betts, Robin Hunicke, Austin Wintory and Chris Avellone…. I challenge you to find a better way to spend €10.
You can find more information here.
Wrap
Due to the small update this week, We'll hold the Relic over until next week... We'll see you all then. Agent c (talk) 01:34, April 21, 2013 (UTC)