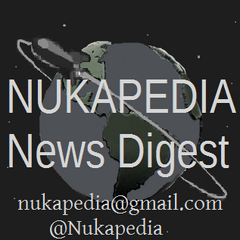 Welcome to the Nukapedia News Digest. Now available in 31 flavours… All of them vanilla.
In your edition this week
From the administrative enclave
I've opened up a discussion as the start of a process towards a "Housekeeping" vote on a few minor issues. Topics included in the discussion include some changes to our chat rules, voting processes and reming the links to our old IRC chatroom.
GhostAvatar is unfortunately no longer one of our bureaucrats. Due to the 9 months of inactivity policy he lost his rights. We wish him well and who knows when Fallout 4 hits the stores, we'll see him again.
Oh, and fans of the news digest might find this article on Community Central entertaining. Yes, I am one of Wikia's stars... Here's a snip of my words of wisdom.
Ask me about

Well usually its "What the heck is an Australian doing in Glasgow of all places?" but I'd really like it if more people asked about my crazy schemes to improve the wiki so they can get involved (and help a few more of 'em become reality).
Attention Nukapedia Shoppers
Looking for the best way to get around the ruins? How about a longboard?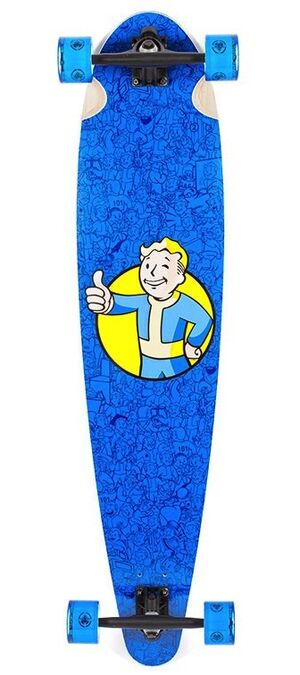 There's also a Dragonborn one for Skyrim Fans.
Fanzone
I think we covered Project Brazil some time back… Well good news is this now in open Beta.
News from the wastes
"
A fine Saturday reviewing shape-shifting weapons from the original Torment and re-reading Wasteland 2 skill lists for the novella.
"
— Chris Avellone, @ChrisAvellone
An update from Wasteland 2… It looks like they're on track with a game playable in an alpha state.
Heres a video with their inventory system in action

And for those of you who want to see a town.. You might be intrigued to see [Damonta. Its based on the Aeroplane Graveyard in Arizona.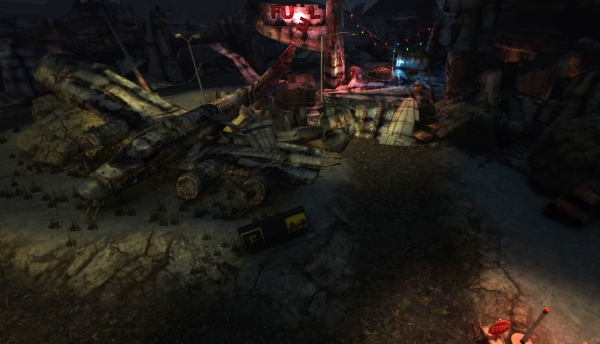 Wrap
The Nukapedia NCR Presidential Election
Watch out on Tuesday for the first part of the NCR Presidential Debate, brought to you by Vault Tek, and Nukapedia: The Fallout Wiki. If you have any questions for our Candidates (Sulik and Joanne Lynette), please drop them in the comments.
Not the War that Wasn't
Rather than a Relic of the war that wasn't this week, I thought I would instead bring you a relic of the gaming industry. A long long time ago, when kids owned Atari's and Amigas, there was a game, and somewhat successful movie, called "E.T.". So confident of their success, Atari constructed more cartridges than there were consoles that could play it….
The game went on to much fame and infamy…. As the game that almost killed the video game industry! Rumours have circulated for years that millions of ET cartridges were dumped, and buried in the desert… until now.
The city council in Alamogordo, New Mexico granted approval this week for Ottawa-based multimedia and marketing firm Fuel Industries to excavate the site some time in the next six months for a documentary it's filming, local news site KRQE reports. This year also marks what will be the 30 year anniversary of the assumed September 1983 burial, which came during the height of the great video game crash. That sudden market reversal supposedly left Atari with millions of unsold and unsalable cartridges and systems, which were dumped in an Alamogordo landfill and later covered in concrete.
If they're there, its a significant haul. The rumour speaks of 3.5 million ET cartridges supposedly being dumped. Something to phone home about if you can find it?
Your next Nukapedia News Digest
Is again next week… See you then.