Welcome to the Nukapedia News Digest. Now available on all flights to and from McCarran Airport.
In your edition this week
Around the wiki
New This Week
Want to be featured? Add an image for an article for your chance.
Caption Contest
Wondering who won the peoples vote each week? Follow us on Twitter (@Nukapedia) as we'll be tweeting the winner and the image.
This Week

I think this from User:Paytonhill's user page… suggestions in the comments
Pick your favourite from these selected submissions last week
From the forums
Ok, a lot to get through this week:
This one is pretty major, it talks about how we handle original sources, and how we reference in main articles too.
Phew… Is anyone actually editing the wiki?
News from Rockville MD
From Rockville, with love
If you're looking for a new Hoodie, grab two quick from the Bethesda store and save $20. In the meantime though, here's the elder scrolls online developer question of the week
Waiting an Eternity
Obsidian Flavoured Goodness
Wasteland 2
News from the wastes
Backed Wasteland 2 - or getting it with Eternity - and want Beta Access? Until the end of January you can get beta access for $10.

However, if you've been a backer, there is a change in the rewards… Specifically the Novella's..
Michael A Stackpole's novellas look like they may, or may not happen.
Instead Stephen Blackmoore will be writing "All Bad things", which dovetails into one of the cults found in LA.
Additionally Nathan Long will be writing a novella. You might know him from from several Warnahammer novels, and his work on InXil'es other current project, Torment:Tides of Nunmenera.
Chris Avellone as you may remember was working on a novella…. Now he isn't. But its not bad news, he's writing a NOVEL instead. This does mean it will be delayed, but come on, its a novel, by MCA. Who can complain about that?
We'll be playing Wasteland 2 again on 26 Jan
Wrap
Relic of the War that wasn't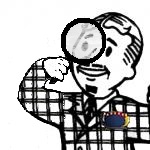 ;We're bringing back the relic with… A Postcard?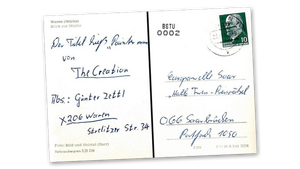 Well, perhaps not what the postcard is, but for what it represents. Wheres today we probably would send an email or picture message, before the internet or mobile phones we used postcards to convey simple messages or greetings cheaply and quickly… Often many a Holiday/Vacation was accompanied by dozens of little cards, a photo of the place visiting on one side, and a short, heartfelt message on the back.

Their small form factor, low cost (both in mailing and the card itself), and that the mail systems of the world tended to be more interconnected than phone services (which even if they were available were expensive) made them a frequent feature for international radio stations to run their quizzes on "Put your answers on the back of a postcard" they would encourage listeners.

In 1969, in Mecklenburg, then East Germany, Günter Zettl did what teenagers around the world have been known to do. Listen to a little rock and roll on the radio,. Of course, being communist East Germany, and the station being broadcast from the west this was technically illegal, but as they say, you can't stop the music. The radio show "Hallo Tewn" advertised a competition to win a copy of and album by one of Günter's favourite groups - UK Band "The Creation".

Confident in his answer, he without much thought dropped a postcard with his answer into the post. After he heard nothing, he presumed that he'd simply not been the lucky winner, and thought no more of it.

For the infamous East German Stasi, this alone was enough to open a file on the young student. This file prevented Günter leaving East Germany until 1983, when after multiple rejections he was finally given an exit permit.

Encouraged by friends now that the cold war is but a memory, Günter sent away for his Stasi file, and was bemused to learn the reason he came to the Stasi's attention was an innocent little postcard to a radio station.

The station, Europawelle Saar, celebrated their 50th Anniversary just recently, and tracked down a copy of the album… in the private collection of the original host of the show!

A timely warning about the threat of state interception powers, or a reason not to complain about your postal service… you decide
Last week - an apology
I'd like to apologise to all of our faithful readers for the absence of the news digest last week. As many of you know I had arranged to spend the week in Washington DC with Nukaturtle the week prior… we had hoped to visit the Greenbrier Bunker, but unfortunately circumstances got in the way.

For those of you who didn't see what happened on Twitter, although my flights to the USA from the UK (via Icelandair) were uneventful, Nukaturtle spent 2 days stuck in Montreal Airport. Whether or not this is down to United's and their regional jet partner being unable to operate an airline effectively, or the weather depends on your point of view… Not only was her plane late leaving Montreal on the Sunday, a 2hr runway delay turned into a cancellation… although United attempted to book accommodation, it was only valid at a fully occupied Holiday Inn, who promptly threw her and other passengers out into the -20C cold in the middle of the night. Full props to the guys at Marriott who looked after her and had her in a room before payment details were confirmed.

Her replacement flight 2 days later was delayed further when the airline didn't know where the captain was - or even if there was one coming… Then on her return home leg on Saturday although United insisted her flight was scheduled "on time" the night before, it was very obvious that it was never going to leave on time - somehow 6 hours before takeoff United were able to correctly predict to the minute that the preceding flight for that aircraft would be delayed about 90 minutes due to a late incoming crew… with an arrival time in DC 10 mins after the estimated boarding time. This then snowballed into a 5 hour delay…

As such, much of my news writing time was spent trying to clean up after this mess left by United. By the time we had almost everything sorted and ensuring she could get home (and trying to get some compensation for their screw-ups - we got a goodwill gesture, but not enough to cover the out of pocket costs), I was exhausted, and then had university classes… and by the time I was able to put attention to this blog, and the hole again… it made more sense to wait until the next edition was due.

I know it doesn't quite make up for it, but here's some happy snaps from the trip here and here and here
Yep, we'll be back next week. Not even United Airlines can stop that.