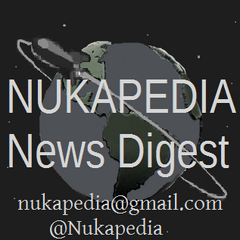 Welcome to the Nukapedia News Digest - this week brought to you by a special message from The Police: Every breath you take, every move you make, every bond you brake, every step you take, I'll be watching you.
In your edition this week
Around the wiki
New This Week
"

Hey! Please get me out of here. Please! Get me out of here and I'll pay you back someday. I don't have anything to give you now, but if you ever visit my town Great Bend, just ask for Ripley and I swear I'll make it up to you. Please... please don't let them touch me again!

"

— Ripley
Dateline: Rockville, MD
The Future of Bethesda Softworks
"
Wanting to be like, the Pixar of video games is not a bad thing
"
— Pete Hines, VP Marketing, Bethesda Softworks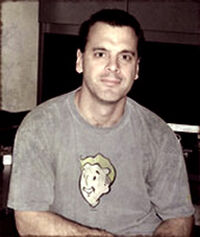 Some interesting news through Polygon this week. Guess how many games Bethesda Softworks expect to release this year?
Zero.
Bethesda's publishing slate mentioned in the article includes Wolfenstien, The Evil Within, The Elder Scrolls: Online, An unannounced Free to Play game, and Prey 2. Interestingly Prey 2 is the only game not being made by a Zenimax-group company (Zenimax Media own Bethesda Softworks).
The Article itself is a great interview with Pete Hines looking at Bethesda's strategy as a Developer/Publisher, and just where they see themselves in the market.
…And no, there is no mention of Fallout, beyond crediting Todd Howard for Fallout 3, however one more quote for what is possibly the understatement of the year:
"
Look, we're a very financially solid company. We did Skyrim, that sold some copies. We're doing okay.
"
— Pete Hines
TES:O At Gamescom
Now you know you'll be waiting until next year to get your hands on it, you might want to take this chance to see what all the fuss is about.
If you're going to Gamescom in Cologne, Germany (its this weekend), look out for the Zenimax booth where you'll be able to play The Elder Scrolls online on dozens of gaming stations.
The folks at Zenimax have also sent out a reminder tweet to folks on the Invite Only betas that players arent to reveal anything from the game through threat from the NDA.
Still waiting for MY invite guys.
Joshvision
"
Mom: "do you want hex tiles on the floor or sq-" me: "okay, let me tell you something about why hexes are superior."
"
— @jesawyer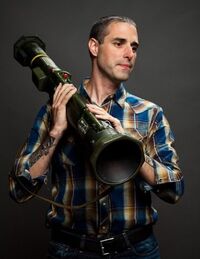 A question about your New Vegas mod

I saw you modified the gold price to something significantly less. Did you also change the weight to something more realistic? Gold is heavy, but they should weigh about a pound according to the text on the gold model.
We wanted the individual bars to be heavy, closer to the Good Delivery standard of 400 troy oz. / 12.4kg / 27 lbs. Ours are 35 lbs. to make them more difficult to remove.
Either way, the size of the model is close to the Good Delivery standard, the classic big ol' bar o***old, so the text on the texture is inaccurate.
So did Cassidy have Cass before He met the chosen one or after?

After.
Why did you make songs for Fallout

New Vegas? I think they were great and a nice touch, but I just want to know why did you see it fit during development?
Late in development, we realized that we didn't have songs for the Lonesome Drifter (or Bruce Isaac) to perform at the Aces theatre. Talent Pool was a side quest and it seemed unlikely that, even if the quest was completed, people would return to the Aces to see the performances. Still, we needed to have songs, so I worked out some possibilities with Scott Lawlor and did the recordings with Nathaniel and James playing guitar on the three Lonesome Drifter pieces. I'm not sure where Scott found the Cobwebs and Rainbows instrumental, but it was handy for Bruce Isaac's song. I think we recorded all of the Lonesome Drifter songs on a Sunday afternoon and Cobwebs and Rainbows later that week.
Did you ever intend for the Ballistic Fist in Fallout New Vegas to use shotgun shells as ammo?
I intended for several of the Unarmed weapons to use ammo, but we encountered some problems with implementing it. I would have liked to continue with it because I think ammo use/reloading could have helped distingui****hose weapons in more interesting ways.
Wrap
Relic of the War that Wasn't… LIVE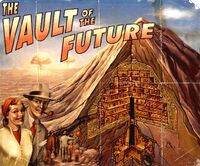 Come to see a real nuclear bunker (UK Edition) - 1 September 2013
Come to a real nuclear bunker (USA Edition) - January 2014
Its time to take a field trip away from the wasteland, and visit a REAL vault. Come join us in YORK in two weeks time (Sunday 1 September 2013) when we'll visit the Nuclear Bunker just 2 miles from the heart of the city. This facility would act as a regional government headquarters after the bombs had fallen.
if you can get near WASHINGTON DC, we'll be visiting the GREENBRIAR RESORT in the first week on January. This bunker was prepared for your elected congresspeople to run to in the event of nuclear war being imminent.
Please email us at nukapedia@gmail.com if you're interested in joining us.
Can you help the Netherlands wiki