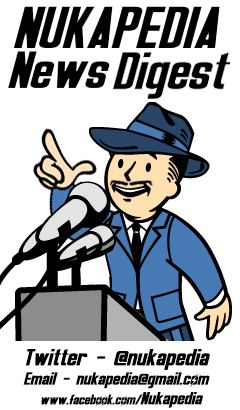 Welcome to the Nukapedia News Digest, Brought to you by The Capitol Preservation Society… Who are you who forgets your history?
In Your edition this week
From the Administrative Enclave
We've started down the road to implement The new templates designed by The Gunny
Are you new to editing? Looking for a tip on how to get your editcount up? We're calling up the troops for another Blitz Project. Check that out here, and let Dead Gunner Know when you're available to join in.
Retro Radiation King (formerly Dwellersims) is a patroller.
Josh Sawyer on MattChat
Matt of MattChat has been talking to Josh Sawyer Recently, in part 3 of his interviews they talk about Fallout… What does he think of the Bethesda Fallouts? What were they trying to achieve in NV? Does he have career advice? Find out here.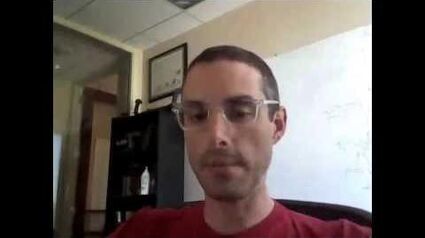 News from the Wastes
"
Ah the irony of our vegetarian writer Colin McComb doing the design work on the cannibal maps.
"
— Brian Fargo
A quick update
We start with a quick update from Brian Fargo from Facebook, and a shot of just some of the Wasteland 2 design documents…
We holed ourselves up with the Wasteland writers this week and marched through the design of the game in painstaking detail this week. And after having done that we are even more excited about the game we are creating. Tons of reactivity on both a large and micro level and plenty of unique gaming moments. The implementation stage can start to hit full cylinders now. Feeling good.
A confirmed location
"
One of the real world places that the Desert Rangers will be exploring will be the Titan Missile base in Arizona. The Rangers will have their hands full with the folks in charge of this place.
"
— Brian Fargo
Uncle Brian wants you
Game credit that is. inXile is looking for small group of combat veterans to join our Veterans Advisory Panel. This group will help us to vet some of our military lingo and help us get it right. While our game is set 115 years after the apocalypse, the Desert Rangers are still a military group that have their roots in the US Army. While the Desert Rangers are not exactly as organized or as formal as the US Military, we still want to make sure that the language we use is based on a solid foundation of reality and we need your experience to help us get there.
Those selected to be on our Veterans Advisory Panel will be given access to a private forum where we will share some design documents and scripts and discuss our thoughts on the history of the Desert Rangers, their vocabulary, and their communication techniques. For participating in the VAP, members will all receive in game credit as well as a boxed copy of the final game. More importantly, members of the VAP will all be immortalized in Wasteland 2 by appearing in the game as one of the legendary Desert Rangers. That's right, we will name a Desert Ranger after you!
Anyone interested please send a brief description of their service to VAP@inxile.net
…And something for the old fans
As a humorous tribute to Wasteland 1 fans, here's Colin working on the Martian Invasion [1].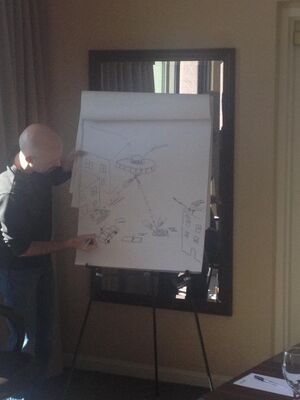 No word on if the Martians are Vegetarians too. I certainly hope so for all our sakes.
Wrap
Relic of the war that wasn't
The Relic blasts back with a big relic, and the start of our Vault Inspiration series. This series is dedicated to those who came before I took over the news desk.
Most of you are familiar with the concept of continuity of government by now - Facilities like Control Station ENCLAVE, Raven Rock, and previous relic Burlington have important roles in ensuring that the business of government can attempt to continue.
This week we take you to Greenbriar Resort. A rather fancy hotel complex 250 miles from Washington DC…. Or is it? This from Journeyman Pictures / ABC Australia.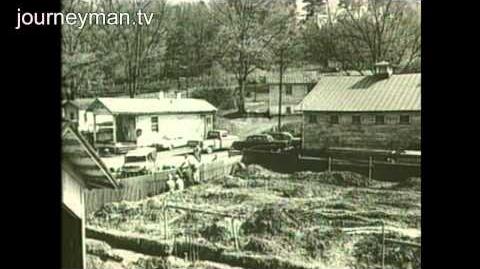 Are you in the DC/Virginia Area? We'd love to refeature Greenbriar if you're able to film yourself taking a tour…
Next Week - The original Relic
Your Next Nukapedia News Digest
Will be 24 November. See you all then. 22:30, November 17, 2012 (UTC)
Footnotes
↑

To save space, a lot of Wasteland 1's dialogue wasn't put into the game. Instead the game would tell you to read a certain paragraph from the included Dialogue book. In order to thwart would be cheaters, the Dialogue book contained a lot of fake content, including a Martian Invasion that players would subsiquently go nuts trying to find in game