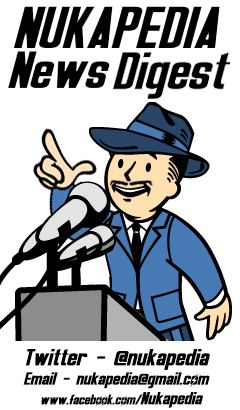 Welcome to a Special Edition of the Nukapedia News Digest, brought to you by the campaign to re-elect Mayor Avellone.  Chris Avellone - he knows what's best for you.
In this special edition of your news digest.
News from the Wastes
"
Oh my God... We finally really did it. YOU MANIACS! YOU BLEW IT UP! OH, DAMN YOU! GODDAMN YOU ALL TO HELL!
"
— Charlton Heston on hearing the news
A break from the usual running order; Kickstarter Wasteland as reported in other articles has exceeded its targets.  The pledge total now exceeds 1.1 Million and 20 thousand individual pledges.
The game appears to be on.  Now it's just up to Brian, Mike, Mark, Jason and co to make us a brilliant game worthy of being Fallout's "sister" and the sequel to Wasteland..
Here's some other headlines from the wastes:
Party with Brian Fargo - Sold out!
All 8 party with Brian and the Wasteland team for $10,000 packages have sold out!  Most of the $5,000 statues have also sold, however the Blood Sausage ($2,500) seems to continue to mystify buyers, having no sales at this tier; Brian has confirmed that this is a minature not of an actual blood sasuage, but an enemy being wasted in that fashion.
Edit: There are now more party packages available if you want to go wild. Also the $2,500 tier has changed:
You get to place a personalized collectible artifact in our world and write its backstory! It could be anything from an engagement ring to a teddy bear. We will have 200 of these rare and semi rare items that can be found throughout the Wasteland 2 world. When collected, all players will learn about the personal touch that you added to the world. You'll also receive a signed Collector's Edition, boxed version and 10 digital copies of the game to do what you'd like with, in addition to a lv4 Desert Ranger medal of honor limited edition collectible. (This does not include NPC/Weapon/Location as well)
New Staff
Liz Danforth, another Wasteland Veteran has signed on to the project. For those of you playing at home Liz Danforth was responsible for the Highpool location map. Welcome to the revolution Liz.
Press and Tweet Roundup
Here's some quotes from around Twitter on the Wasteland Kickstarter Project:
"
@BrianFargo Yesterday a guy bet me $60 that Wasteland 2 wouldn't make it to the target. Looks like I'll have extra money to pledge
"
— Ausir
"
We're gonna party like it's 1989!
"
— Brian Fargo (after the target passed its goals
"
We have sure done bad job conveying the $2,500 tier as there no takers. People probably think it is literally a sausage statue.
"
— Brian Fargo
"
On a side note our liability insurance co. Hartford is dropping us because they "heard" we make violent games.
"
— Brian Fargo
"
I've always wondered if people really wanted the Mars storyline to come into play. It's funny but way outside the genre.
"
— Brian Fargo
"
Oh, you bet your ass I donated to that Wasteland Kickstarter thing. Your ENTIRE ASS
"
— Tycho Brahe (Penny Arcade)
"
You will most definitely get to create your entire party like Wasteland 1 or like Icewind Dale did (as an example)....You will be able to go with an existing group of Desert Rangers or make your own customized mix. And of course NPCs will join along the way....We are leaning towards isometric but we want to show some screens in our forum for fan feedback. You guys are my new boss after all…And don't worry the game will be violent....edgier the better.
"
— Brian Fargo
And Heres a roundup of Interviews Brian and co have been doing and other media coverage.
Articles: VentureBeat, Ars Technica, The Register, The Escapist, and Gamespy are just the tip of the iceberg.
Interviews: Massively/Joystiq and Gamezonehave more.
From the Administrative Enclave
Chat Moderation
For those of you considering nominating for Chat Mod, I've posted a schedule showing current cover patterns.  Also on this page are some suggested ideas and changes for the communities consideration: 
A Chat Manager (to advise on demand and supply of Mods, hear appeals, advise on Chat Rule interpretation, and to make arrangements for logs)
A Ban Appeals process (suggestion currently is another mod/admin in chat, the manager or another admin if no manager, and then possibly the community, but this last part seems controversial)
Standardisation of Ban Messages
An "out of hours" page where serious chat issues can be reported when a mod isn't present.
Take a look and tell me what you think.
New Moderator
Tocinoman has become the Wiki's latest moderator as a result of a community vote. Make sure to congratulate him here. Good luck with your new position, Tocino!
User Rights Policy change
KingClyde has suggested some changes to the user rights policy. Check it out and have your say here.
Administration Boards
Garoux has setup dedicated Admin discussion and notice boards. These aren't just for the ranked, they are for everyone to contribute to. Make sure you check them out if you need help.
Wasteland 1 Links
Because it has come up a couple of times… We are currently not able to permit discussions on where to obtain Wasteland 1 by less than legal means. This includes "Abandonware" sites.
From what I've been able to gather from postings on the Kickstarter and elsewhere EA still seem to hold the rights (as the then publisher) to the first game, and we're not aware of any move by EA to make this available legally. Just because a game is out of print doesn't mean its fair game. I can only recommend eager gamers look to sites like eBay where in addition to being released in its own right was also released in Interplay Compilation packs
Making Wasteland available without EA's consent is piracy, and as unlawful behaviour this is against Wikia's Terms and Conditions. Its never a great thing when we have to "censor" a topic or shut down a discussion, but I hope you'll understand why this is required.
That said, I have tweeted EA asking them to make it available… Maybe this is a time when popular support can move a mountain? You can make your voice heard by tweeting @ea.
Community-Building forum
Hi guys. Yes-Man here. I just want to inform users that I've set up a forum for the community to have their say on the state of the Wiki, what they want to see changed and to get everyone involved in the major changes that have been happening on this Wiki. I know a few of you have voiced their concerns over the fact that you don't get a say, or you're afraid of speaking up, and that's what this forum is about. So, please, check it out, take a read, and give some feedback. If there's anything you want added, but don't know how to do so yourself, leave me a message or catch me in chat. Thanks,


Nukapedia New User Network
Are you someone who's always wanted to get into editing the wiki but not sure how? Maybe you're sick and tired of seeing all of your edits reverted 5 minutes after you put them in? Maybe you're just not sure what work needs to be done. At the Nukapedia New User Network, we're here to help you. Sign up today and we'll help you become call you can be.
Also, if you're a regular editor who would like to help others become better editors, come volunteer. Also feel free to point us out to someone who you see struggling.
Chat Moderator Request - Victor the Securitron
Our very own Victor the Securitron is running for Chat Moderator. Have your say here until the 25th of March.
Project Spotlight
All good things it seem must come to an end… and on occasion so do our Wiki Projects. We cross to Kastera1000 with news on the Fallout 3 and Fallout:New Vegas Creatures projects:
Kastera1000 on the Projects
On behalf of the leader of both projects, Ausir, I would like to thank all who participated in making the creature articles of both Fallout 3 and Fallout: New Vegas both standardized and immensely informative. Starting in April of 2011, both projects seemed to progress remarkably fast; some thought the projects would be done by June. However, due to site turmoil over the split in November, both of the projects (which were mostly complete at the time) were placed on the back burner for three additional months, but were officially completed in this past week. Those who gave a great deal of time to the projects have been awarded with project medals. Again, thank you to everyone who helped with the projects; you were of great service to the wiki.
Medal Showcase
Although good work is its own reward, it is traditional for contributors on our projects to receive a medal when a project closes, these medals are not available in stores, they can only be earned by contributing to a project. Here's the medals for the closed projects:
Nukapedia Project Medal

Earn a medal just like me… Help bring a project to completion.
Nukapedia Project Medal

Earn a medal just like me… Help bring a project to completion.
Check out our active projects so you too can add to your jewellery collection.
Industry News
As one door closes
Unfortunately Obsidian have had to lay off 30 staff. Rumour has it this is due to a project with Microsoft being cancelled. Hopefully something will help you turn the corner guys (and I'm sure there's plenty of free volunteer Beta Testers here if you need us!).
Thanks TrailerParkApe
Ramallah has also commented on this here, also noting that Obsidian narrowly missed a bonus payment for their work on Fallout:New Vegas.
Another opens
Bethesda has tweeted that they're looking for an iOS programmer. I normally wouldn't have mentioned this, but you may remember reading this back in 2009:
"
I think that the world of Fallout is unique enough that it could work on any platform. I think some of the things we do like V.A.T.S., I think that could translate to any platform, particularly the iPhone. We've looked into those things, we just haven't found the thing that supports the brand well. I wouldn't be surprised if it does happen one day. The iPhone versions that we've designed and said 'Ehh, we don't think we're going to do that right now,' there are ... there are a lot of them.
"
— John Carmack, http://fallout.wikia.com/wiki/User_blog:Ausir/John_Carmack_to_make_an_iPhone_Fallout_game%3F
I'll leave you all in the comments to speculate away...
Wrap
Relic of the war that wasn't
A special Wasteland themed relic this week. Whereas we all know in Fallout the nuclear war was against China, in Wasteland the war was with a different foe - the Soviet Union. The Soviet Union was born following the Russian Revolution in , and fought with the "Allies"/"United Nations Forces" until the end of World War 2. Unfortunately paranoia and distrust took over and relations continued to cool, eventually becoming the "Cold War". In the 1980's reforms and coups eventually lead to the dissolution of the Soviet Union in 1991, and the return to full sovereignty and independence of member states such as Russia, Georgia, The Ukraine, Belarus, Latvia and Lithuania.
In order to celebrate the new Wasteland game, coming October 2013, I present to you the National Anthem of the Soviet Union, Introduced in 1944, the lyrics were changed along with the political climate in 1977 to remove references to Stalin and officially fell out of use following the dissolution of the Soviet Union in 1991. However, the song was reintroduced as the National Anthem of Russia (replacing the less than popular "Patriotic Song", with the lyrics revised (again) in 2000.
Please be upstanding for the 1977 edition of the Gosudarstvenny Gimn SSSR - The National Anthem of the USSR.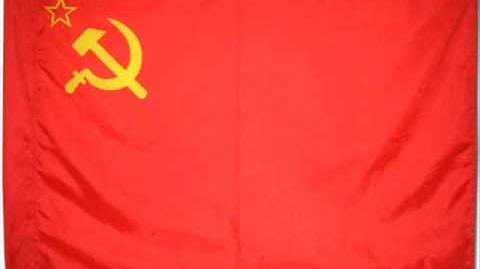 Join me on Twitter
As a Trial, I've been retweeting Fallout news through the week on Twitter, but noone has followed me... I'll keep doing this this week as a trial, but if the follower numbers remain like this I will have to stop. You can find me @AgentC1983.
Your Next Nukapedia News Digest
The Current plan for the Nukapedia News Digest is to become a Friday Afternoon (GMT) publication catching you up on all the Fallout (and Wasteland) news of the week so you can review it over the weekend. Have a good one everybody! Agent c 12:11, March 16, 2012 (UTC)