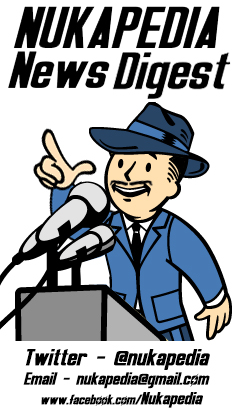 Welcome to the Nukapedia News Digest, brought to you the People's Bank of Point Lookout - No of course we're not communists out to redistribute the wealth - We're a bank!
In your digest this week:
From the Administrative Enclave
ToCxHawk is now a Patroller.
The vote to lock old forums and blogs has not passed.
Attention Nukapedia Shoppers
Steam Sale
Its that time of year again for Steam's Summer sale. Possible bargains you many be interested in include the "Bethesda Pack" which Fallout New Vegas, all of the DLC, Brink and some DLC, Hunted and its DLC, plus Skyrim for a mere £39.99 (if people could verify the price in other regions, I'd be most appreciative.
Fallout DLC half price on Xbox Live
Because Real Money is too cool for the guys at Xbox... You can now get the Fallout DLC for 400 Microsoft Points, which is apparently half price.
News from the Wastes
Its time to partly like its 1988
Good news for those of you who have put your money down for Wasteland 2... Wasteland 1 will be made available - gratis - to purchasers of Wasteland 2. Unfortunately inXile can't release it until the Wasteland 2 drops, but it has been confirme that despite EA's copyright on the title, there will be no Origin pack-in.
Here's what Brian had to say in the press release:
"The #1 request we had during our Kickstarter campaign was to have the ability to play the first game. Fortunately EA has continued to support us on this project and has granted us the ability to bring the original to the players; It is great to be able to make Wasteland available for those feeling nostalgic or who want to experience it for the first time. It certainly will not be a pre-requisite to understand Wasteland 2, but it adds some extra flavor if you did play the prequel."
Oh happy days.
Wasteland Twitter
Just a few snips from Brian Fargo's twitter, might have some solid news next week
We'll release a WIP screenshot next week for Wasteland 2! No particle & post processing effects but it will show progress.
Trust me..I am putting all sorts of crazy stuff into Wasteland 2. It is going to be a quirky and nuanced experience.
...We are going to start filming our dev meetings in about a week. It will be fun and informative.
Our interns are now teaching our interns... we have reached intern singularity.
---
In completely unrelated news, Brian has also been twittering about Ouya's kickstarter campaign which has now taken the crown as most-funds-raisest project ever. The project hopes to create a new console build on the Android operating system with games made available on a "Fremium" model. Sadly theres no news as to what games, if any, will be made available (despite his support Brian was unable to commit to Wasteland coming to Ouya).
Additionally, if anyone is at Comic-Con Chris Avellone has been twittering some pics from the "South Park Stick of Truth" booth. If you're going please feel free to grill the guy about Fallout, and we'll give you some write up space in the next digest.
Beyond Boulder Dome
Check out this Van Buren inspired Fallout New Vegas mod...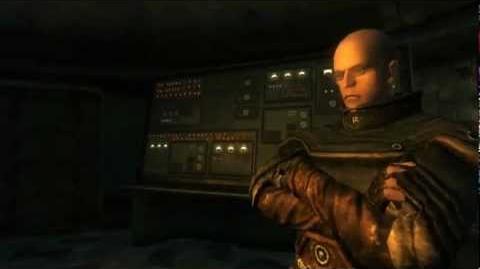 To date we've kinda shied away from covering mods - would you like to see this in the future?
Poll:Would_you_like_to_see_mods_(and_other_fan_projects)_covered_in_the_news_digest%3F
Having problems voting? Try here.
Wrap
Relic of the war that Wasn't
Will return next week. Instead we offer you this editorial:
No, there is no Fallout 4 news
Just because some people seem to be getting irritated with people asking for Fallout 4 News - there is none. At the moment there has been no game announced. Although we have known for some time they've been working on an unannounced project, this quite literally could be anything.
Believe me, the instant I hear anything I won't be waiting for the next news digest, I'll be publishing it Straight away.
What we do know at the moment is that Bethesda Softworks PR/Marketing currently have a just released DLC for Skyrim, Dishonoured coming in October, and The Elder Scrolls Online with firm release dates and Doom 4, Zwei and Prey 2 announced without dates. Given that only one of these (Skyrim's DLC) is a Bethesda Game Studios title, their developers must be doing something... But Marketing/PR are probably going to want to wait before starting the hype machine on another title.
So my guess is look for an announcement maybe at the end of this year, or next year, with release some time away.
In the meantime, if you see someone asking, please don't respond negatively...
Your Next Nukapedia News Digest
Is likely to be late on Friday/Early saturday GMT. I'm pushing back the publishing time just a little as a) I'm now doing some voluntary work on Fridays, and b) Its going to allow me to catch some late news from the Pacific Time Zone. Agent c (talk) 16:01, July 14, 2012 (UTC)