Welcome to the Nukapedia News Digest, a part of your complete healthy breakfast.
From the Administrative Enclave
Talking about your wiki
Pure Humans, prime normals, whatever you call em, how should we treat em? Tell us here
Danger - Men (and women) at work
The Beautification project continues, Jspoel has updated the index on The New vegas Portal. He's also added a Chatbar to the front page.
Don't forget, with a few limited exclusions we're removing "Second person" (you, your, etc). If you've got some time, click on Random Page and see if there's anything to clean up.
We're still clearing out the ol' disambiguation page. Join the campaign here.
Journey321 and I have been doing some work on the Game Guides app, reorganising how quests appear in the app. Take a look below, or get the app and Tell us what you think
Two guys from Wikia, Agent C, and Chris Avellone
Episode 2 of our featured expert showcase is now up. There will be 2 more over the next 2 weeks.
Dateline: Rockville, Maryland
Wolfenstein is back
Currently under development at MachineGames, Wolfenstein: The New Order is an action-adventure shooter that reignites the franchise widely recognized for pioneering the genre. Wolfenstein: The New Order is scheduled for release in Q4 2013 on Xbox 360, PlayStation 3, PC, and next generation consoles.
There's more over on The Wolfenstein Wiki. Stop by, KingClyde you know, and Elecbullet is pretty awesome too.
No News is not good news
Hey all, TBHF here, with some news should you choose to believe its integrity, will probably upset you. We're all anticipating the new announcement of FO4, and it was expected by reason that Bethesda would reveal it at E3 this year. According to this source, a report by Noobfeed was posted that Bethesda sent through an E3 2013 invite, suggesting that there will be presentations on all three of Bethesda's upcoming games - including Elder Scrolls Online - and hands-on time with ESO and Wolfenstein: The New Order. There was no mention of any big reveals. The story was taken down, presumably at the request of Bethesda. If this is true, this is quite a blow to everyone here, as we so anxiously await Fallout 4. We can only hope something will come soon if not at E3. --TwoBearsHigh-Fiving
JES
Formspring has been saved! and with it so have JES's questions on it. Not much Fallouty at the moment, with Eternity being the talk of the town.
After reading this op-ed, I'm curious as to why the dialogue with Driver Nephi and Bert Gunnarsson regarding Mormonism was cut. Was it simply because Driver Nephi is openly hostile to the courier or some technical reason?
Unfortunately, I don't have any idea and Travis Stout (who wrote Bert's dialogue) doesn't either.
Wrap
No Mutants Allowed
Just an apology and Clarification regarding No Mutants Allowed. A few of us have been labouring under the misapprehension that they did not cover my interview with Erik Dellums earlier this year. This impression appears to be incorrect - they did indeed run the story; we would like to offer our regret and apology for any hard feelings that may have come from this.
The Vault
Be sure to check out The Vault Wiki, new to Wikia. We're sure you're going to find it enlightening.
Relic of the War that Wasn't (Yes, it is back)
The Relic of the War that Wasn't returns this week with Trident. No, not the pointy-fork thing, but the Nuclear Missile System. This system is used by both the United States of America and the United Kingdom.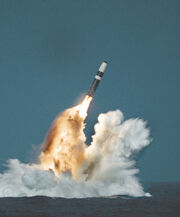 Missile Fact File
Trident I (UGM-96)
Trident II (UGM-133)
Range
7,400Km (4,600 Mi)
CLASSIFIED (>11,300Km (7,000Mi))
Length
10.2 Metres (33ft)
13 Metres (44ft)
Diameter
1.8 Meters (71 in)
1.88 Meters (74 in)
Weight
33,142 kg (73,070 lb)
59,000 kg (129,000 lb)
Payload
8 x 100kt-TNT Equivalent Nuclear warheads.
Technical capacity 12 x 100Kt Warheads (or 4x 475kt)

In pracice limited to 5 by treaty, and further reduced by policy to 3 in the UK

Price
No longer available
$30,900,000
Great for superpowers looking for a tactical advantage, or an island nation with limited launching facilities, the Trident submarine-launched missle (by Lockheed Martin) system offeres all of the tactical advantage of an ICBM, with the added capability of your enemies never being sure where exactly you're going to strike from - giving them less time to react.
The Trident missile is compatible with a variety of submarines, including the British Vangard, and American Ohio, James Madison and Benjamin Franklin class submarines.
The Trident can carry up to 12 100Kt Warheads, or for the bigger targets, 4 x 475Kt warheads are available - each sold separately. If for some reason you're limited by an international treaty or defence spending cuts, you do not have to install the full number of warheads in order to use the missile.
Thats the Trident Missile system, available for purchase from Lockheed-Martin, or by lease from your local friendly superpower. Get yours today.
Next time - Trident in the UK
Your next Nukapedia News Digest
Is on the 18th of May. Stay safe out there! Agent c (talk) 00:29, May 12, 2013 (UTC)