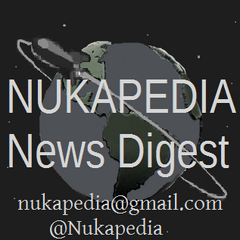 Welcome to the Nukapedia News Digest - this week brought to you by a special message from the Police: Roxanne, put out the red light.
In your digest this week
Around the wiki
New This Week
"

If I like you, you can call me Sarge. But guess what? I don't like you! Do you understand?

"

— Arch Dornan
Caption Contest
In other news we now have images for all of the Fallout Tactics weapons for all of you weapons freaks out there. Enjoy.
Attention Nukapedia Shoppers
Coming soon to GoG - Wasteland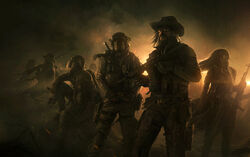 Thats right folks, the game that started it all is coming to GoG. Brian Fargo, CEO of InXile and one time CEO of Interplay Entertainment has managed to successfully use his speech and barter skills with gaming ziabatsu EA to convince them to allow sales of Wasteland 1 and a Free of charge standalone release for Wasteland 2 backers.
It will soon be hitting the virtual shelves of Steam and GoG.com We'll let you know when it hits.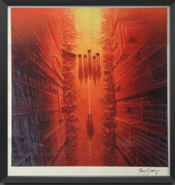 In further Wasteland related shopping news... InXile are selling a limited run of 500 of these beauties. you can pick hem up direct from InXile
This is the original box art for Wasteland 1. They're going for $320 each and are signed by the artist. They're 16.5 by 16.5. Artist Barry E. Jackson's credits include videogames such as Goldeneye, Medal of Honor Rising Sun and the Lord of the Rings: The Battle for Middle Earth, and movies such as the Prince of Egypt, Titan A.E., The Nightmare Before Christmas and Escape from Planet Earth. The artists official website is here.
And lastly, for those of you with a lot of money, but not yet paid up to receive Wasteland 2... The late backer $1000 tier and up are now closed.
For those of you who don't realise, Wasteland was the game that inspired Fallout - the only reason you're playing Fallout today is because Interplay couldn't get the rights to make Wasteland 2 - so they made Fallout instead.
Dateline Rockville, MD
John Carmack's New Job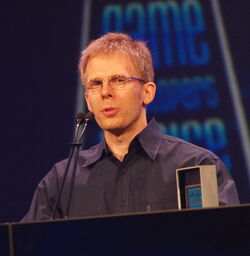 John Carmack, Head of Id Software and linked to the proposed Fallout iPhone game has made some interesting career moves.
Firstly, and perhaps less notably, his rocket venture "Armadillo Aerospace" has gone into Hibernation mode. Carmack was quoted during Quakecon as pointing the failure of the company him giving up a lack of control, and that he had spent his "Crazy money" on it. The company is not expected to become active again unless another investor comes to the front.
Now for the gaming news, John Carmack has taken the Chief Technology Officer role at Occulus VR. You might remember them from a major kickstarter last year focused on bringing VR headsets (the Occulus Rift) to the people. John Will also be staying on as head of Id Software... Does this link between Occulus and the greater Zenimax/Bethesda suggest that the next TES or Fallout could support VR?
Fallout 3 a Sellout on Steam?
You'll remember last week we wrote about some amazing cheap deals on Steam to celebrate Quakecon.
Well it seems steam managed to do something that was thought impossible from a digital downlaod retailer....
They sold out
Many purchasers of Fallout 3 were disheartened to find after purchasing their game that their copy lacked a registration key, preventing them from entering the wasteland... This didn't however stop steam processing sales, with keys to be released after receiving more from Bethesda.
Were you affected? Is your game working ok now? Tell us in the comments.
Bethesda on the Wii U
Forbes magazine (thats one of those grown up publications) has been looking into the ongoing car crash that is the Wii U. They managed to get a few words with Pete Hines about Bethesda's views on the console
We've heard of companies not wanting to bring games to the Wii U because of gamepad requirements (Gearbox and Borderlands), and some publishers don't see it being worthwhile to develop games for the system because there just simply aren't enough in people's homes at this point (EA, Ubisoft's Rayman). Now, Bethesda has come out with a new, more blunt reason for saying that at least in the short term, none of their new games will come to the Wii U.
"It's largely a hardware thing," Bethesda VP of PR Pete Hines told Joystiq at QuakeCon, discussing why Elder Scrolls Online, Wolfenstein: The New Order and The Evil Within would all be skipping the Wii U. "None of the game's we've announced are being developed for the Wii U, so it's guaranteed that none of those games are coming to Wii U," Hines says his companies goal is to "make the games that we want to make, on whatever platforms will support them as developed." For example, they wanted to bring The Elder Scrolls Online to Xbox 360, but just couldn't do it because of the hardware limitations.
News from the Wastes
Gender Discrimination in Wasteland 2?
In news that is possibly going to turn heads, Wasteland 2 looks to include amongst its features gender discrimination for some NPCs. From RockPaperShotgun.
At one point during my multi-part Wasteland 2 demo session, we came across a traveling salesman straining muscles and herniating discs to get his cart out of the mud. He seemed nice enough – at least, once we freed his wares from their waist-deep grave. Apparently, however, he could've changed his tune in any number of ways if our party had been even the slightest bit different.
"Here's a merchant that turns into a store if you help him get his cart out of the mud," explained inXile president Matt Findley. "Otherwise he's just a guy that hates you. The conversation that he has with you is really dependent on so many different factors – the makeup of the party. He has different lines if you come up with an all-women party or if there's a really high charisma male. There are little flags that he'll react to."
Wasteland 2 isn't necessarily trying to make a statement, though. Rather, the goal is to portray a world full of interesting individuals – each with their own preferences and prejudices. This place certainly isn't a kind one, so some will inevitably be assholes. Others might give you the benefit of the doubt simply because you've picked a certain sex/background or brought a certain character with you.
"That particular character loves all-women parties," Findley continued, still referring to the merchant. "But some characters might not give any information to an all-women party, because they might have a problem with women. The idea is to make each NPC unique in their world view. A guy might be more likely to give women information or more likely to give men information. This guy specifically, I think he says something inappropriate, and then raises his prices."
Theres more of course in the article, but its interesting to see a game recognise gender choice in interactions, more than just by changing the pronoun
Fanzone
Wrap
We'll be bringing back the renamed and expanded "Relic of the War that wasn't" - Now "War, War never changes" next week, but you may have noticed we've changed the logo to reflect the GNN style logo you see in Fallout 1 - My thanks to NukaTurtle for her work on that.
We've plenty more renovations in the works, so keep your eye out for changes, and if you do have any suggestions, please do let us know. Until next week, Stay safe out there. Agent c (talk) 01:21, August 11, 2013 (UTC)