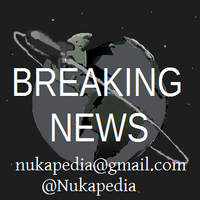 Welcome to a Nukapedia News Blast.
We have a late breaking headline that simply cannot wait until Saturday.
For more, I cross to Tracey Thompson, Director of Global PR for Bethesda Softworks
QuakeCon Steam Sales
We are pleased to announce that the QuakeCon Steam, id Mobile, and Bethesda Store sales have begun!
STEAM SALE

From now until the end of the weekend (August 1st – 4th) you can purchase the QuakeCon 2013 Pack, which includes more than 20 id Software and Bethesda Softworks titles, for one low price.
This special package includes titles such as:
Dishonored
The Elder Scrolls V: Skyrim Legendary Edition
RAGE
Fallout 3 Game of the Year
Fallout: New Vegas Ultimate Edition
Oblivion GOTY Deluxe
Morrowind GOTY
Commander Keen Complete Pack
DOOM 3 BFG Edition
QUAKE 4
We will also be offering deals each day on individual id Software and Bethesda Softworks' titles via Steam. Daily deals include
Thursday: id Sale, with all id games at 75% off
Friday: Fallout 3, Fallout: New Vegas, and all Fallout DLC at 75% off
Saturday: The Elder Scrolls Sale, with Elder Scrolls titles and DLCs selling for 40-75% off
Sunday: Dishonored, including DLC at 66% off
For full details on the QuakeCon 2013 pack and a complete list of the daily deals, please visit Steam.
id MOBILE SALE
During QuakeCon 2013 (August 1st - 4th) all id Mobile titles on the Apple iTunes store will be on sale for 99 cents. id Mobile titles can be purchased on the Apple iTunes store at http://www.idsoftware.com/iphone-games/index.html.
QuakeLive Premium Weekend
Play QuakeLive Premium from August 1st through August 4th for free! Access all premium areas and play both premium 'Freeze Tag' and 'Domination' game types. Keep an eye on the QuakeLive Facebook page and Twitter accounts for ways to win pro-level subscriptions throughout the weekend.
BETHESDA STORE SALE
From August 1st – 5th, pick up items from some of your favorite id Software and Bethesda Softworks franchises from the online Bethesda Store and receive a discount of 20% off all purchases of $50 or more at store.bethsoft.com.
Wrap
Yes, you heard that right, 75% off Tomorrow only. Hope you didnt spend too much on the summer sales.... Agent c (talk) 22:54, August 1, 2013 (UTC)