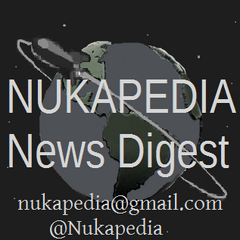 Welcome to the Nukapedia News Digest. Now free of artificial preservatives and flavourings.
In your edition this week.
Around the wiki
"
Little bugs! You won't be slipping past me, little bugs! You skitter and scatter around us, but we can hear you in the walls, oh yes we can! Master Gargantua would not be pleased to see you, little bugs. He despises the little insects almost as much as I. They make him mad . . . and I can't let the insects make the master mad! Time to splat you, buggy-wuggy-bugs!
"
— Psycho, Fallout Tactics demo
Last Weeks Caption

Vote now in the box below, and we'll Tumblr the winner next week
Pick your Caption of the week
Dateline: Rockville, MD
Not much happening this week with Stick of Truth out, and the TES:O Beta seemingly complete... But there's some good stuff coming in the months ahead.
Attenion Nukapedia Shoppers
Your Obligitory Store update.
But wait, there's more!