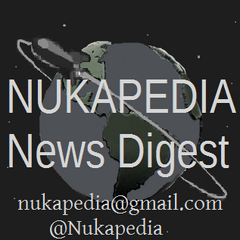 Welcome to the Nukapedia News Digest - Rounding up the Fallout news
In your edition this week
Picture gallery
This week's pictures have been selected by me, so if you don't like it, well, next time you do it.
Wiki News
Be sure to join us on June the 14th for the Bethesda stream. We were going to independently produce a pre and post show but given Bethesda's plans for these we've decided to simply link their stream in direct.
Something we are considering is commenting over the bethesda stream, with myself and Jasper adding our spin on what happens… Is this something you'd like us to do?
Should we commentate over the Bethesda launch? (note, closes Wednesday)
From the Bethesda Store
Remember, Bethesda are offering 20% off your next purchase if you pre-order Fallout 4 for $US60.
These necklaces are $100 each

And there's some new T's for Fallout 4, and a T of the Month
All of that in the Bethesda Store.
Fallout 4 Roundup
So, here's what we know. Fallout 4 Exists, and judging from the information in the trailer, it is based in the Greater Boston Area.
We think that Fenway Park, Scollay Square, Bunker Hill, the Massachusetts State House and the Paul Revere Monument have been spotted
The trailer reveals a dog that some believe to be playable, and Ron Perlman's involvement, as well as a voice for the protagonist. It also suggests that the Kotaku leak of a player in Chryo-stasis since the great war is also correct.
We'll of course know more in a week.
You can find the song "Its all over, but the crying" in iTunes on either the Inkspots album of the same name, or their 60-song greatest hits collection for £2.99